Retrospective 7,580 hospitalized patients in Brazil, showing longer hospitalization, and no significant difference in mortality, mechanical ventilation, and ICU admission with HCQ treatment. Authors note
confounding by indication
due to selected use in a compassionate use context. Authors match only on age, sex, cardiovascular comorbidities, and in-hospital use of corticosteroid, and only 10% of patients received HCQ/CQ, therefore
confounding by indication
is likely to be significant. A different matching list is included in the text, but neither includes COVID-19 severity.In the first line of the abstract authors falsely state that there is no evidence of benefit for HCQ treatment. While misrepresenting prior research is common, this is an extreme case and raises concern for validity of the analysis. In reality 140 controlled studies show statistically significant positive results for one or more outcomes (including 9 RCTs)
AbdelGhaffar, Alamdari, Alegiani, AlQadheeb, Aparisi, Arshad, Ashinyo, Assad, Atipornwanich, Ayerbe, Azaña Gómez, Badyal, Becetti, Berenguer, Bernabeu-Wittel, Bernaola, Bhattacharya, Boari, Bowen, Bubenek-Turconi, Budhiraja, Burdick, Cadegiani, Cangiano, Catteau, Chatterjee, Chechter, Chen, Chen (B), Coll, Corradini, D'Arminio Monforte, Davido, De Rosa, Delgado, Derwand, Dev, Dhibar, Di Castelnuovo, Di Castelnuovo (B), Dubernet, Ebongue, Esper, Falcone, Ferreira, Ferri, Finkelstein, Frontera, Fung, Gautret, Go, Goenka, Guisado-Vasco, Guérin, Gómez, Heberto, Heras, Hong, Huang, Huang (B), Huang (C), Ip, Isnardi, Johnston, Kadnur, Kamran, Khurana, Kim, Korkmaz, Lagier, Lagier (B), Lammers, Lauriola, Lavilla Olleros, Lora-Tamayo, Loucera, Ly, López, MacFadden, Mathai, McCullough, Meeus, Membrillo de Novales, Mikami, Million, Modrák, Mokhtari, Naggie, Nasri, Niwas, Núñez-Gil, Núñez-Gil (B), Obrișcă, Omma, Ouedraogo, Patel, Pinato, Polat, Purwati, Ramírez-García, Rathod, Rogado, Rouamba, Rubio-Sánchez, Sahebari, Said, Samajdar, Satti, Sbidian, Scirocco, Seet, Shaw, Sheshah, Shoaibi, Signes-Costa, Simova, Simova (B), Smith, Soto-Becerra, Strangfeld, Su, Sulaiman, Szente Fonseca, Sánchez-Álvarez, Taccone, Taieb, Tan, Tsanovska, Ugarte-Gil, Yadav, Yadav (B), Yilgwan, Yu, Yu (B), Yu (C), Zhong, Zhong Nanshan (钟南山), Ñamendys-Silva
. Authors discussion of prior research shows similar bias.
This study is excluded in the after exclusion results of meta analysis: substantial unadjusted
confounding by indication
likely; authors discussion of prior research exhibits strong bias, raising concern for bias in analysis.
risk of death,

5.5% higher

, RR 1.05, p = 0.68
, treatment 135 of 673 (20.1%), control 128 of 673 (19.0%).
risk of mechanical ventilation,

21.1% higher

, RR 1.21, p = 0.08
, treatment 145 of 538 (27.0%), control 120 of 539 (22.3%).
risk of ICU admission,

9.5% higher

, RR 1.09, p = 0.31
, treatment 196 of 559 (35.1%), control 179 of 559 (32.0%).
hospitalization time,

12.5% higher

, relative time 1.12, p = 0.03
, treatment median 9.0 IQR 13.0 n=673, control median 8.0 IQR 10.0 n=673.
Effect extraction follows pre-specified rules prioritizing more serious outcomes. Submit updates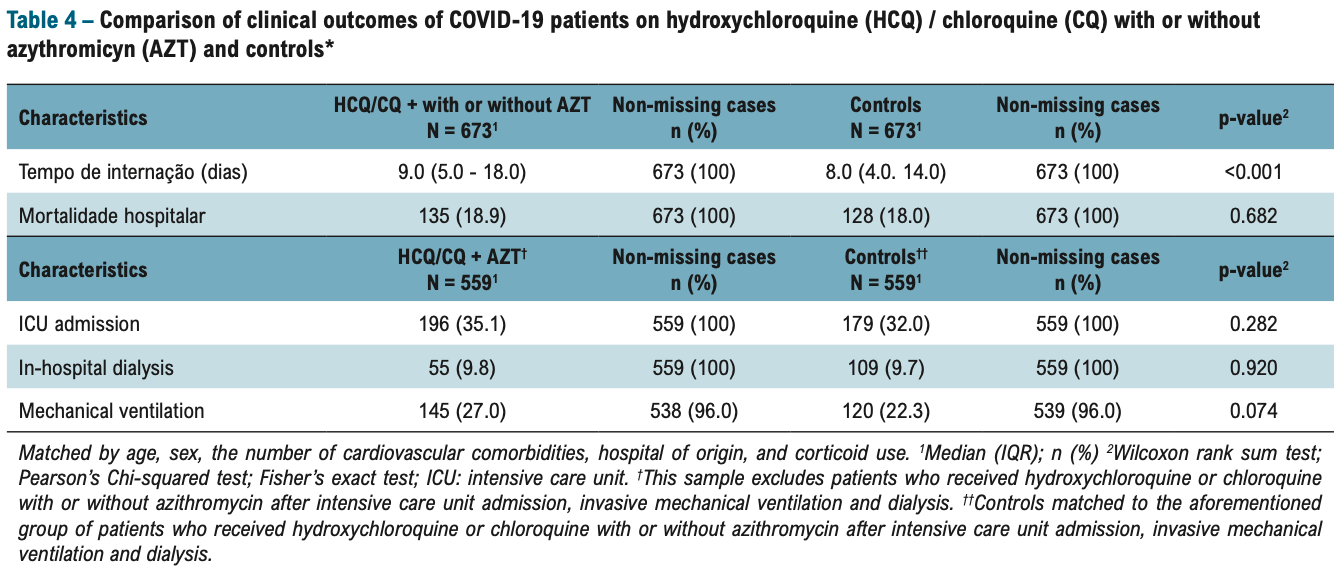 Souza-Silva et al., 30 Sep 2023, retrospective, Brazil, peer-reviewed, median age 60.0, 29 authors, study period March 2020 - September 2020.
Contact: dani_nunesp@hotmail.com.
Dados de Vida Real sobre o Uso da Hidroxicloroquina ou da Cloroquina Combinadas ou Não à Azitromicina em Pacientes com Covid-19: Uma Análise Retrospectiva no Brasil
Arquivos Brasileiros de Cardiologia, doi:10.36660/abc.20220935
Background: Despite no evidence showing benefits of hydroxychloroquine and chloroquine with or without azithromycin for COVID-19 treatment, these medications have been largely prescribed in Brazil. Objectives: To assess outcomes, including in-hospital mortality, electrocardiographic abnormalities, hospital length-of-stay, admission to the intensive care unit, and need for dialysis and mechanical ventilation, in hospitalized COVID-19 patients who received chloroquine or hydroxychloroquine, and to compare outcomes between those patients and their matched controls. Methods: A retrospective multicenter cohort study that included consecutive laboratory-confirmed COVID-19 patients from 37 Brazilian hospitals from March to September 2020. Propensity score was used to select matching controls by age, sex, cardiovascular comorbidities, and in-hospital use of corticosteroid. A p-value <0.05 was considered statistically significant. Results: From 7,850 COVID-19 patients, 673 (8.6%) received hydroxychloroquine and 67 (0.9%) chloroquine. The median age in the study group was 60 years (46 -71) and 59.1% were women. During hospitalization, 3.2% of patients presented side effects and 2.2% required therapy discontinuation. Electrocardiographic abnormalities were more prevalent in the chloroquine/hydroxychloroquine group (13.2% vs. 8.2%, p=0.01), and the long corrected QT interval was the main difference (3.6% vs. 0.4%, p<0.001). The median hospital length of stay was longer in the HCQ/CQ + AZT group than in controls (9.0 [5.0, 18.0] vs. 8.0 [4.0, 14.0] days). There was no statistical differences between groups in intensive care unit admission (35.1% vs. 32.0%; p=0.282), invasive mechanical ventilation support (27.0% vs. 22.3%; p=0.074) or mortality (18.9% vs. 18.0%; p=0.682). Conclusion: COVID-19 patients treated with chloroquine or hydroxychloroquine had a longer hospital length of stay, when compared to matched controls. Intensive care unit admission, invasive mechanical ventilation, dialysis and inhospital mortality were similar.
Potential conflict of interest No potential conflict of interest relevant to this article was reported. Sources of funding Study association This study is not associated with any thesis or dissertation work. Ethics approval and consent to participate This study was approved by the Comitê Nacional de Ética em Pesquisa under the protocol number CAAE 30350820.5.1001.0008. All the procedures in this study were in accordance with the 1975 Helsinki Declaration, updated in 2013.
References
Brasil, Fundamentação e decisão Acerca das Diretrizes Terapêuticas para o Tratamento Farmacológico da COVID-19 (Hospitalar e Ambulatorial)
Mgt, Bicalho, Nogueira, Guimarães-Júnior, Aguiar et al., This is an open-access article distributed under the terms of the Creative Commons Attribution License *Supplemental Materials For additional information