Pre exposure Hydroxychloroquine use is associated with reduced COVID19 risk in healthcare workers
et al., medRxix,
HCQ reduced cases from 38% to 7%. 106 people. No serious adverse effects.
risk of case,

80.7% lower

, RR 0.19, p = 0.001
, treatment 4 of 54 (7.4%), control 20 of 52 (38.5%), NNT 3.2.
Effect extraction follows pre-specified rules prioritizing more serious outcomes. Submit updates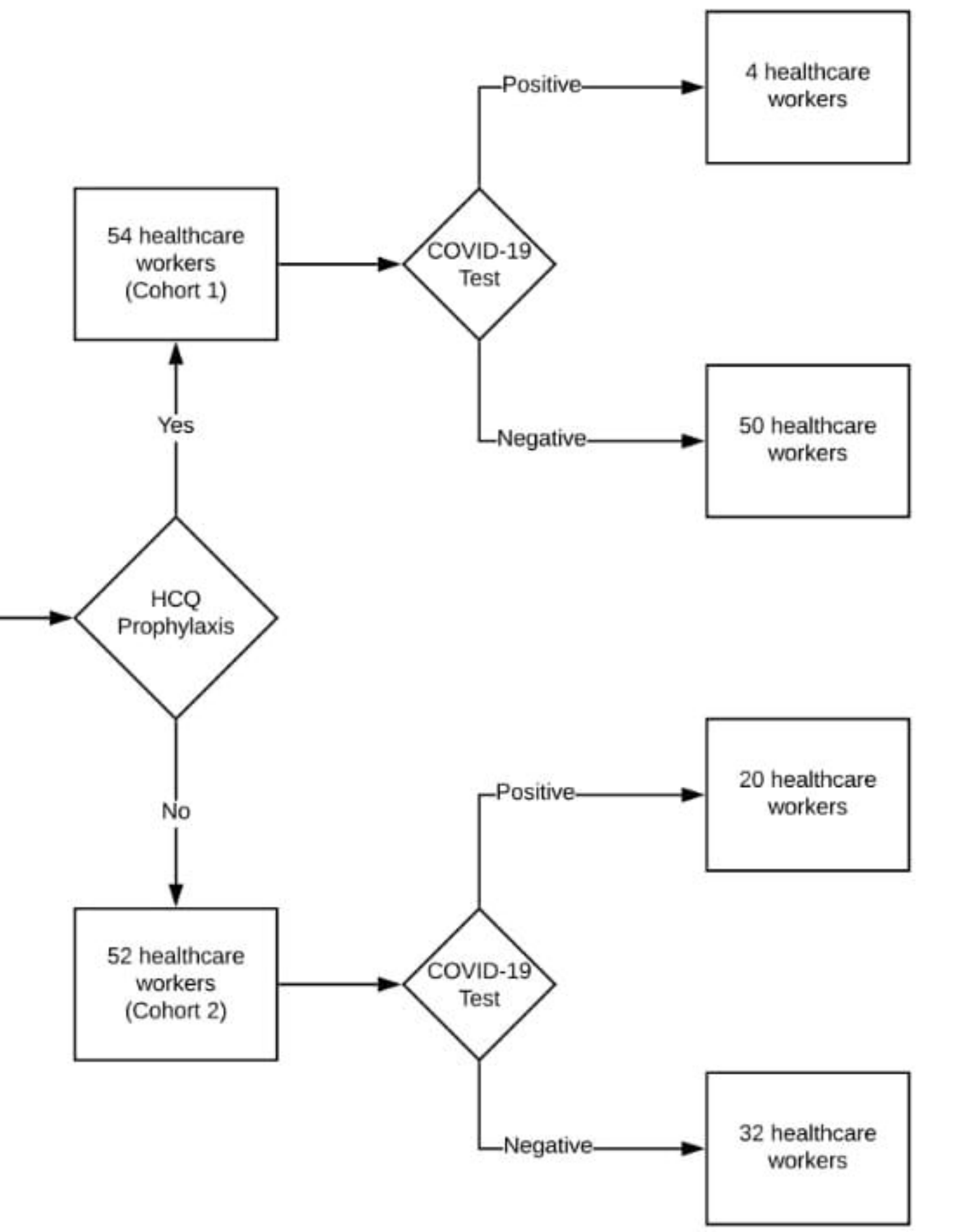 Bhattacharya et al., 9 Jun 2020, retrospective, India, preprint, 7 authors.
Abstract: International Journal of Research in Medical Sciences Bhattacharya R et al. Int J Res Med Sci. 2020 Oct;8(10):3518-3522 www.msjonline.org pISSN 2320-6071 | eISSN 2320-6012 DOI: http://dx.doi.org/10.18203/2320-6012.ijrms20204010 Original Research Article The beneficial role of N-acetylcysteine as an adjunctive drug in treatment of COVID-19 patients in a tertiary care hospital in India: an observational study Raja Bhattacharya1, Maitry Mondal1, Subhendu Bikash Naiya1, Lamsaka Lyngdoh1, Rishav Mukherjee1*, Prabhat K. Singh2 1 Department of Medicine, Medical College and Hospital, Kolkata, West Bengal, India Marwari Relief Society, Kolkata, West Bengal, India 2 Received: 25 August 2020 Revised: 09 September 2020 Accepted: 10 September 2020 *Correspondence: Dr. Rishav Mukherjee, E-mail: mukherjeerishav@gmail.com Copyright: © the author(s), publisher and licensee Medip Academy. This is an open-access article distributed under the terms of the Creative Commons Attribution Non-Commercial License, which permits unrestricted non-commercial use, distribution, and reproduction in any medium, provided the original work is properly cited. ABSTRACT Background: N-acetyl cysteine, a mucolytic agent, demonstrates free radical scavenging and anti-inflammatory properties, and prevents endothelial dysfunction by inhibition of NF-KB and formation of no adducts. This has a potential role to tackle cytokine storms, endothelial dysfunction and prothrombotic state observed in COVID-19 manifestations like ARDS and Multi organ dysfunction. Methods: Institution based descriptive cross sectional study, 164 patients from laboratory confirmed RT PCR positive COVID-19 patients, in the study period from 27th May 2020 to 10th August 2020, were assessed, in medical college Kolkata, a dedicated COVID-19 care facility. Results: It was observed that moderate-severe patients who received N-acetyl cysteine along with standard therapy had average hospital stay duration of 12 days, higher rate of discharge, average duration of oxygen therapy of 8 days, less number of deaths and reduced transfer to critical care facilities. Conclusions: N-acetyl cysteine can be considered as an adjunctive therapy with standard protocol driven care, due to its beneficial anti-inflammatory and free radical scavenging properties. Keywords: COVID-19, N-acetyl cysteine, Free radical scavenger, Anti-inflammatory
Please send us corrections, updates, or comments. Vaccines and treatments are complementary. All practical, effective, and safe means should be used based on risk/benefit analysis. No treatment, vaccine, or intervention is 100% available and effective for all current and future variants. We do not provide medical advice. Before taking any medication, consult a qualified physician who can provide personalized advice and details of risks and benefits based on your medical history and situation.
FLCCC
and
WCH
provide treatment protocols.
Submit