290 patient observational trial in the USA, not showing a significant difference with HCQ treatment overall, but showing significantly lower mortality in a subgroup of patients where HCQ is expected to be beneficial based on a machine learning algorithm.
risk of death,

59.0% higher

, HR 1.59, p = 0.12
, treatment 142, control 148, adjusted per study, all patients.
risk of death,

71.0% lower

, HR 0.29, p = 0.01
, treatment 26, control 17, adjusted per study, subgroup of patients where treatment is predicted to be beneficial.
Effect extraction follows pre-specified rules prioritizing more serious outcomes. Submit updates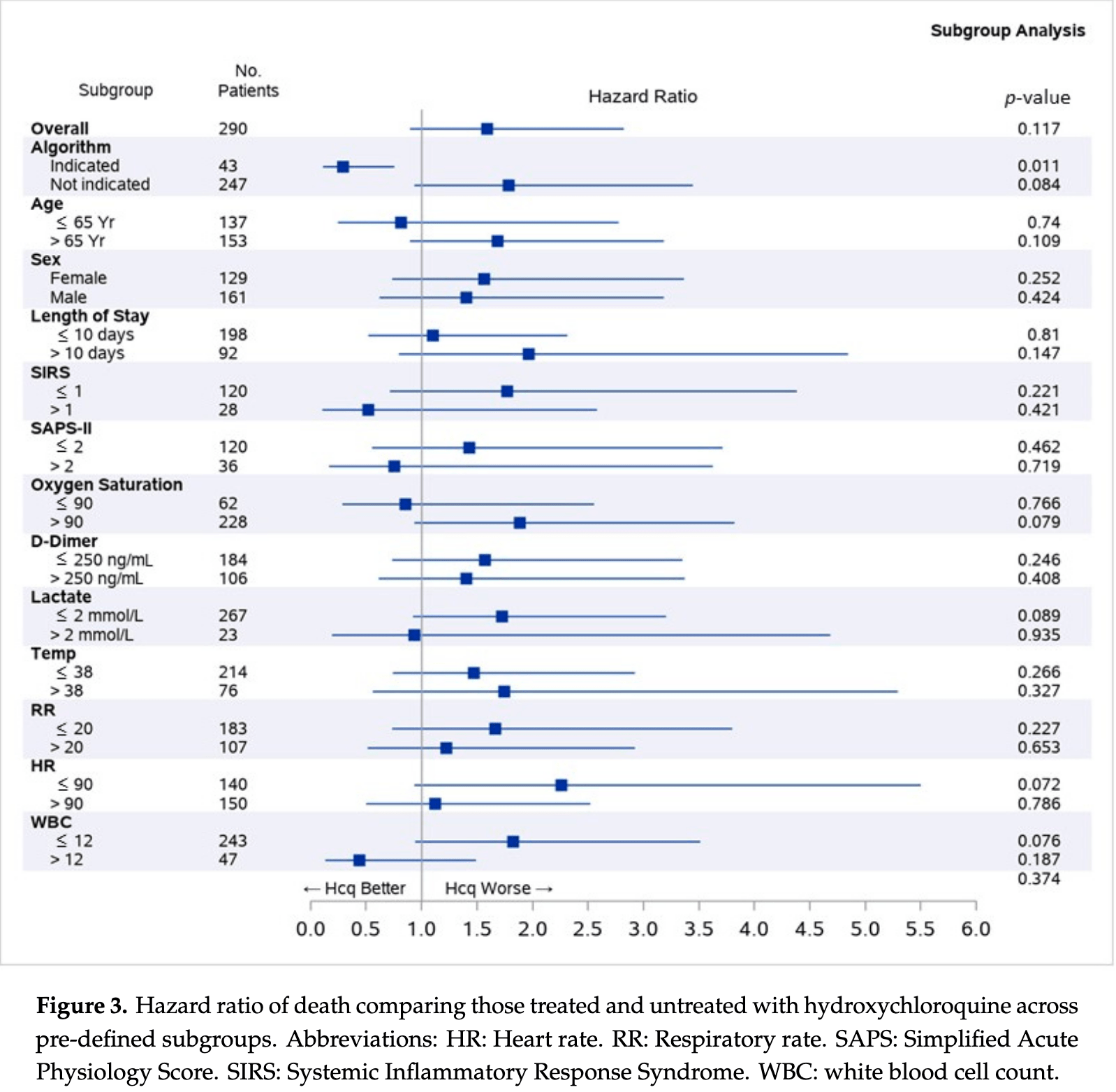 Burdick et al., 26 Nov 2020, prospective, USA, peer-reviewed, 14 authors.
Is Machine Learning a Better Way to Identify COVID-19 Patients Who Might Benefit from Hydroxychloroquine Treatment?—The IDENTIFY Trial
Journal of Clinical Medicine, doi:10.3390/jcm9123834
Therapeutic agents for the novel coronavirus disease 2019 (COVID-19) have been proposed, but evidence supporting their use is limited. A machine learning algorithm was developed in order to identify a subpopulation of COVID-19 patients for whom hydroxychloroquine was associated with improved survival; this population might be relevant for study in a clinical trial. A pragmatic trial was conducted at six United States hospitals. We enrolled COVID-19 patients that were admitted between 10 March and 4 June 2020. Treatment was not randomized. The study endpoint was mortality; discharge was a competing event. Hazard ratios were obtained on the entire population, and on the subpopulation indicated by the algorithm as suitable for treatment. A total of 290 patients were enrolled. In the subpopulation that was identified by the algorithm, hydroxychloroquine was associated with a statistically significant (p = 0.011) increase in survival (adjusted hazard ratio 0.29, 95% confidence interval (CI) 0.11-0.75). Adjusted survival among the algorithm indicated patients was 82.6% in the treated arm and 51.2% in the arm not treated. No association between treatment and mortality was observed in the general population. A 31% increase in survival at the end of the study was observed in a population of COVID-19 patients that were identified by a machine learning algorithm as having a better outcome with hydroxychloroquine treatment. Precision medicine approaches may be useful in identifying a subpopulation of COVID-19 patients more likely to be proven to benefit from hydroxychloroquine treatment in a clinical trial.
References
Ahn, Shin, Kim, Lee, Kim et al., Current Status of Epidemiology, Diagnosis, Therapeutics, and Vaccines for Novel Coronavirus Disease
Biot, Daher, Chavain, Fandeur, Khalife et al., Design and Synthesis of Hydroxyferroquine Derivatives with Antimalarial and Antiviral Activities, J. Med. Chem
Borba, Val, Sampaio, Alexandre, Melo et al., Effect of High vs Low Doses of Chloroquine Diphosphate as Adjunctive Therapy for Patients Hospitalized with Severe Acute Respiratory Syndrome Coronavirus 2 (SARS-CoV-2) Infection: A Randomized Clinical Trial, JAMA Netw. Open
Borba, Val, Sampaio, Alexandre, Melo et al., Effect of High vs Low Doses of Chloroquine References