Early Lopinavir/ritonavir does not reduce mortality in COVID-19 patients: results of a large multicenter study
Early Lopinavir/ritonavir does not reduce mortality in COVID-19 patients: results of a large multicenter study
,
J. Infection, doi:10.1016/j.jinf.2021.02.011
,
Lopinavir/ritonavir retrospective study also showing univariate results for HCQ, with significantly lower mortality.
risk of death,

50.5% lower

, RR 0.50, p < 0.001
, treatment 7,192, control 1,361, odds ratio converted to relative risk, univariate, control prevalence approximated with overall prevalence.
Effect extraction follows pre-specified rules prioritizing more serious outcomes. Submit updates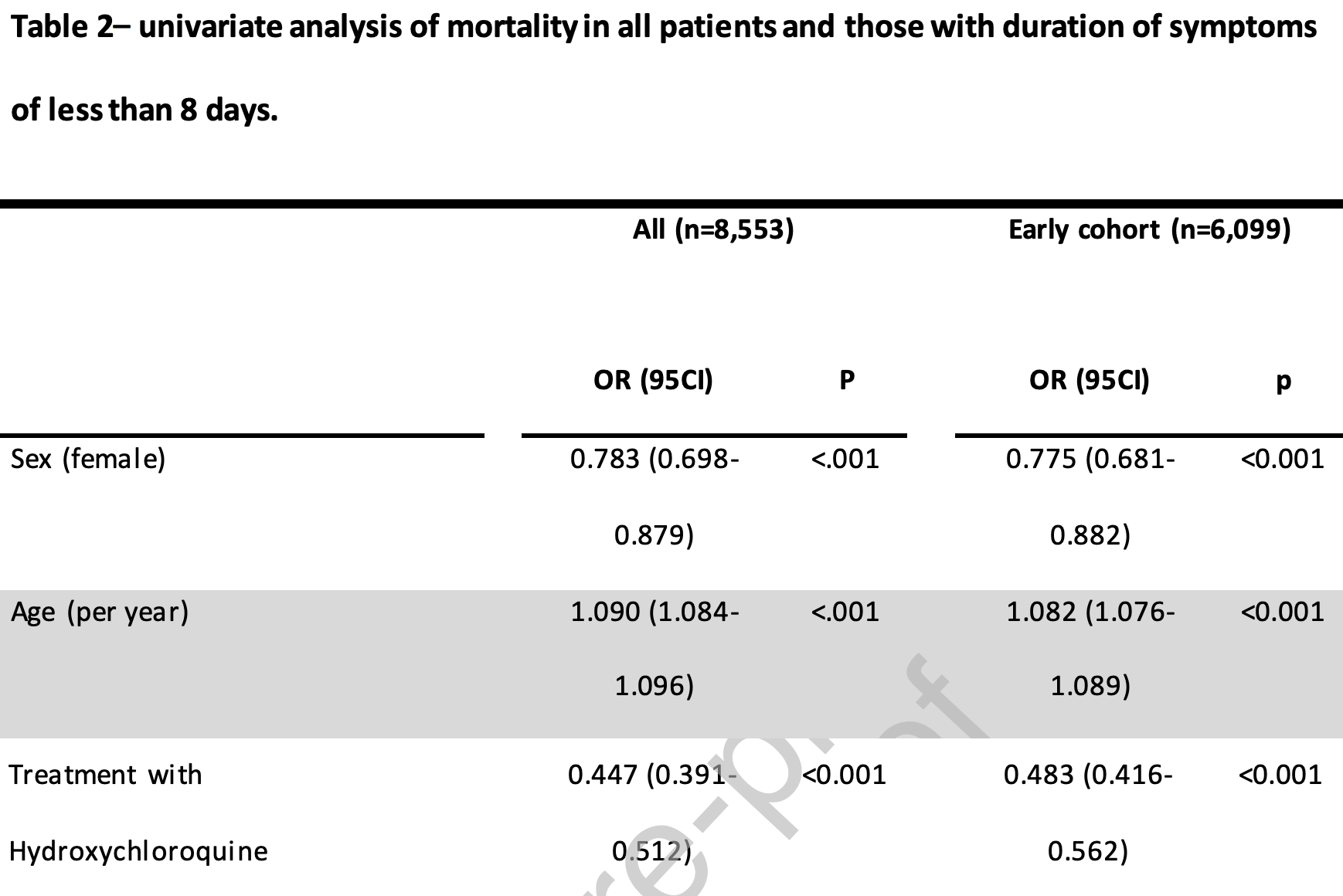 Lora-Tamayo et al., 11 Feb 2021, retrospective, Spain, peer-reviewed, 10 authors.
Abstract: Journal of Infection 82 (2021) 276–316 Contents lists available at ScienceDirect Journal of Infection journal homepage: www.elsevier.com/locate/jinf Letters to the Editor Short durations of corticosteroids for hospitalised COVID-19 patients are associated with a high readmission rate Dear Editor,
Please send us corrections, updates, or comments. Vaccines and treatments are complementary. All practical, effective, and safe means should be used based on risk/benefit analysis. No treatment, vaccine, or intervention is 100% available and effective for all current and future variants. We do not provide medical advice. Before taking any medication, consult a qualified physician who can provide personalized advice and details of risks and benefits based on your medical history and situation.
FLCCC
and
WCH
provide treatment protocols.
Submit