Implications of myocardial injury in Mexican hospitalized patients with coronavirus disease 2019 (COVID-19)
Implications of myocardial injury in Mexican hospitalized patients with coronavirus disease 2019 (COVID-19)
,
IJC Heart & Vasculature, doi:10.1016/j.ijcha.2020.100638
,
Observational prospective 254 hospitalized patients, HCQ+AZ mortality odds ratio OR 0.36, p = 0.04. Ventilation OR 0.20, p = 0.008.
risk of death,

53.9% lower

, RR 0.46, p = 0.04
, treatment 139, control 115, odds ratio converted to relative risk.
risk of mechanical ventilation,

65.1% lower

, RR 0.35, p = 0.008
, treatment 139, control 115, odds ratio converted to relative risk.
Effect extraction follows pre-specified rules prioritizing more serious outcomes. Submit updates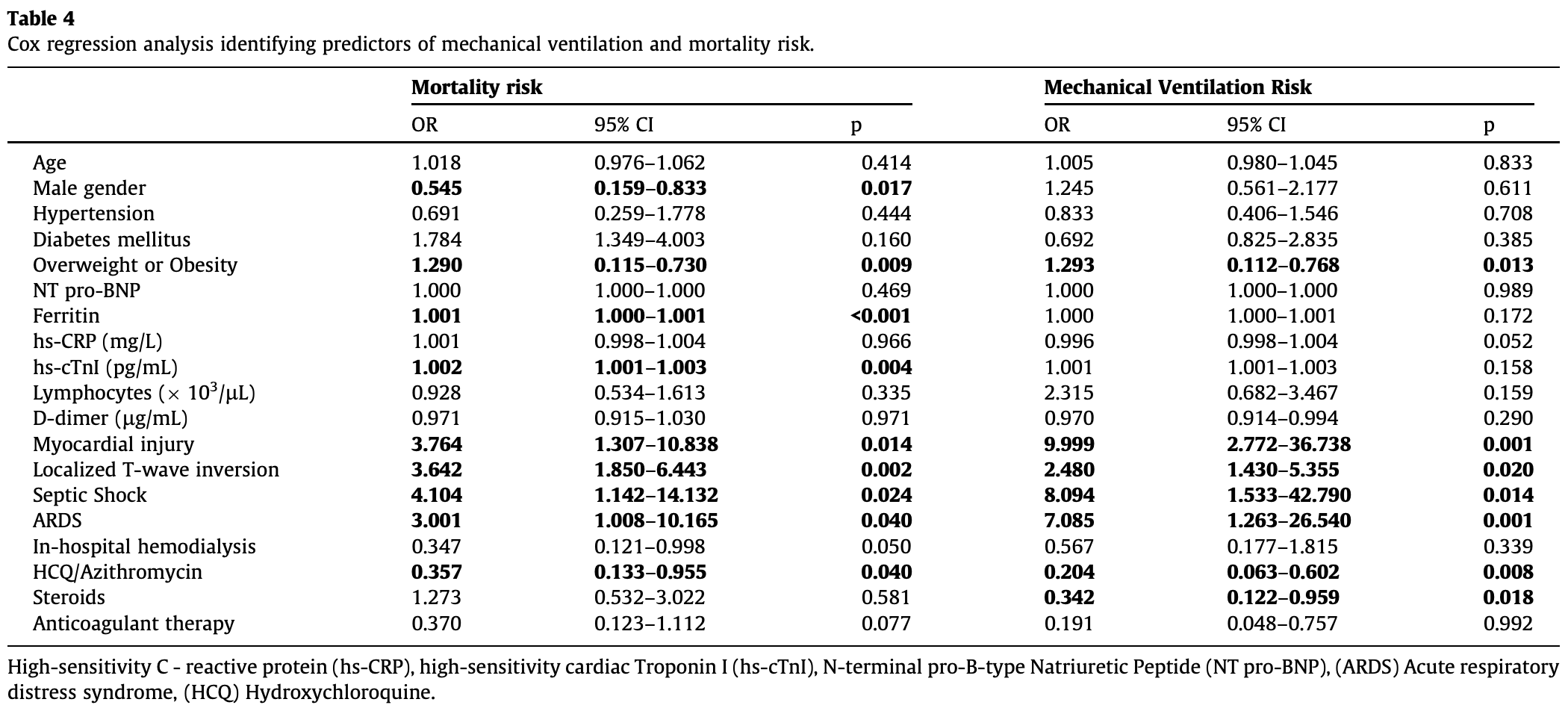 Heberto et al., 12 Sep 2020, prospective, Mexico, peer-reviewed, 8 authors, this trial uses multiple treatments in the treatment arm (combined with AZ) - results of individual treatments may vary.
Contact: vic_plata@hotmail.com, juancarlosplatacorona3@gmail.com.
Abstract: IJC Heart & Vasculature 30 (2020) 100638 Contents lists available at ScienceDirect IJC Heart & Vasculature journal homepage: www.journals.elsevier.com/ijc-heart-and-vasculature Implications of myocardial injury in Mexican hospitalized patients with coronavirus disease 2019 (COVID-19) Aquino Bruno Heberto a,1,2, Plata Corona Juan Carlos b,⇑,1,2, Castro Rubio José Antonio c,1, Pulido Pérez Patricia b,1, Torres Rasgado Enrique b,1, Morales Portano Julieta Danira a,1, Gómez Álvarez Enrique Benito a,1, Merino Rajme José Alfredo a,1 a b c Centro Médico Nacional 20 de Noviembre, ISSSTE, Félix Cuevas 540, Col del Valle Sur, Benito Juárez, 03229 Ciudad de México, Mexico Faculta de Medicina de la Benemérita, Universidad Autónoma de Puebla, Calle 13 Sur 2702, Colonia Los Volcanes, 72420 Puebla, Pue, Mexico Hospital Regional de Alta Especialidad ISSSTE Puebla, Av. 14 Sur 4336, Zona Sin Asignación de Nom, Mexico a r t i c l e i n f o Article history: Received 16 June 2020 Received in revised form 7 August 2020 Accepted 7 September 2020 Available online 12 September 2020 Keywords: Coronavirus COVID-19 SARS-CoV-2 Myocardial injury Troponins a b s t r a c t Background: Respiratory illnesses is the most common manifestation of Coronavirus disease 2019 (COVID-19); however, myocardial injury has recently emerged as a frequent complication. Methods: An observational, longitudinal, prospective, and multicenter study of hospitalized Mexican patients was made. We assessed the prevalence of myocardial injury and its relationship with complications and mortality. Results: 254 COVID-19 patients were included. Their average age was 53.8 years old, 167 (65.7%) were male and 87 (34.3%) female. According to troponin levels, two populations were generated, those with and without myocardial injury. There was no difference in gender or age between both groups. However, there was a greater proportion of obesity and hypertension in myocardial injury group. Multivariate logistic regression analysis revealed that obesity (OR 2.029, 95% CI 1.039–3.961; p = 0.038), arterial oxygen saturation <90% (OR 2.250, 95% CI 1.216–3.560; p = 0.025), and systolic blood pressure <90 mmHg (OR 2.636, 95% CI 1.530–4.343; p = 0.042), were directly related to higher levels of troponins. Multivariate cox proportional hazards analysis showed that primary endpoint (mortality) was determined by overweight/obesity (OR 1.290, 95% CI 0.115–0.730; p = 0.009), ferritin levels (OR 1.001, 95% CI 1.000–1.001; p < 0.001), myocardial injury (OR 3.764, 95% CI 1.307–10.838; p = 0.014), septic shock (OR 4.104, 95% CI 1.142–14.132; p = 0.024), acute respiratory distress syndrome (OR 3.001, 95% CI 1.008–10.165; p = 0.040), and treatment with Hydroxychloroquine/Azithromycin (OR 0.357, 95% IC 0.133–0.955; p = 0.040). Secondary endpoint (Mechanical ventilation risk) was associated to the same factors. Conclusions: Myocardial injury represents an increased risk of complications and death in Mexican hospitalized patients with COVID-19. Ó 2020 The Author(s). Published by Elsevier B.V. This is an open access article under the CC BY-NC-ND license (http://creativecommons.org/licenses/by-nc-nd/4.0/).
Please send us corrections, updates, or comments. Vaccines and treatments are complementary. All practical, effective, and safe means should be used based on risk/benefit analysis. No treatment, vaccine, or intervention is 100% available and effective for all current and future variants. We do not provide medical advice. Before taking any medication, consult a qualified physician who can provide personalized advice and details of risks and benefits based on your medical history and situation.
FLCCC
and
WCH
provide treatment protocols.
Submit