Hydroxychloroquine, azithromycin and methylprednisolone and in hospital survival in severe COVID-19 pneumonia
Hydroxychloroquine, azithromycin and methylprednisolone and in hospital survival in severe COVID-19 pneumonia
,
Frontiers in Pharmacology, doi:10.3389/fphar.2022.935370
,
Retrospective 759 hospitalized patients in the USA, showing lower mortality with combined HCQ+AZ+methylprednisolone treatment compared to methylprednisolone monotherapy.
risk of death,

55.0% lower

, HR 0.45, p = 0.03
, adjusted per study, multivariable, Cox proportional hazards.
Effect extraction follows pre-specified rules prioritizing more serious outcomes. Submit updates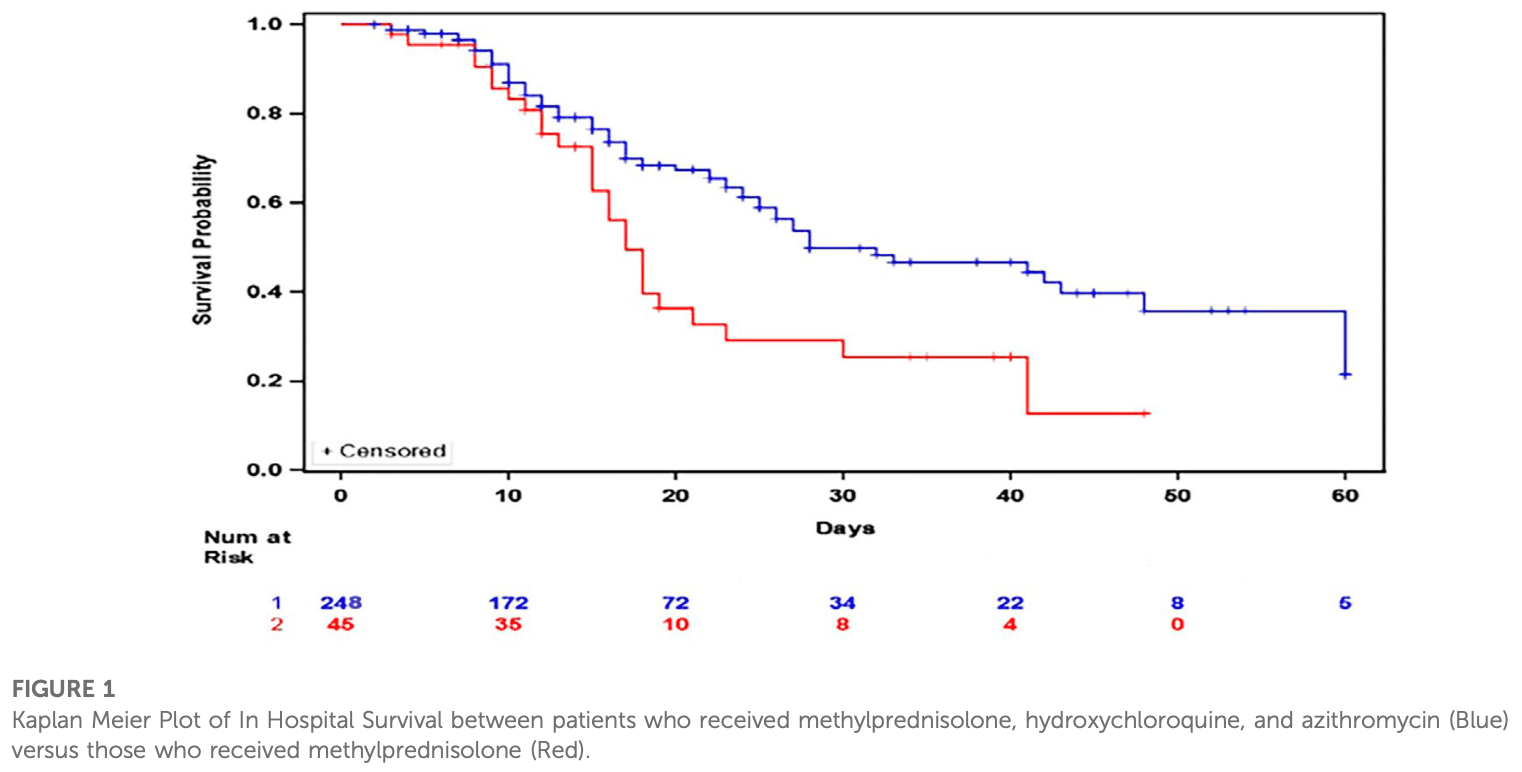 Go et al., 27 Sep 2022, retrospective, USA, peer-reviewed, 2 authors, study period March 2020 - June 2020, this trial uses multiple treatments in the treatment arm (combined with AZ) - results of individual treatments may vary.
Abstract: TYPE Original Research PUBLISHED 27 September 2022 DOI 10.3389/fphar.2022.935370 OPEN ACCESS EDITED BY Sudarshan Singh Rathore, Central Institute of Mining and Fuel Research, India REVIEWED BY Vitaliano Nicola Quaranta, University of Bari Aldo Moro, Italy Venkataraghavan Ramamoorthy, Baptist Health South Florida, United States Asim Bikas Das, National Institute of Technology Warangal, India *CORRESPONDENCE Ronaldo C. Go, criticalmd@gmail.com SPECIALTY SECTION This article was submitted to Respiratory Pharmacology, a section of the journal Frontiers in Pharmacology RECEIVED 09 May 2022 ACCEPTED 07 September 2022 PUBLISHED 27 September 2022 CITATION Go RC and Nyirenda T (2022), Hydroxychloroquine, azithromycin and methylprednisolone and in hospital survival in severe COVID19 pneumonia. Front. Pharmacol. 13:935370. doi: 10.3389/fphar.2022.935370 COPYRIGHT © 2022 Go and Nyirenda. This is an open-access article distributed under the terms of the Creative Commons Attribution License (CC BY). The use, distribution or reproduction in other forums is permitted, provided the original author(s) and the copyright owner(s) are credited and that the original publication in this journal is cited, in accordance with accepted academic practice. No use, distribution or reproduction is permitted which does not comply with these terms. Hydroxychloroquine, azithromycin and methylprednisolone and in hospital survival in severe COVID-19 pneumonia Ronaldo C. Go 1,2,3* and Themba Nyirenda 1,2 1 Hackensack Meridian School of Medicine, Nutley, NJ, United States, 2Hackensack University Medical Center, Hackensack, NJ, United States, 3Department of Critical Care, Robert Wood Johnson Barnabas Health, Hamilton, NJ, United States Introduction: Severe COVID-19 pneumonia has two phases that are not mutually exclusive. Repurposed drugs target only one phase and the association of combination therapy to survival is unknown. Objective: To determine the association of hydroxychloroquine, azithromycin, and methylprednisolone versus methylprednisolone only to in hospital survival. Methods: This is a secondary analysis of a retrospective cohort of patients admitted for severe covid-19 in 13 hospitals in New Jersey, United States from March–June 2020. Propensity score match with 11 variables was constructed between those who received no methylprednisolone and methylprednisolone. Multivariate Cox regression was used for risk of in hospital mortality. Measurements and main results: There were 759 patients, 380 in no methylprednisolone and 379 with methylprednisolone. Multivariate Cox regression shows that methylprednisolone, hydroxychloroquine, and azithromycin had prolonged survival compared to methylprednisolone alone [HR 0.45 (95% CI 0.22,0.91 p < 0.03)]. In patients who received hydroxychloroquine and azithromycin, those who also received high dose methylprednisolone were associated with worse survival compared to those who received low dose methylprednisolone (HR = 1.642; 95% CI 1.053 to 2.562; p = 0.0287). Nursing home residents [HR 2.77 (95% CI 1.67, 4.59 p < 0.0001)], coronary artery disease [HR 2.93 (95% CI 1.31, 3.15 p = 0.001), and invasive mechanical ventilation [HR 3.02 (95% CI 1.71,5.34 p = 0.0001)] were independently associated with worse survival. Abbreviations: ABG, arterial blood gas; ACE2, angiotensin converting enzyme 2; ARDS, acute respiratory distress syndrome; BMI, body mass index; BPM, breaths per minute; CAD, coronary artery disease; CBC,..
Please send us corrections, updates, or comments. Vaccines and treatments are complementary. All practical, effective, and safe means should be used based on risk/benefit analysis. No treatment, vaccine, or intervention is 100% available and effective for all current and future variants. We do not provide medical advice. Before taking any medication, consult a qualified physician who can provide personalized advice and details of risks and benefits based on your medical history and situation.
FLCCC
and
WCH
provide treatment protocols.
Submit