Effectiveness of a On-Site Medicalization Program for Nursing Homes with COVID-19 Outbreaks
Effectiveness of a On-Site Medicalization Program for Nursing Homes with COVID-19 Outbreaks
,
J. Gerontol. A Biol. Sci. Med. Sci., doi:10.1093/gerona/glaa192
,
Retrospective 272 nursing home residents showing significantly improved survival after establishing a treatment program including HCQ with or without lopinavir/ritonavir and with the addition of adjuvant and antimicrobial treatments depending on circumstances. Dosage details are in the supplementary appendix. Mortality relative risk is from
[Alexander]
.
risk of death,

59.0% lower

, RR 0.41, p = 0.03
, treatment 189, control 83.
Effect extraction follows pre-specified rules prioritizing more serious outcomes. Submit updates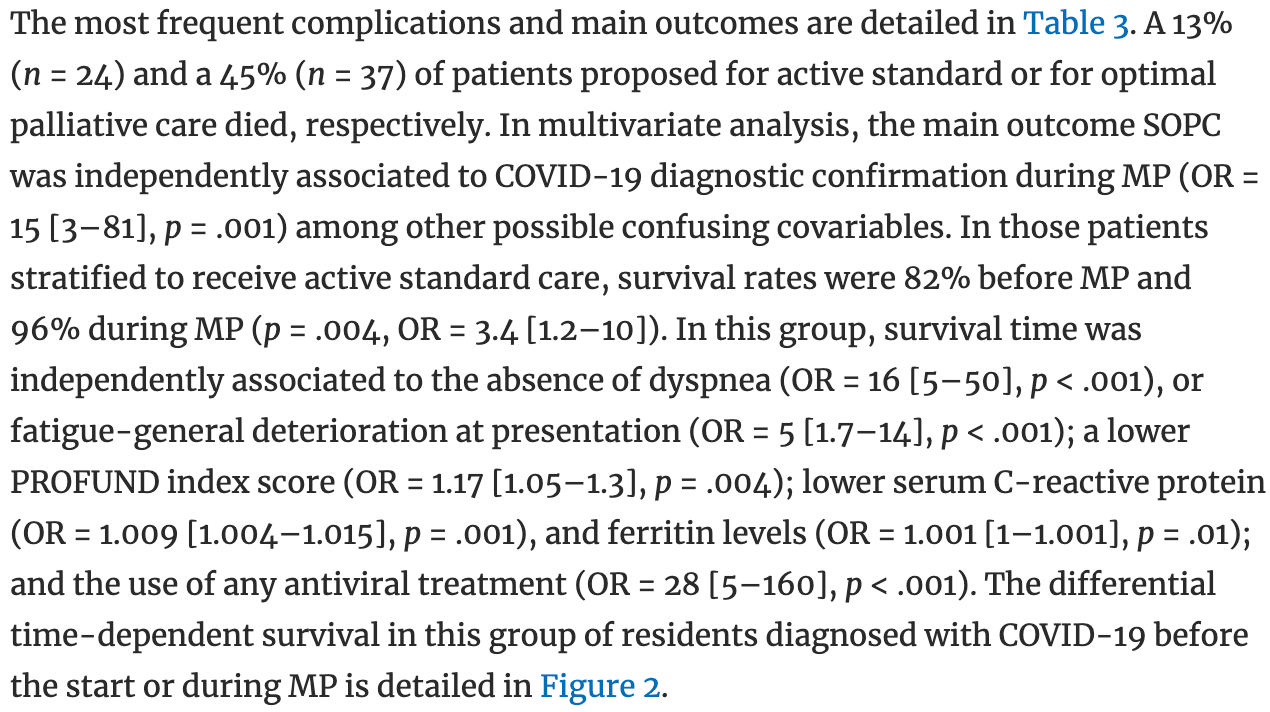 Bernabeu-Wittel et al., 1 Aug 2020, retrospective, Spain, peer-reviewed, 13 authors, dosage 400mg bid day 1, 200mg bid days 2-7, this trial uses multiple treatments in the treatment arm (combined with lopinavir/ritonavir and antimicrobial treatments) - results of individual treatments may vary.
Abstract: EFFECTIVENESS OF A ON-SITE MEDICALIZATION PROGRAM FOR NURSING HOMES WITH COVID-19 OUTBREAKS Bernabeu-Wittel M*1,2(MD, PhD), Ternero-Vega JE1, Nieto-Martín MD1 (MD, PhD), PhD), Rincón-Gómez M1 (MD, PhD), Díaz-Jiménez P1 (MD), Giménez-Miranda L1 (MD), Lomas-Cabezas JM3 (MD, PhD), Muñoz-García MM4 (MD), Calzón-Fernández S5 (MD, us cr ip t PhD), Ollero-Baturone M (MD, PhD)1. Internal Medicine Department, University Hospital Virgen del Rocío, Seville, Spain 2 Full professor. Department of Medicine. University of Seville 3 Infectious Diseases Department, University Hospital Virgen del Rocío, Seville, Spain 4 Bermejales Primary Care Center. Primary Care District of Seville, Spain 5 Epidemiology and Public Health Department. Primary Care District of Seville, Spain pt e d M an 1 ce *Corresponding author: Máximo Bernabeu-Wittel Ac Internal Medicine Department. Hospital Universitario Virgen del Rocío Avda. Manuel Siurot, s/n. 41013 Sevilla, SPAIN. Phone: (34)955012270 Fax: (34)955012270 E-mail: wittel@cica.es © The Author(s) 2020. Published by Oxford University Press on behalf of The Gerontological Society of America. All rights reserved. For permissions, please e-mail: journals.permissions@oup.com. Moreno-Gaviño L1 (MD, PhD), Conde-Guzmán C1 (MD, PhD), Delgado-Cuesta J1 (MD, ABSTRACT BACKGROUND: Nursing homes are highly vulnerable to the occurrence of COVID-19 outbreaks, which result in high lethality rates. Most of them are not prepared to SARS-CoV-2 METHODS: A coordinated on-site medicalization program (MP) in response to a sizeable t COVID-19 outbreak in four nursing homes was organized, with the objectives of improving us cr ip survival, offering humanistic palliative care to residents in their natural environment, and reducing hospital referrals. Ten key processes and interventions were established (provision of informatics infrastructure, medical equipment, and human resources, universal testing, separation of 'clean' and 'contaminated' areas, epidemiological surveys, and unified protocols an stratifying for active or palliative care approach, among others). Main outcomes were a composite endpoint of survival or optimal palliative care (SOPC), survival, and referral to M hospital. d RESULTS: 272 out of 457 (59.5%) residents and 85 out of 320 (26.5%) staff members were pt e affected. The SOPC, survival, and referrals to hospital, occurred in 77%, 72.5%, and 29% of patients diagnosed before MP start, with respect to 97%, 83.7% and 17% of those diagnosed ce during the program, respectively. The SOPC was independently associated to MP (OR=15 [3-81]); and survival in patients stratified to active approach, to the use of any antiviral Ac treatment (OR=28 [5-160]). All outbreaks were controlled in 39 [37-42] days. CONCLUSIONS: A coordinated on-site medicalization program of nursing homes with COVID-19 outbreaks achieved a higher survival or optimal palliative care rate, and a reduction in referrals to hospital, thus ensuring rigorous but also humanistic and gentle care to residents. KEYWORDS: COVID-19, SARS-CoV-2, community-based long-term care, frailty, multimorbidities 2 pandemic.
Please send us corrections, updates, or comments. Vaccines and treatments are complementary. All practical, effective, and safe means should be used based on risk/benefit analysis. No treatment, vaccine, or intervention is 100% available and effective for all current and future variants. We do not provide medical advice. Before taking any medication, consult a qualified physician who can provide personalized advice and details of risks and benefits based on your medical history and situation.
FLCCC
and
WCH
provide treatment protocols.
Submit