The effect of Hydroxychloroquine use due to rheumatic disease on the risk of Covid-19 infection and its course
et al., Authorea,
Retrospective 683 patients in a rheumatology department, 384 chronic HCQ users and 299 control patients, showing no mortality for HCQ users vs. 2 deaths in the control group, and significantly fewer cases for HCQ users.
risk of death,

82.1% lower

, RR 0.18, p = 0.19
, treatment 0 of 385 (0.0%), control 2 of 299 (0.7%), NNT 150, relative risk is not 0 because of continuity correction due to zero events (with reciprocal of the contrasting arm).
risk of case,

93.7% lower

, RR 0.06, p < 0.001
, treatment 2 of 395 (0.5%), control 24 of 299 (8.0%), NNT 13.
Effect extraction follows pre-specified rules prioritizing more serious outcomes. Submit updates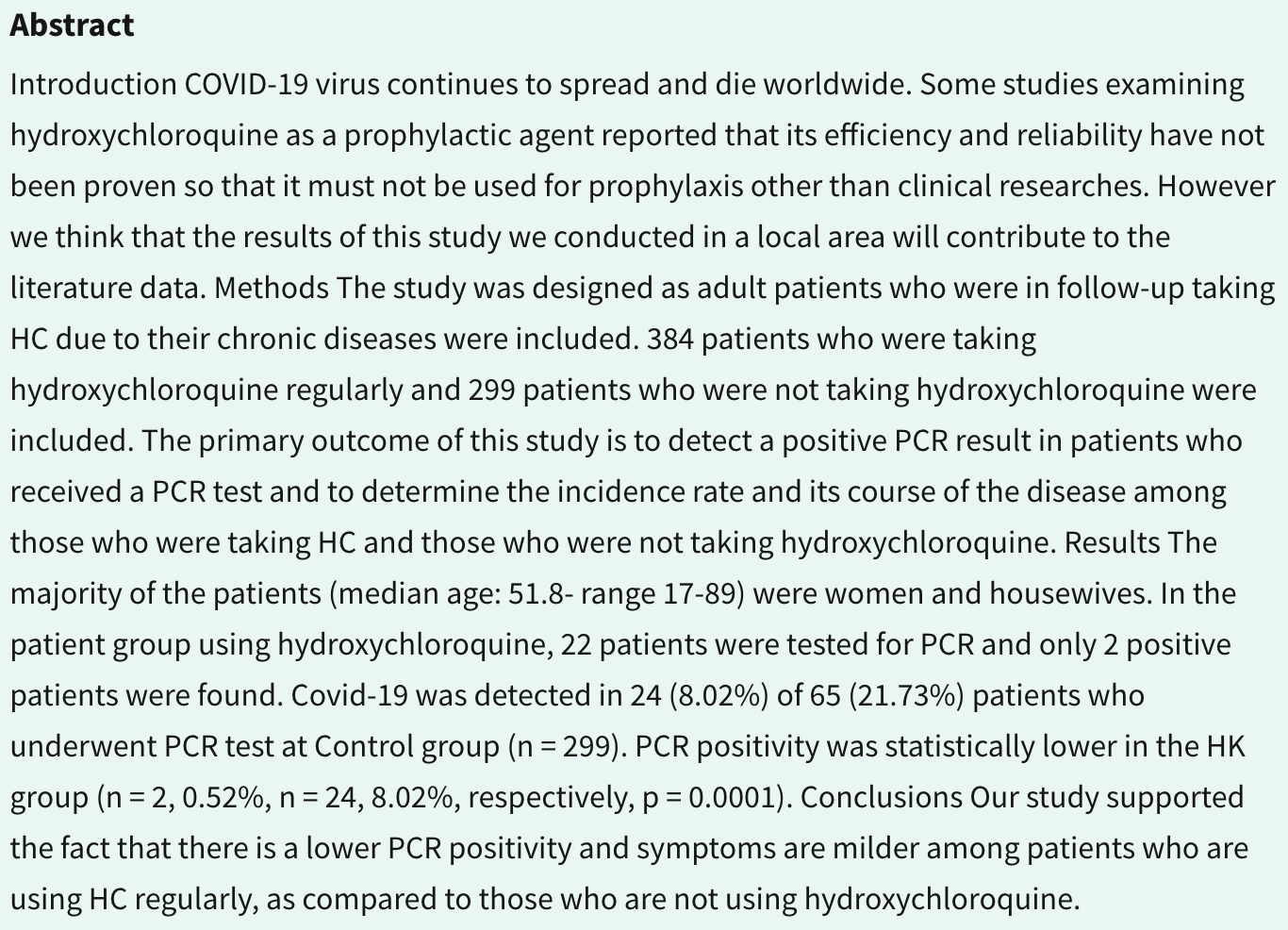 Korkmaz et al., 1 Jun 2021, retrospective, Turkey, preprint, 4 authors.
Abstract: Posted on Authorea 1 Jun 2021 | The copyright holder is the author/funder. All rights reserved. No reuse without permission. | https://doi.org/10.22541/au.162257516.68665404/v1 | This a preprint and has not been peer reviewed. Data may be preliminary. The effect of Hydroxychloroquine use due to rheumatic disease on the risk of Covid-19 infection and its course Tanzer Korkmaz1 , Aslı Şener1 , Vedat Gerdan2 , and İlker Kızıloglu3 1 Affiliation not available Bakircay Universitesi 3 Doctor Suat Seren Chest Diseases Training and Research Hospital 2 June 1, 2021 Abstract Introduction COVID-19 virus continues to spread and die worldwide. Some studies examining hydroxychloroquine as a prophylactic agent reported that its efficiency and reliability have not been proven so that it must not be used for prophylaxis other than clinical researches. However we think that the results of this study we conducted in a local area will contribute to the literature data. Methods The study was designed as adult patients who were in follow-up taking HC due to their chronic diseases were included. 384 patients who were taking hydroxychloroquine regularly and 299 patients who were not taking hydroxychloroquine were included. The primary outcome of this study is to detect a positive PCR result in patients who received a PCR test and to determine the incidence rate and its course of the disease among those who were taking HC and those who were not taking hydroxychloroquine. Results The majority of the patients (median age: 51.8- range 17-89) were women and housewives. In the patient group using hydroxychloroquine, 22 patients were tested for PCR and only 2 positive patients were found. Covid-19 was detected in 24 (8.02%) of 65 (21.73%) patients who underwent PCR test at Control group (n = 299). PCR positivity was statistically lower in the HK group (n = 2, 0.52%, n = 24, 8.02%, respectively, p = 0.0001). Conclusions Our study supported the fact that there is a lower PCR positivity and symptoms are milder among patients who are using HC regularly, as compared to those who are not using hydroxychloroquine. The effect of Hydroxychloroquine use due to rheumatic disease on the risk of Covid-19 infection and its course Hydroxychloroquine in Covid-19 and its course Abstract
Please send us corrections, updates, or comments. Vaccines and treatments are complementary. All practical, effective, and safe means should be used based on risk/benefit analysis. No treatment, vaccine, or intervention is 100% available and effective for all current and future variants. We do not provide medical advice. Before taking any medication, consult a qualified physician who can provide personalized advice and details of risks and benefits based on your medical history and situation.
FLCCC
and
WCH
provide treatment protocols.
Submit