Azithromycin and Hydroxychloroquine Accelerate Recovery of Outpatients with Mild/Moderate COVID-19
et al., Asian J. Medicine and Health, July 15, 2020,
Mean clinical recovery time reduced from 26 days (SOC) to 9 days, p<0.0001 (HCQ+AZ) or 13 days, p<0.0001 (AZ). No cardiac toxicity. Small retrospective study of 88 patients with case control analysis with matched patients.
risk of death,

61.4% lower

, RR 0.39, p = 1.00
, treatment 0 of 20 (0.0%), control 1 of 34 (2.9%), NNT 34, relative risk is not 0 because of continuity correction due to zero events (with reciprocal of the contrasting arm).
recovery time,

65.0% lower

, relative time 0.35, p < 0.001
, treatment 20, control 34.
Effect extraction follows pre-specified rules prioritizing more serious outcomes. Submit updates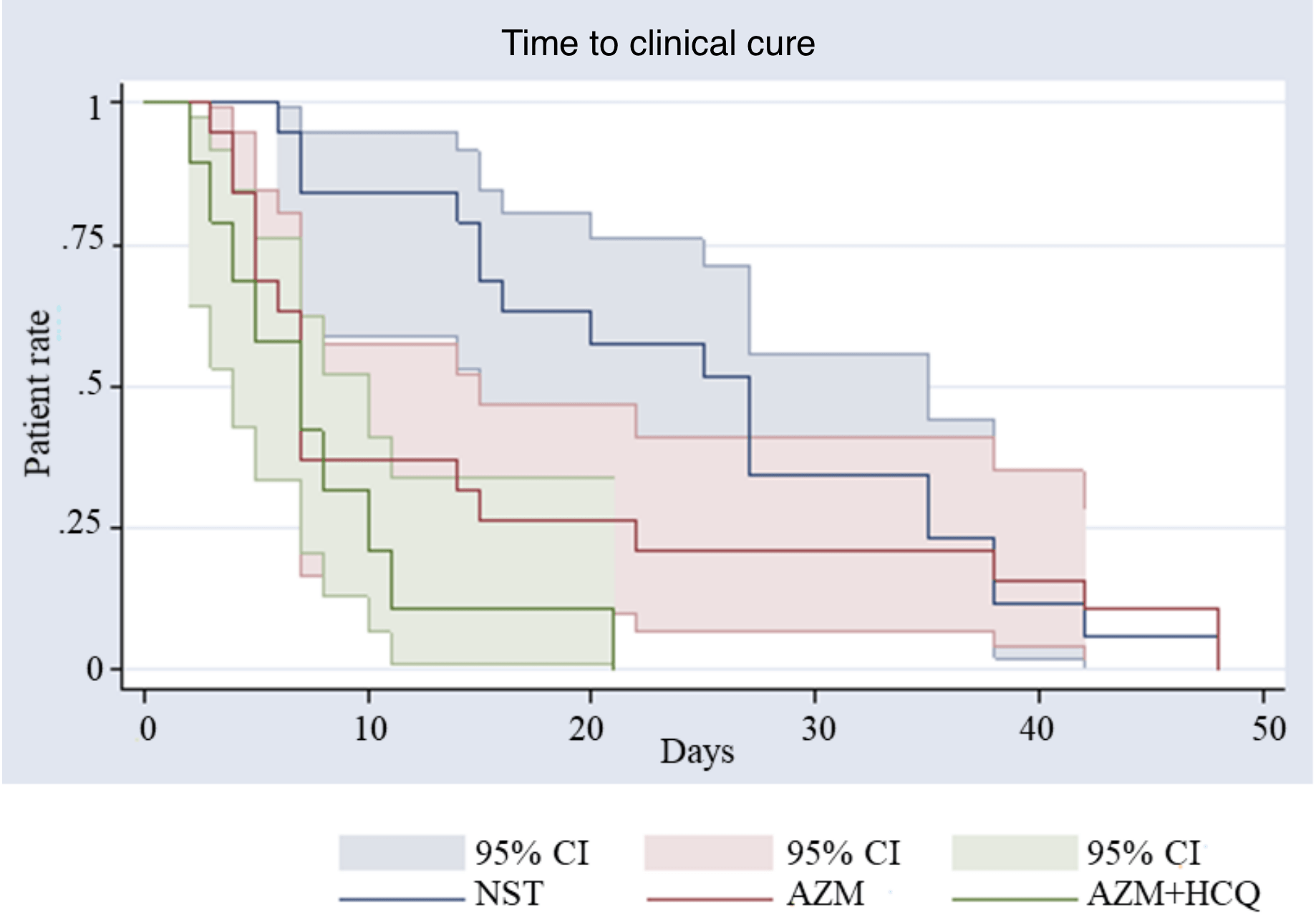 Guérin et al., 31 May 2020, retrospective, France, peer-reviewed, 8 authors, dosage 600mg days 1-10, 7-10 days, this trial uses multiple treatments in the treatment arm (combined with AZ) - results of individual treatments may vary.
Azithromycin and Hydroxychloroquine Accelerate Recovery of Outpatients with Mild/Moderate COVID-19
Asian Journal of Medicine and Health, doi:10.9734/ajmah/2020/v18i730224
Aims: The challenge regarding COVID-19 is to prevent complications and fatal evolution. Azithromycin (AZM) and hydroxychloroquine (HCQ) have proven their antiviral effect in vitro. We aimed to assess the efficacy and safety of AZM alone or combined to HCQ, prescribed, at an early stage, in patients with Covid-19, in a primary care setting. Study Design: Retrospective observational study. Place and Duration of Study: Patients have been followed by private practitioners in France, between March and April 2020. Methodology: Eighty-eight patients received either no or a symptomatic treatment (NST) (n=34) or AZM alone (n=34) or AZM+HCQ (n=20). The efficacy end point was the time to clinical recovery
Authors' contributions This work was carried out in collaboration among all authors. Authors VG and JLT designed the study and wrote the first draft of the manuscript. Authors VG, TL, ES, NRA, P. Lacrosse and MW followed the patients. Author P. Lévy performed the statistical analysis. All authors read and approved the final manuscript. ETHICAL APPROVAL It is not applicable. COMPETING INTERESTS Authors have declared that no competing interests exist.
References
Barbosa, Da Silva, Costa, Castro, Razuk-Filho et al., Empirical treatment with hydroxychloroquine and azithromycin for suspected cases of COVID-19 followed by telemedicine