Retrospective 512 rheumatic disease patients in Iran, showing lower risk of COVID-19 with HCQ use.
risk of case,

56.0% lower

, RR 0.44, p = 0.02
, treatment 10 of 108 (9.3%), control 56 of 368 (15.2%), odds ratio converted to relative risk.
Effect extraction follows pre-specified rules prioritizing more serious outcomes. Submit updates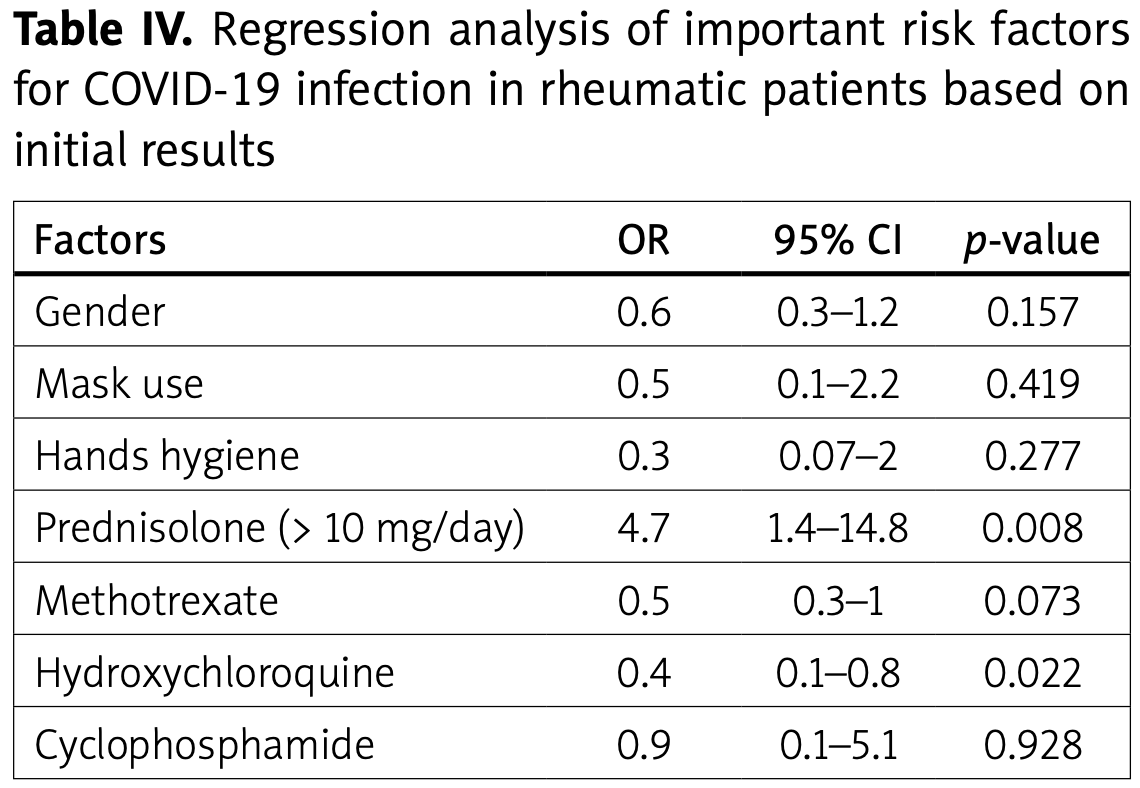 Sahebari et al., 7 Sep 2022, retrospective, Iran, peer-reviewed, 6 authors.
Contact: mirfeiziz@mums.ac.ir.
Influence of biologic and conventional disease-modifying antirheumatic drugs on COVID-19 incidence among rheumatic patients during the first and second wave of the pandemic in Iran
Rheumatology, doi:10.5114/reum.2022.119039
Introduction: During the SARS-CoV-2 virus pandemic, immunosuppressive agents in treating chronic disease have become a concern, and rheumatic patients are not an exception. The controversies about the deteriorating effects of such medications led this study to evaluate the influence of biologic and conventional disease-modifying antirheumatic drugs (DMARDs) on the incidence of COVID-19 infection in rheumatic patients. Material and methods: In the present cohort-analytical study, 512 patients with rheumatic diseases were enrolled during the COVID-19 pandemic (2020COVID-19 pandemic ( -2021)). The incidence of COVID-19 infection was diagnosed according to the definition of the Iranian Ministry of Health. The frequency of COVID-19 infection in patients treated with biological and conventional DMARDs and glucocorticosteroids were compared. Results: Among 512 rheumatic patients, 19.9% were definitely infected with COVID-19, and 23.3% of infected patients were hospitalized. Only one patient with vasculitis died during the two outbreaks. Our study showed that adding biologic DMARDs to conventional DMARDs did not increase the risk of COVID-19 infection. However, unlike biologic DMARDs, in conventional DMARDs, methotrexate increased, and hydroxychloroquine decreased COVID-19 infection. Regression analysis showed that prednisolone at a dosage higher than 10 mg/day increased the risk of COVID-19 infection 5-fold; hydroxychloroquine had a protective impact and reduced the risk of infection by 40%. Conclusions: Biologic DMARDs and the type of selected rheumatic diseases in our study did not influence the susceptibility to COVID-19 infection. Prednisolone raised the coronavirus infection, and hydroxychloroquine played a protective role in the current study. Most of our patients showed good adherence to the health protocols. Further studies after worldwide vaccination are now required to reevaluate the influence of rheumatic diseases and DMARDs on COVID-19 infection.
References
Rheumatism, EULAR Guidance for patients COVID-19 outbreak, Web Site