Retrospective 80 consecutive pregnant patients with autoimmune rheumatic diseases in Qatar, showing lower risk of COVID-19 cases with HCQ prophylaxis. This study is excluded in the after exclusion results of meta analysis: unadjusted results with no group details.
risk of case,

61.5% lower

, RR 0.39, p = 0.04
, treatment 10 of 63 (15.9%), control 7 of 17 (41.2%), NNT 4.0.
Effect extraction follows pre-specified rules prioritizing more serious outcomes. Submit updates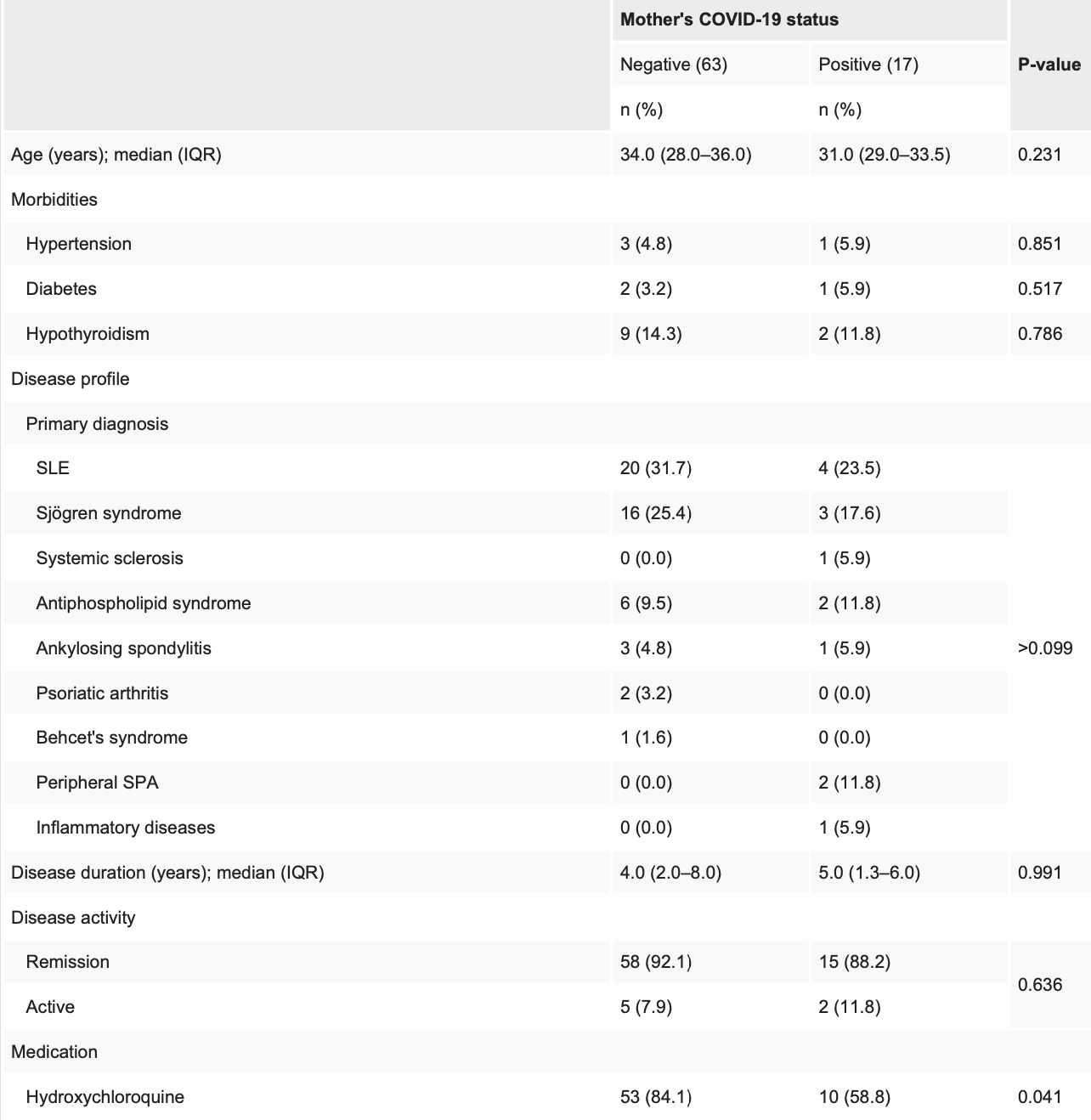 Satti et al., 22 Apr 2022, retrospective, Qatar, peer-reviewed, 6 authors.
Contact: salemadi@hamad.qa.
Characteristics and Obstetric Outcomes in Women With Autoimmune Rheumatic Disease During the COVID-19 Pandemic in Qatar
Cureus, doi:10.7759/cureus.24382
Objective: Pregnant women with autoimmune rheumatic diseases are considered to have a high risk of obstetric complications with the emergence of the Coronavirus disease (COVID-19) pandemic. Therefore, we aimed to assess the impact of COVID-19 on this high-risk group. Methods: This cross-sectional cohort study (March to December 2020) was conducted at the largest tertiary center in Qatar (Hamad Medical Corporation). Eighty consecutive patients following up at the center during pregnancy were surveyed through telephonic interviews. Data on COVID-19 and pregnancy outcomes were extracted from electronic hospital records. Results: Eighty pregnant women with autoimmune rheumatic diseases were included. Among them, 17 (21.3%) (95% confidence interval [CI]: 12.9-31.8%) were diagnosed with COVID-19, five were hospitalized, and only one required intensive care unit admission. The proportion of adverse obstetric outcomes in the cohort was 29.5% (n = 23; 95% CI: 19.7-40.9%). Prematurity (n = 14; 19.4%) and caesarean section (n = 30; 41.1%) were the most prevalent adverse events. There was no statistical difference in adverse pregnancy outcomes between women with and without COVID-19. Conclusion: COVID-19 did not affect pregnancy outcomes in women with autoimmune rheumatic diseases.
Additional Information Disclosures
References