Characteristics associated with poor COVID-19 outcomes in individuals with systemic lupus erythematosus: data from the COVID-19 Global Rheumatology Alliance
Characteristics associated with poor COVID-19 outcomes in individuals with systemic lupus erythematosus: data..
,
Annals of the Rheumatic Diseases, doi:10.1136/annrheumdis-2021-221636
,
Retrospective 1,606 SLE patients showing lower risk of severe COVID-19 outcomes with HCQ/CQ use.
risk of severe case,

44.4% lower

, OR 0.56, p = 0.007
, treatment 665, control 230, adjusted per study, inverted to make OR<1 favor treatment, HCQ/CQ only vs. no SLE medication, multivariable, RR approximated with OR.
Effect extraction follows pre-specified rules prioritizing more serious outcomes. Submit updates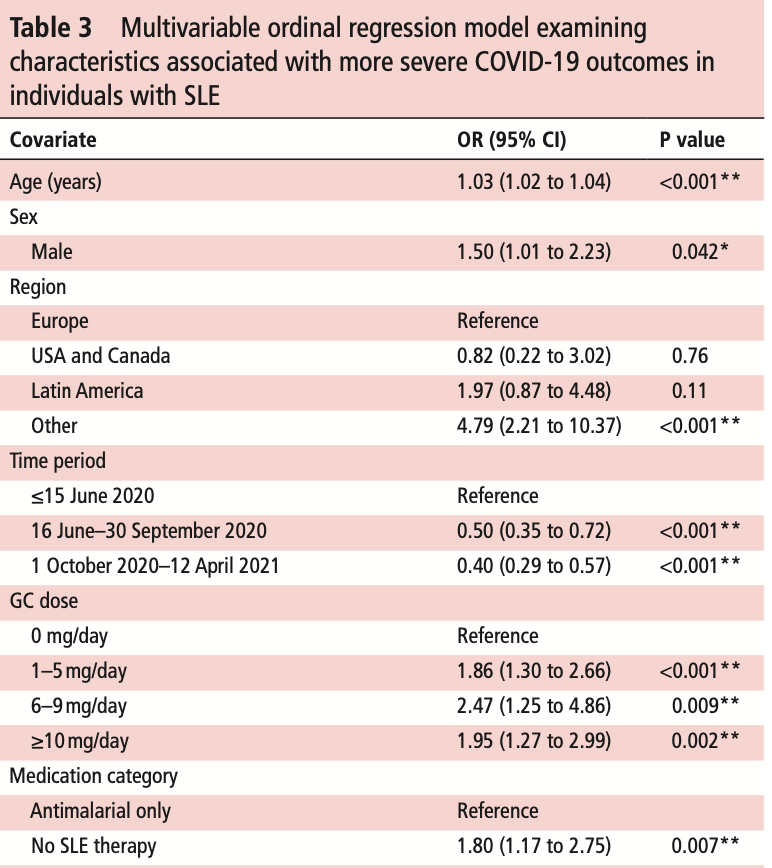 Ugarte-Gil et al., 16 Feb 2022, retrospective, multiple countries, peer-reviewed, 58 authors.
Abstract: EPIDEMIOLOGICAL SCIENCE Characteristics associated with poor COVID-­19 outcomes in individuals with systemic lupus erythematosus: data from the COVID-­19 Global Rheumatology Alliance Handling editor Josef S Smolen ► Additional supplemental material is published online only. To view, please visit the journal online (http://d​ x.​doi.​ org/1​ 0.​1136/a​ nnrheumdis-​ 2021-​221636). For numbered affiliations see end of article. Correspondence to Manuel Francisco Ugarte-­Gil, Universidad Cientifica del Sur, Miraflores, Peru; ​mugarte@​cientifica.e​ du.​pe Received 8 October 2021 Accepted 14 January 2022 © Author(s) (or their employer(s)) 2022. No commercial re-­use. See rights and permissions. Published by BMJ. To cite: Ugarte-­Gil MF, Alarcón GS, Izadi Z, et al. Ann Rheum Dis Epub ahead of print: [please include Day Month Year]. doi:10.1136/ annrheumdis-2021-221636 Manuel Francisco Ugarte-­Gil ‍ ‍,1,2 Graciela S Alarcón ‍ ‍,3,4 Zara Izadi ‍ ‍,5,6 Ali Duarte-­García ‍ ‍,7,8 Cristina Reátegui-­Sokolova ‍ ‍,2,9 Ann Elaine Clarke,10 Leanna Wise,11 Guillermo J Pons-­Estel ‍ ‍,12,13 Maria Jose Santos ‍ ‍,14,15 Sasha Bernatsky ‍ ‍,16 Sandra Lúcia Euzébio Ribeiro ‍ ‍,17 Samar Al Emadi ‍ ‍,18 Jeffrey A Sparks ‍ ‍,19 Tiffany Y -T Hsu ‍ ‍,19 Naomi J Patel,20 Emily L Gilbert,21 Maria O Valenzuela-­Almada,7 Andreas Jönsen,22 Gianpiero Landolfi,23 Micaela Fredi,24,25 Tiphaine Goulenok,26,27 Mathilde Devaux,28 Xavier Mariette ‍ ‍,29 Viviane Queyrel,30 Vasco C Romão ‍ ‍,31,32 Graca Sequeira,33 Rebecca Hasseli,34 Bimba Hoyer,35 Reinhard E Voll,36 Christof Specker ‍ ‍,37 Roberto Baez,38 Vanessa Castro-­Coello,39 Hernan Maldonado Ficco,40 Edgard Torres Reis Neto ‍ ‍,41 Gilda Aparecida Aparecida Ferreira ‍ ‍,42,43 Odirlei Andre André Monticielo ‍ ‍,44,45 Emily Sirotich ‍ ‍,46,47 Jean Liew,48 Jonathan Hausmann ‍ ‍,49,50 Paul Sufka,51 Rebecca Grainger,52 Suleman Bhana,53 Wendy Costello,54 Zachary S Wallace,20 Lindsay Jacobsohn,6 Tiffany Taylor,6 Clairissa Ja,6 Anja Strangfeld ‍ ‍,55 Elsa F Mateus ‍ ‍,56,57 Kimme L Hyrich ‍ ‍,58,59 Loreto Carmona ‍ ‍,60 Saskia Lawson-­Tovey ‍ ‍,59,61 Lianne Kearsley-­Fleet ‍ ‍,62 Martin Schäfer ‍ ‍,63 Pedro M Machado ‍ ‍,64,65,66,67 Philip C Robinson ‍ ‍,68,69 Milena Gianfrancesco,6 Jinoos Yazdany6 ABSTRACT Aim To determine characteristics associated with more severe outcomes in a global registry of people with systemic lupus erythematosus (SLE) and COVID-­19. Methods People with SLE and COVID-­19 reported in the COVID-­19 Global Rheumatology Alliance registry from March 2020 to June 2021 were included. The ordinal outcome was defined as: (1) not hospitalised, (2) hospitalised with no oxygenation, (3) hospitalised with any ventilation or oxygenation and (4) death. A multivariable ordinal logistic regression model was constructed to assess the relationship between COVID-­19 severity and demographic characteristics, comorbidities, medications and disease activity. Results A total of 1606 people with SLE were included. In the multivariable model, older age (OR 1.03, 95% CI 1.02 to 1.04), male sex (1.50, 1.01 to 2.23), prednisone dose (1–5 mg/day 1.86, 1.20 to 2.66, 6–9 mg/day 2.47, 1.24 to 4.86 and ≥10 mg/day 1.95, 1.27 to 2.99), no current treatment (1.80, 1.17 to 2.75), comorbidities (eg, kidney disease 3.51, 2.42 to 5.09, cardiovascular disease/hypertension 1.69, 1.25 to 2.29) and moderate or high SLE disease activity (vs remission; 1.61, 1.02 to 2.54 and 3.94, 2.11 to 7.34, respectively) were associated with more severe..
Please send us corrections, updates, or comments. Vaccines and treatments are complementary. All practical, effective, and safe means should be used based on risk/benefit analysis. No treatment, vaccine, or intervention is 100% available and effective for all current and future variants. We do not provide medical advice. Before taking any medication, consult a qualified physician who can provide personalized advice and details of risks and benefits based on your medical history and situation.
FLCCC
and
WCH
provide treatment protocols.
Submit