Early hydroxychloroquine but not chloroquine use reduces ICU admission in COVID-19 patients
Observational study 1,064 hospitalized patients in the Netherlands, 53% reduced risk of transfer to the ICU for mechanical ventilation with HCQ treatment starting on the first day of admission.Weighted propensity score adjusted hazard ratio for transfer to the ICU with HCQ treatment, HR = 0.47, p = 0.008. For CQ, HR = 0.8, p = 0.207. Mortality results in this study are only for mortality before transfer to the ICU. The combined ICU/death HR was 0.68, p = 0.024 for HCQ, and 0.85, p = 0.224 for CQ.Observational, multicenter, cohort study of hospitalized COVID-19 patients. 189 HCQ patients, 377 CQ, 498 control.
risk of death/ICU,

32.0% lower

, HR 0.68, p = 0.02
, treatment 30 of 189 (15.9%), control 101 of 498 (20.3%), adjusted per study.
Effect extraction follows pre-specified rules prioritizing more serious outcomes. Submit updates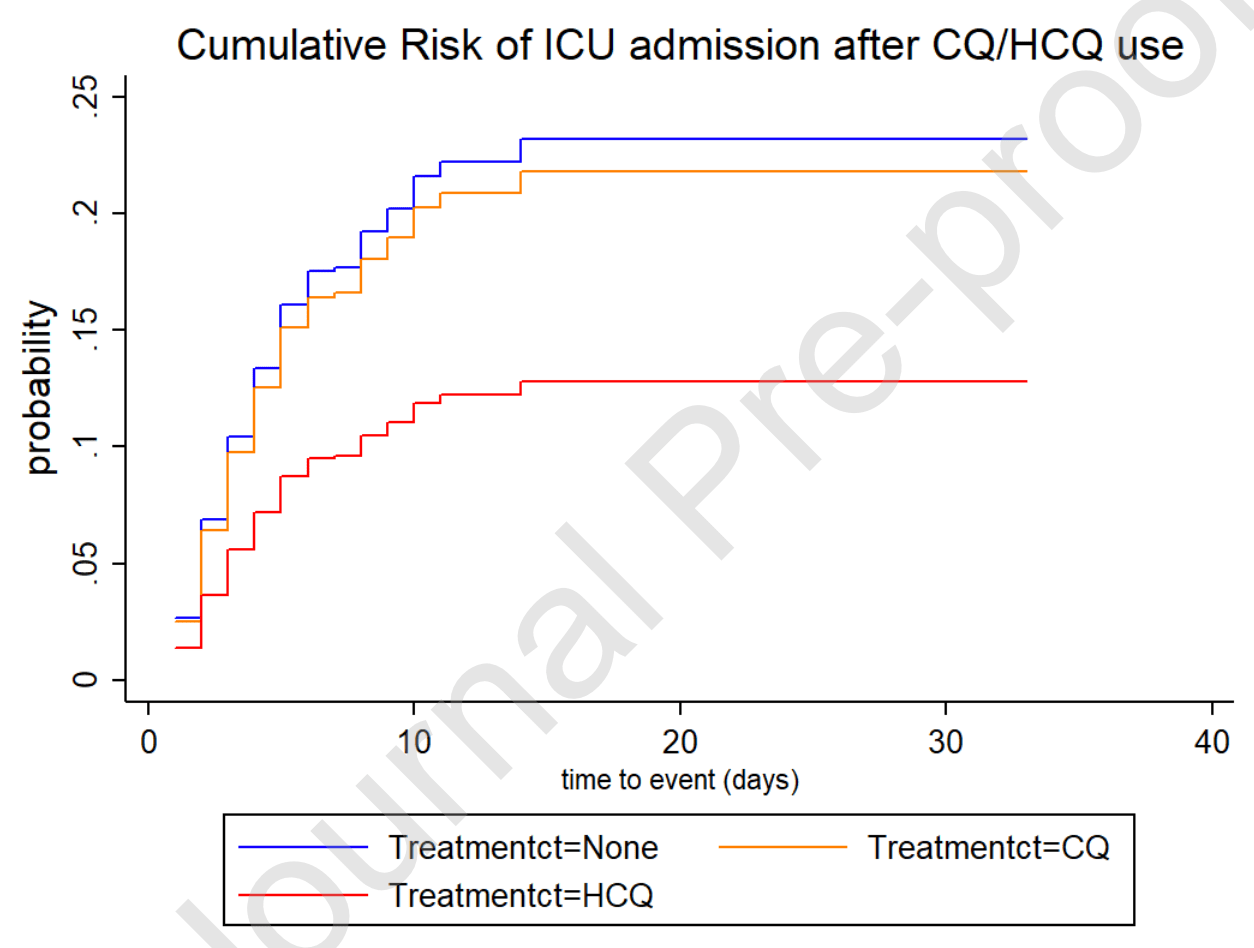 Lammers et al., 29 Sep 2020, prospective, Netherlands, peer-reviewed, 18 authors.
Abstract: International Journal of Infectious Diseases 101 (2020) 283–289 Contents lists available at ScienceDirect International Journal of Infectious Diseases journal homepage: www.elsevier.com/locate/ijid Early hydroxychloroquine but not chloroquine use reduces ICU admission in COVID-19 patients A.J.J. Lammersa,* ,1 , R.M. Brohetb,1 , R.E.P. Theunissena , C. Kostera , R. Roodc, D.W.M. Verhagend , K. Brinkmane , R.J. Hassingf , A. Dofferhoffg , R. el Moussaouih , G. Hermanidesi, J. Ellerbroekj, N. Bokhizzouk , H. Visserl, M. van den Bergem , H. Baxn , D.F. Postmao , P.H.P. Groenevelda a Isala, Zwolle, The Netherlands Department of Epidemiology and Statistics, Isala Academy, Zwolle, The Netherlands c Diakonessen Hospital, Utrecht, The Netherlands d Medisch Centrum Jan van Goyen, Amsterdam, The Netherlands e OLVG, Amsterdam, The Netherlands f Rijnstate, Arnhem, The Netherlands g Canisius Wilhelmina Hospital, Nijmegen, The Netherlands h Maasstad Hospital Rotterdam, The Netherlands i Rode Kruis Hospital, Beverwijk, The Netherlands j Reinier de Graaf Gasthuis, Delft, The Netherlands k BovenIJ Hospital, Amsterdam, The Netherlands l Beatrix Hospital Gorinchem, The Netherlands m Admiraal de Ruiter Hospital, Goes, The Netherlands n Erasmus MC Rotterdam, The Netherlands o University Medical Center Groningen, Groningen, The Netherlands b A R T I C L E I N F O A B S T R A C T Article history: Received 1 August 2020 Received in revised form 23 September 2020 Accepted 23 September 2020 Background: The global push for the use of hydroxychloroquine (HCQ) and chloroquine (CQ) against COVID-19 has resulted in an ongoing discussion about the effectivity and toxicity of these drugs. Recent studies report no effect of (H)CQ on 28-day mortality. We investigated the effect of HCQ and CQ in hospitalized patients on the non-ICU COVID-ward. Methods: A nationwide, observational cohort study was performed in The Netherlands. Hospitals were given the opportunity to decide independently on the use of three different COVID-19 treatment strategies: HCQ, CQ, or no treatment. We compared the outcomes between these groups. The primary outcomes were 1) death on the COVID-19 ward, and 2) transfer to the intensive care unit (ICU). Results: The analysis included 1064 patients from 14 hospitals: 566 patients received treatment with either HCQ (n = 189) or CQ (n = 377), and 498 patients received no treatment. In a multivariate propensitymatched weighted competing regression analysis, there was no significant effect of (H)CQ on mortality on the COVID ward. However, HCQ was associated with a significantly decreased risk of transfer to the ICU (hazard ratio (HR) = 0.47, 95% CI = 0.27–0.82, p = 0.008) when compared with controls. This effect was not found in the CQ group (HR = 0.80, 95% CI = 0.55–1.15, p = 0.207). Conclusion: The results of this observational study demonstrate a lack of effect of (H)CQ on non-ICU mortality. However, we show that the use of HCQ — but not CQ — is associated with a 53% reduction in risk of transfer of COVID-19 patients from the regular ward to the ICU. Recent prospective studies have reported on 28-day, all-cause mortality only; therefore, additional prospective data on the early effects of HCQ in preventing transfer to the ICU are still needed. © 2020 The Author(s). Published by Elsevier Ltd on behalf of International Society for Infectious Diseases. This is an open access article under the CC BY-NC-ND license..
Please send us corrections, updates, or comments. Vaccines and treatments are complementary. All practical, effective, and safe means should be used based on risk/benefit analysis. No treatment, vaccine, or intervention is 100% available and effective for all current and future variants. We do not provide medical advice. Before taking any medication, consult a qualified physician who can provide personalized advice and details of risks and benefits based on your medical history and situation.
FLCCC
and
WCH
provide treatment protocols.
Submit