Covid-19 and lung cancer: A greater fatality rate?
Retrospective 17 hospitalized lung cancer patients showing lower mortality with HCQ+AZ treatment.
risk of death,

91.6% lower

, RR 0.08, p = 0.02
, treatment 1 of 8 (12.5%), control 7 of 9 (77.8%), NNT 1.5, odds ratio converted to relative risk, multivariate logistic regression.
Effect extraction follows pre-specified rules prioritizing more serious outcomes. Submit updates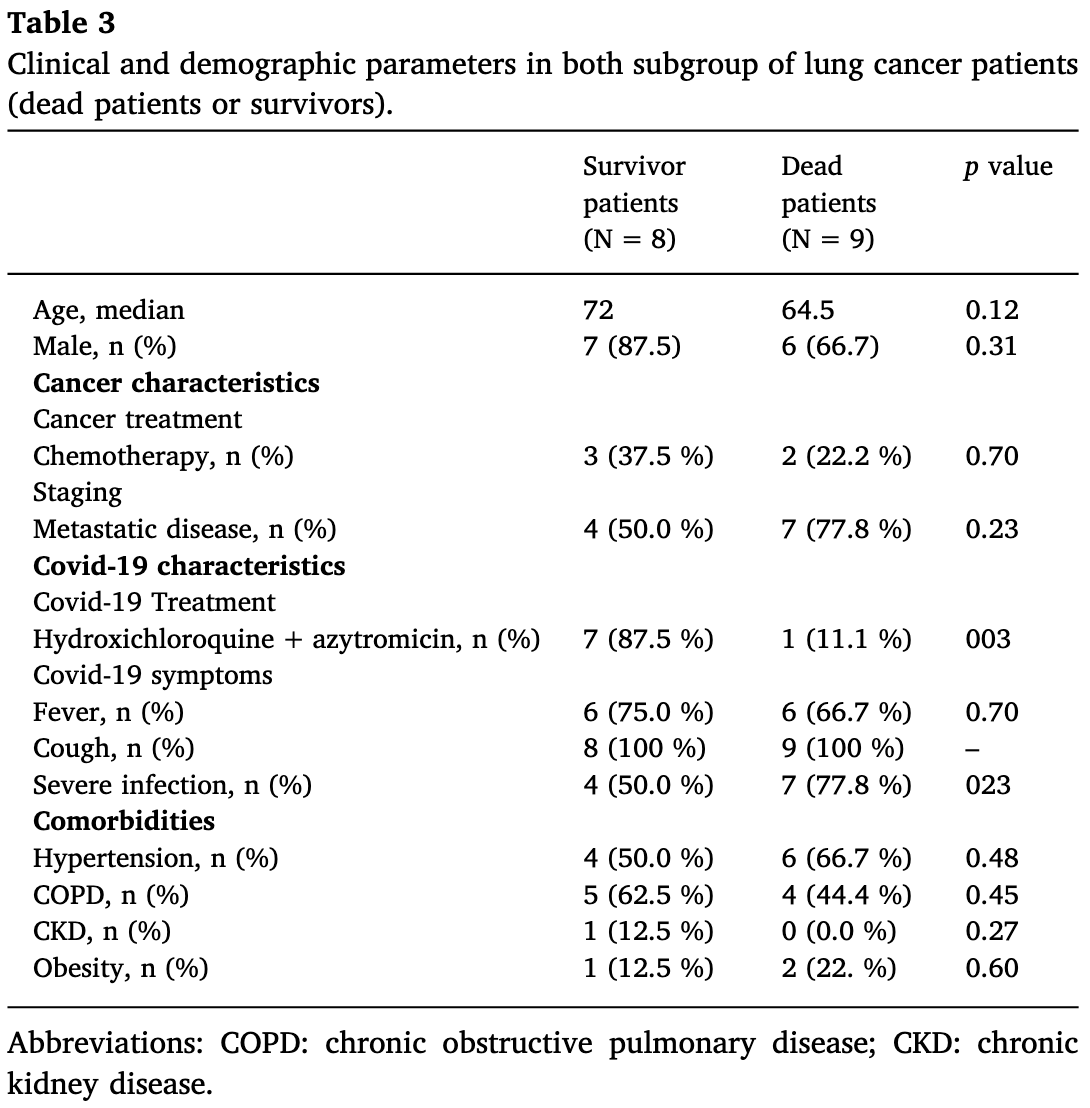 Rogado et al., 29 May 2020, retrospective, Spain, peer-reviewed, 9 authors.
Abstract: Lung Cancer 146 (2020) 19–22 Contents lists available at ScienceDirect Lung Cancer journal homepage: www.elsevier.com/locate/lungcan Covid-19 and lung cancer: A greater fatality rate? a, a a T a Jacobo Rogado *, Cristina Pangua , Gloria Serrano-Montero , Berta Obispo , Almudena Martín Marinoa, Mar Pérez-Péreza, Ana López-Alfonsoa, Pedro Gullónb, Miguel Ángel Laraa,c a Medical Oncology Department, Hospital Universitario Infanta Leonor, Madrid Spain Public Health and Epidemiology Research Group. Universidad de Alcalá, Spain c Universidad Complutense de Madrid, Spain b A R T I C LE I N FO A B S T R A C T Keywords: Covid-19 Lung cancer Non-small cell lung cancer Small cell lung cancer Mortality Background: Currently there are no reported series determining the Covid-19 infected lung cancer patient´s characteristics and outcome that allow us to clarify strategies to protect our patients. In our study we determine whether exists differences in cumulative incidence and severity of Covid-19 infection between lung cancer patients visiting our Medical Oncology department and the reference population of our center (320,000 people), in the current epicenter of the pandemic in Europe (Madrid, Spain). We also describe clinical and demographic factors associated with poor prognosis and Covid-19 treatment outcomes. Patients and methods: We retrospectively reviewed 1878 medical records of all Covid-19 patients who were admitted at Hospital Universitario Infanta Leonor of Madrid between March 5, 2020 and April 7, 2020, in order to detect cumulative incidence of Covid-19 in lung cancer patients. We also described Covid-19 treatment outcome, mortality and associated risk factors using univariate and multivariate logistic regression analysis. Results: 17/1878 total diagnosis in our center had lung cancer (0.9 %) versus 1878/320,000 of the total reference population (p = 0.09). 9/17 lung cancer patients with Covid-19 diagnosis died (52.3 %) versus 192/ 1878 Covid-19 patients in our center (p < 0.0001). Dead lung cancer patients were elderly compared to survivors: 72 versus 64.5 years old (p = 0.12). Combined treatment with hydroxychloroquine and azithromycin improves the outcome of Covid-19 in lung cancer patients, detecting only 1/6 deaths between patients under this treatment versus others treatment, with statistical significance in the univariate and multivariate logistic regression (OR 0.04, p = 0.018). Conclusions: Lung cancer patients have a higher mortality rate than general population. Combined hydroxychloroquine and azithromycin treatment seems like a good treatment option. It is important to try to minimize visits to hospitals (without removing their active treatments) in order to decrease nosocomial transmission.
Please send us corrections, updates, or comments. Vaccines and treatments are complementary. All practical, effective, and safe means should be used based on risk/benefit analysis. No treatment, vaccine, or intervention is 100% available and effective for all current and future variants. We do not provide medical advice. Before taking any medication, consult a qualified physician who can provide personalized advice and details of risks and benefits based on your medical history and situation.
FLCCC
and
WCH
provide treatment protocols.
Submit