Retrospective 848 ICU patients in Saudi Arabia, showing lower mortality with HCQ in unadjusted results.
risk of death,

34.8% lower

, RR 0.65, p < 0.001
, treatment 37 of 92 (40.2%), control 466 of 756 (61.6%), NNT 4.7.
Effect extraction follows pre-specified rules prioritizing more serious outcomes. Submit updates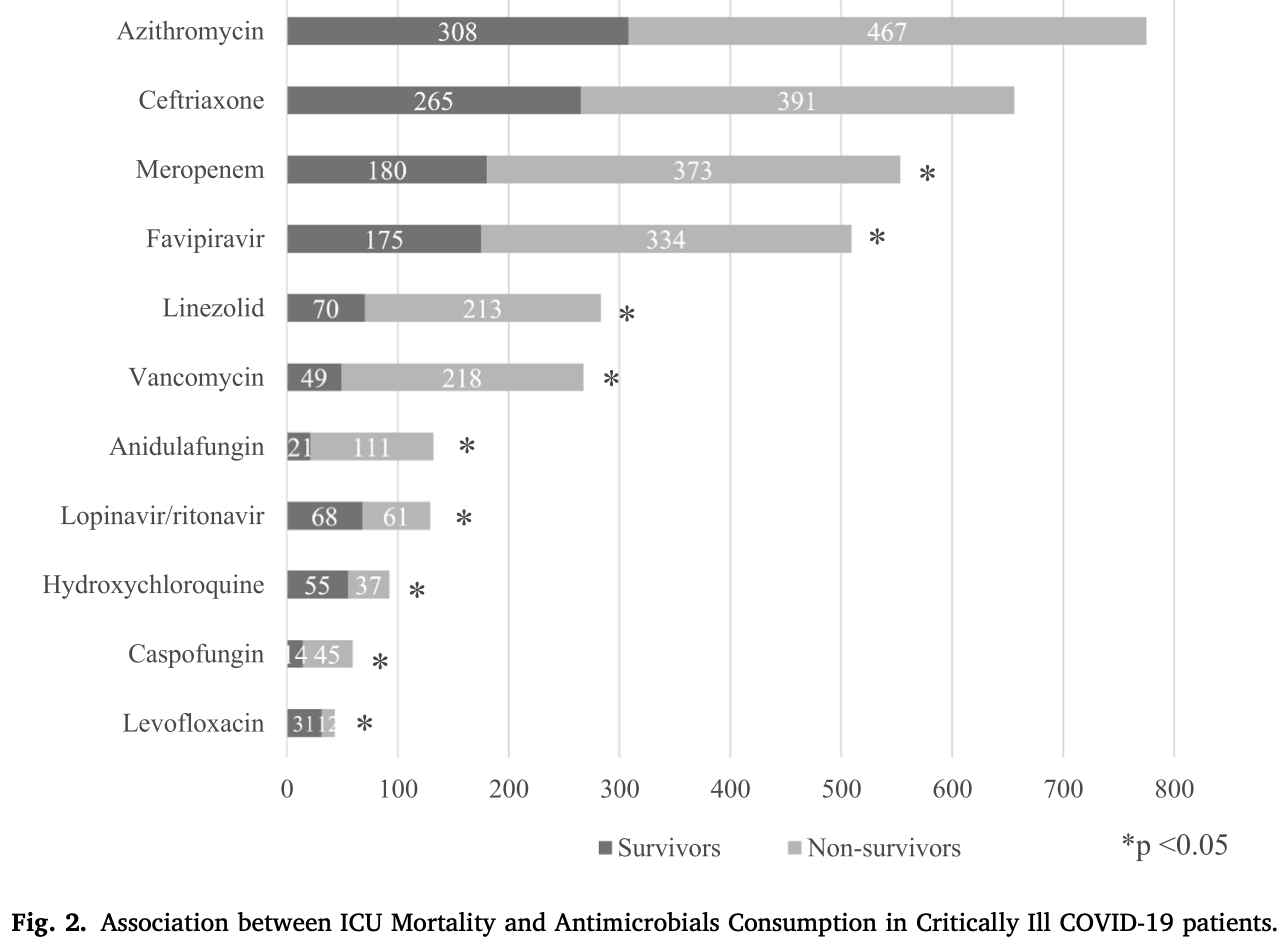 AlQadheeb et al., 10 May 2023, retrospective, Saudi Arabia, peer-reviewed, mean age 55.8, 9 authors, study period March 2020 - August 2021.
Contact: nada.qadheeb@kfsh.med.sa, nalqadheeb@moh.gov.sa.
Impact of common comorbidities on antimicrobial consumption and mortality amongst critically ill COVID-19 patients: A retrospective two center study in Saudi Arabia
Clinical Infection in Practice, doi:10.1016/j.clinpr.2023.100229
To determine the association between common comorbidities, ICU mortality and antimicrobial consumption among critically ill COVID 19 patients in Saudi Arabia. Methods: A retrospective observational study of patients admitted to the ICU from March 1st, 2020, through August 31st, 2021. We excluded patients who stayed <24 h in the ICU and with no confirmed COVID-19 PCR testing. Results: Of the 976 screened ICU patients, 848 were included. While there was no difference in mortality between patients with and without comorbidities, those with at least one comorbidity had a higher severity of illness (p = 0.013). Compared to survivors, non-survivors were more likely to require mechanical ventilation and vasopressor support (P < 0.001). Almost all patients received at least one antimicrobial therapy. Predictors independently associated with ICU mortality were: older age (adjusted odds ratio [AOR], 1.03; 95% confidence interval [CI], 1.01-1.04), vancomycin use (AOR, 2.69; 95% [CI], 1.65-4.37), linezolid use (AOR, 2.65; 95% [CI], 1.65-4.04), sepsis or septic shock (AOR, 6.39; 95% [CI], 3.68-11.08), Acute Kidney Injury (AKI) (AOR, 2.51; 95% [CI], 1.61-3.92) and Acute Respiratory Distress Syndrome (ARDS) (AOR, 2.03; 95% [CI], 1.61-3.92). Conclusion: Older age, vancomycin and linezolid use, sepsis/septic shock, AKI, and ARDS were negative prognostic factors in critically ill COVID-19 patients. More studies are needed to evaluate the outcomes of survived critically ill patients in relation to their vaccination status.
Declaration of Competing Interest The authors declare that they have no known competing financial interests or personal relationships that could have appeared to influence the work reported in this paper.
References
Khalid, Alshukairi, Khalid, Imran, Imran et al., Characteristics and outcome of tertiary care critically ill COVID-19 patients with multiple comorbidities admitted to the intensive care unit, Ann. Thorac. Med
Michelen, Jones, Stavropoulou, In patients of COVID-19, what are the symptoms and clinical features of mild and moderate cases? -The Centre for Evidence-Based Medicine [Internet]. The Centre for Evidence-Based Medicine
Milovanovic, Hessey, Sebastianski, Keto-Lambert, Vandermeer et al., Epidemiology, clinical characteristics and treatment of critically ill patients with COVID-19: a protocol for a living systematic review, BMJ Open
Reuters, Russia approves first COVID-19 prescription drug for sale in pharmacies
Vaidyanathan, Scientists criticize use of unproven COVID drugs in India [Internet]. Nature News