Hydroxychloroquine with or without azithromycin and in-hospital mortality or discharge in patients hospitalized for COVID-19 infection: a cohort study of 4,642 in-patients in France
Retrospective of 4,642 hospitalized patients in France showing significantly faster discharge with HCQ and HCQ+AZ. No significant effect is seen on 28-day mortality, however many more control patients are still in hospital at 28 days. Other studies show faster resolution for HCQ, suggesting there will be a significant improvement when extending past 28 days. Hopefully authors will extend the analysis. Note that the median age is higher in the group not treated with HCQ or AZ.For other issues with the adjustments see
. Also see the analysis here
.
This study is excluded in the after exclusion results of meta analysis: significant issues found with adjustments.
risk of death,

5.0% higher

, RR 1.05, p = 0.74
, treatment 111 of 623 (17.8%), control 830 of 3,792 (21.9%), adjusted per study, whole population HCQ AIPTW adjusted.
risk of no hospital discharge,

20.0% lower

, RR 0.80, p = 0.002
, treatment 623, control 3,792, adjusted per study, inverted to make RR<1 favor treatment, whole population HCQ AIPTW adjusted.
Effect extraction follows pre-specified rules prioritizing more serious outcomes. Submit updates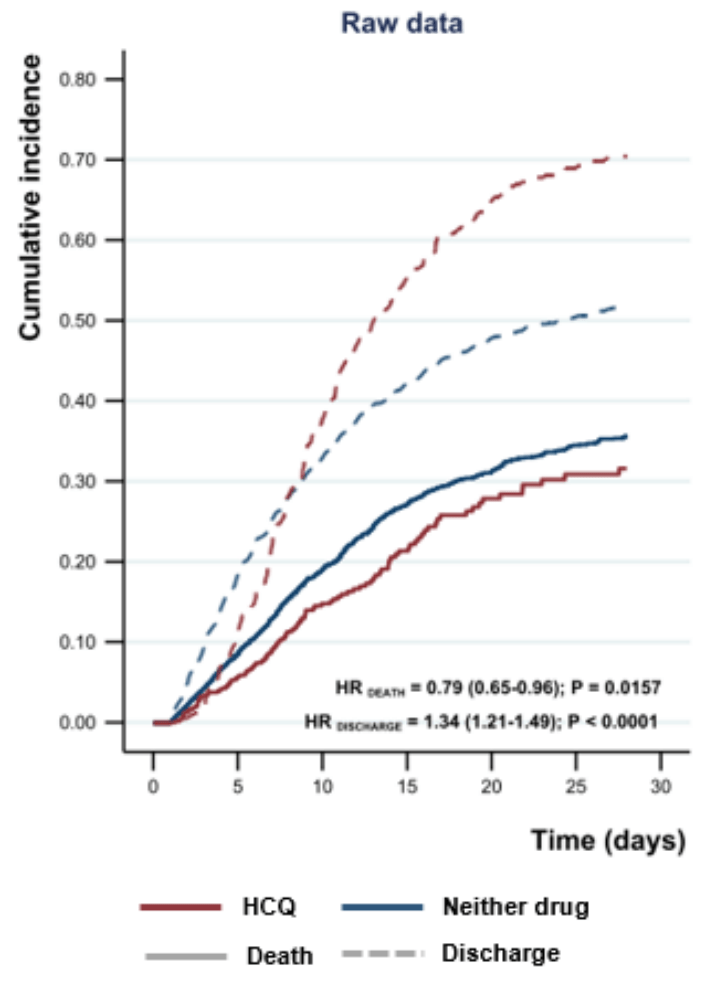 Sbidian et al., 19 Jun 2020, retrospective, database analysis, France, preprint, 21 authors.
Hydroxychloroquine with or without azithromycin and in-hospital mortality or discharge in patients hospitalized for COVID-19 infection: a cohort study of 4,642 in-patients in France
doi:10.1101/2020.06.16.20132597
Data sharing The data are available on request. Transparency The manuscript's guarantors (ES) affirm that this manuscript is an honest, accurate and transparent account of the study being reported; that no important aspects of the study have been omitted; and that any discrepancies from the study as planned (and, if relevant, registered) have been explained.
Abbreviations: SD, Standard deviation; HCQ:hydroxychloroquine, IQR : interquartile 25
References
Benichou, Gail, Estimates of absolute cause-specific risk in cohort studies, Biometrics
Lacticodeshydrogenase, None, median
Textor, Hardt, Knüppel, DAGitty: a graphical tool for analyzing causal diagrams