Retrospective 750 COVID-19 patients in Saudi Arabia, showing lower mortality with HCQ treatment in unadjusted results. Authors note that the poor results in some other trials may be related to increased dosages and later treatment. This study is excluded in the after exclusion results of meta analysis: unadjusted results with no group details.
risk of death,

77.5% lower

, RR 0.22, p < 0.001
, treatment 14 of 435 (3.2%), control 58 of 405 (14.3%), NNT 9.0.
Effect extraction follows pre-specified rules prioritizing more serious outcomes. Submit updates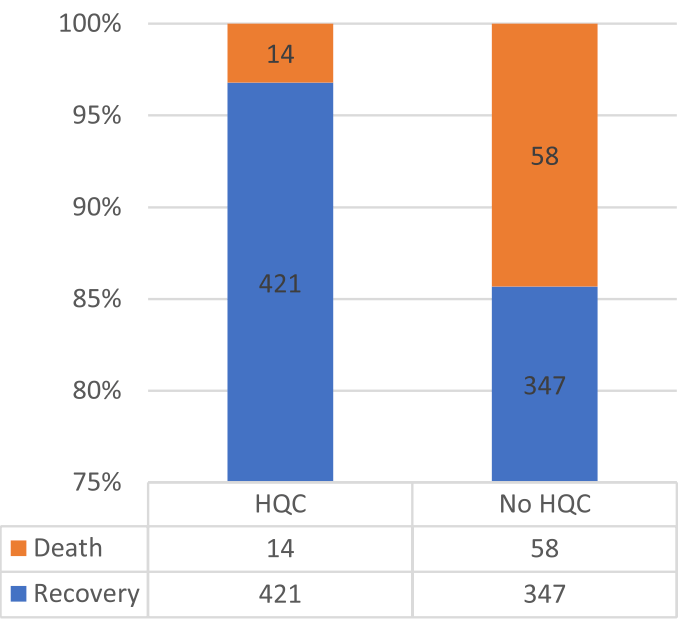 Said et al., 1 May 2023, retrospective, Saudi Arabia, peer-reviewed, 12 authors.
Contact: kbs.mohamed@uoh.edu.sa.
Monotherapy versus polytherapy of enoxaparin and hydroxychloroquine for the treatment of COVID-19: A randomized controlled clinical trial
doi:10.18549/PharmPract.2023.1.2777
Objectives: The current study aims to assess the efficacy and safety of Enoxaparin and hydroxychloroquine (HCQ) used as monothrapy or polytherapy versus standard care alone in Coronavirus 2019 (COVID-19) infected patients. Methods: The current study included two hundred patients with laboratory confirmed COVID-19 infection. Patients admitted to hospital were randomly allocated into four groups: group I: received standard COVID-19 therapy, group II: received Enoxaparin 40mg/day subcutaneously (SC) plus standard therapy, group III: received 400 mg/day HCQ plus standard therapy & group IV: received a combination of 400 mg/day HCQ and Enoxaparin plus standard COVID-19 therapy. The disease progression was evaluated by duration to a negative polymerase chain reaction (PCR), length of hospital or Intensive Care Unit (ICU) stay, and mortality rate. The safety of treatments was evaluated by measuring adverse effects. Results: The length of hospital stay, ICU admission and mortality were significantly decreased in Enoxaparin plus standard COVID-19 therapy group versus other groups. Conclusion: These findings suggest that Enoxaparin was safe, effective, and well tolerated and has a role in decreasing the progression of the disease and its complications while HCQ did not discover any evidence of extra therapeutic benefits.
AUTHOR CONTRIBUTIONS Conceptualization: Amira S.A. Said, Lamiaa N Abdelaty, Alzhraa M. Fahmy, Raghda R.S. Hussein, Ahmed H.A. Hassanein. Data curation: Lamiaa N Abdelaty, Raghda R.S. Hussein., Formal Analysis: Doaa Mahmoud Khalil, Investigation: All authors,Project Administration: All authors, Methodology: Amira S.A. Said, Lamiaa N Abdelaty, Alzhraa M. Fahmy, Raghda R.S. Hussein, Ahmed H.A. Hassanein., Software: Doaa Mahmoud Khalil. Validation: Doaa Mahmoud Khalil., Resources: All Authors. Writing-original draft preparation: All Authors. Writing-review and editing: All Authors. Visualization: All Authors. Project administration: All Authors. Funding acquisition: non, authors have read and agreed to the published version of the manuscript. FUNDING This research received no external funding. INSTITUTIONAL REVIEW BOARD STATEMENT The study was conducted in accordance with the Declaration of Helsinki and in accordance with the guidelines of Good Clinical Practice and was approved by the Research Ethics Committee with serial number: REC-H-PhBSU-21013. Also, the study was INFORMED CONSENT STATEMENT Written informed consent has been obtained from patients. CONFLICTS OF INTEREST The authors declare no conflicts of interest.
References
Abd-Elsalam, Esmail, Khalaf, Monotherapy versus polytherapy of enoxaparin and hydroxychloroquine for the treatment of COVID-19: A randomized controlled clinical trial, Pharmacy Practice
Gilat, Haunschild, Tauro, Since January 2020 Elsevier has created a COVID-19 resource centre with free information in English and Mandarin on the novel coronavirus COVID-19, Ann Oncol
Nadkarni, Bagiella, Anticoagulation, Bleeding, Mortality, and Pathology in Hospitalized Patients with COVID-19, J Am Coll Cardiol
Self, Semler, Leither, Effect of Hydroxychloroquine on Clinical Status at 14 Days in Hospitalized Patients with COVID-19: A Randomized Clinical Trial, JAMA -J Am Med Assoc
Tang, Cao, Han, Hydroxychloroquine in patients with mainly mild to moderate coronavirus disease 2019: open label, randomised controlled trial
Udwadia, Malu, Rana, Hydroxychloroquine for COVID-19: What is our Current State of Knowledge?, J Assoc Physicians India