47% lower mortality with HCQ/CQ. Retrospective 1,271 patients with lung disease in Canada, China, Cuba, Ecuador, Germany, Italy and Spain, 83% treated with HCQ/CQ.Multivariable Cox regression HCQ/CQ mortality hazard ratio HR 0.53, p < 0.001.
risk of death,

47.0% lower

, RR 0.53, p < 0.001
, treatment 4,854, control 993, adjusted per study.
Effect extraction follows pre-specified rules prioritizing more serious outcomes. Submit updates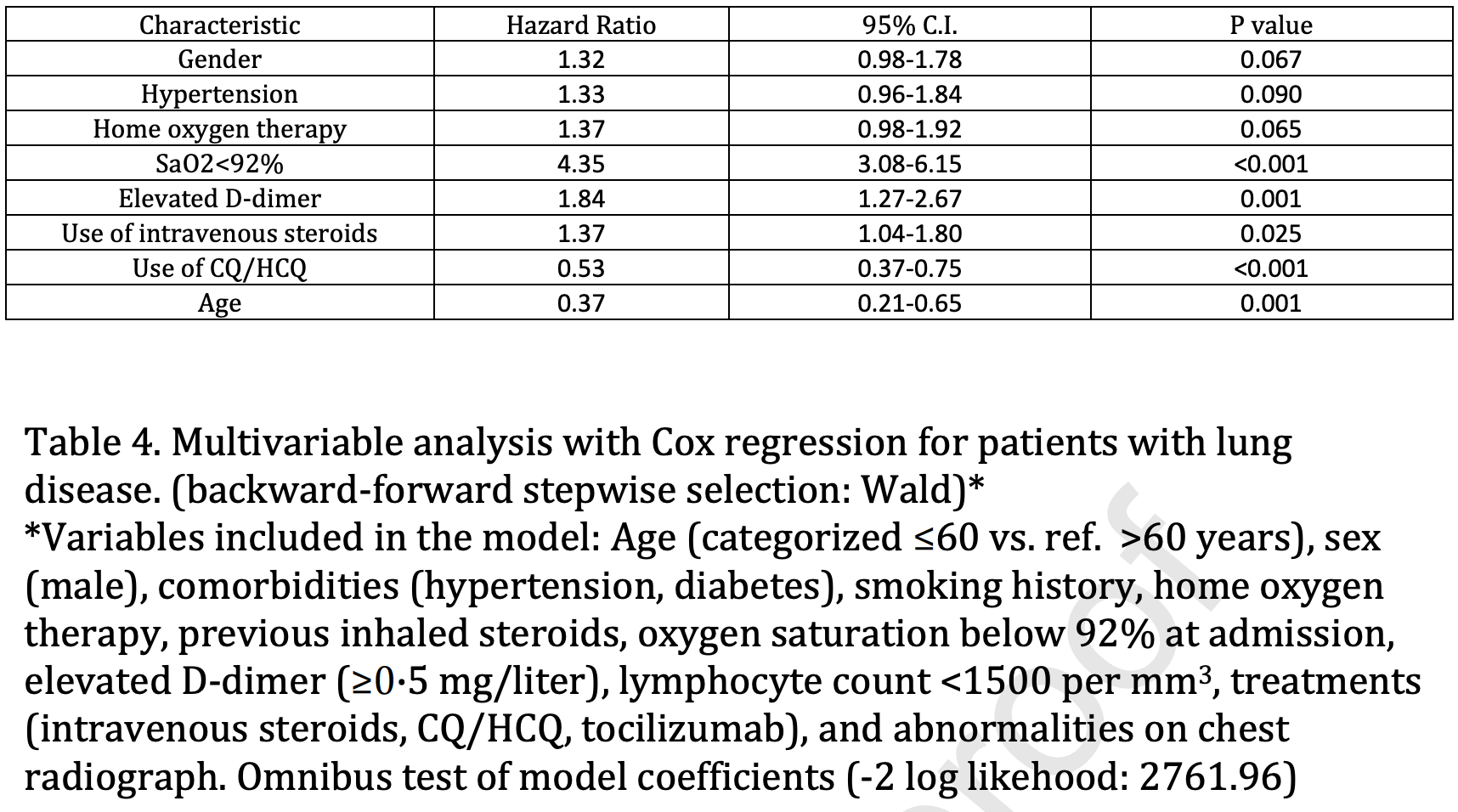 Signes-Costa et al., 16 Dec 2020, retrospective, multiple countries, peer-reviewed, 28 authors.
Prevalence and 30-Day Mortality in Hospitalized Patients With Covid-19 and Prior Lung Diseases
Archivos de Bronconeumología, doi:10.1016/j.arbres.2020.11.012
Introduction: Patients with pre-existing respiratory diseases in the setting of COVID-19 may have a greater risk of severe complications and even death. Methods: A retrospective, multicenter, cohort study with 5847 COVID-19 patients admitted to hospitals. Patients were separated in two groups, with/without previous lung disease. Evaluation of factors associated with survival and secondary composite end-point such as ICU admission and respiratory support, were explored. Abbreviations: ACE2, angiotensin converting enzyme II; CI, confidence interval; COPD, chronic obstructive pulmonary disease; COVID-19, 2019 novel coronavirus; CQ/HCQ, chloroquine/hydroxychloroquine; FEV1, forced expiratory volume in one second; HFNC, high flow nasal cannula; HOPE-COVID-19, Health Outcome Predictive Evaluation for COVID-19; HR, hazard ratio; ICS, inhaled corticosteroids; ICU, intensive care unit; ILD, interstitial lung disease; IQR, interquartile range; MERS, middle east respiratory syndrome; RT-PCR, real time reverse transcriptase-polymerase chain reaction; SARS-CoV-2, severe acute respiratory syndrome coronavirus 2; STROBE, strengthening the reporting of observational studies in epidemiology; WHO, World Health Organization.
Author's contributions JS-C had full access to all of the data in the study and takes responsibility for the integrity of the data and the accuracy of the data analysis including any adverse effects. JS-C and IJN-G were involved in the design of the study. JBS, JACA were involved in data analysis. All authors were involved in the interpretation of the data and in the writing and critical review of the manuscript. Conflicts of interest All authors declare no competing interests.
References