Prevalence and 30-day mortality in hospitalized patients with COVID-19 and prior lung diseases
47% lower mortality with HCQ/CQ. Retrospective 1,271 patients with lung disease in Canada, China, Cuba, Ecuador, Germany, Italy and Spain, 83% treated with HCQ/CQ.Multivariable Cox regression HCQ/CQ mortality hazard ratio HR 0.53, p < 0.001.
risk of death,

47.0% lower

, RR 0.53, p < 0.001
, treatment 4,854, control 993, adjusted per study.
Effect extraction follows pre-specified rules prioritizing more serious outcomes. Submit updates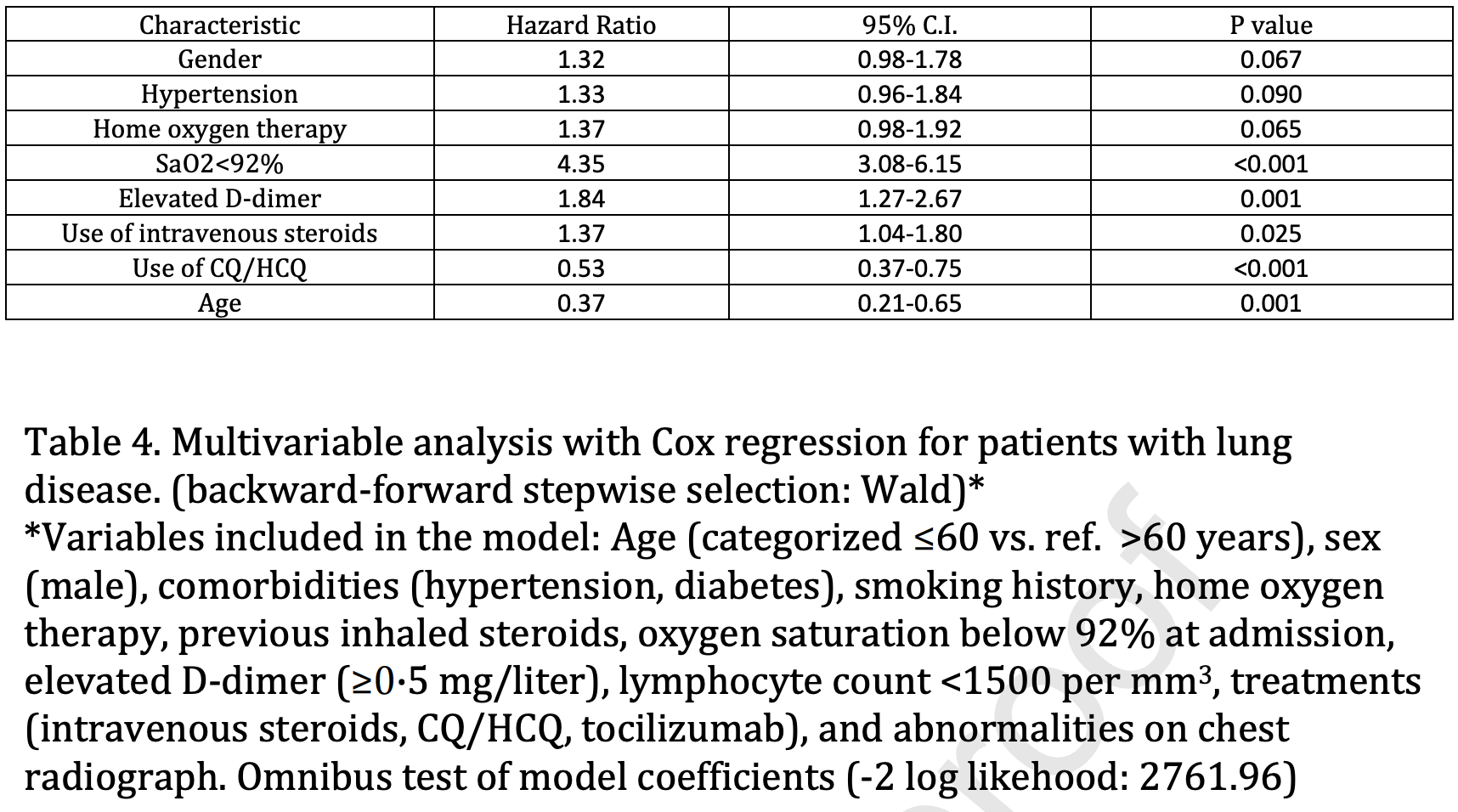 Signes-Costa et al., 16 Dec 2020, retrospective, multiple countries, peer-reviewed, 28 authors.
Abstract: Arch Bronconeumol. 2021;57(S2):13–20 www.archbronconeumol.org Original Article Prevalence and 30-Day Mortality in Hospitalized Patients With Covid-19 and Prior Lung Diseases Jaime Signes-Costa a,∗ , Iván J. Núñez-Gil b , Joan B. Soriano c , Ramón Arroyo-Espliguero d , Charbel Maroun Eid e , Rodolfo Romero f , Aitor Uribarri g , Inmaculada Fernández-Rozas h , Marcos García Aguado i , Víctor Manuel Becerra-Muñoz j , Jia Huang k , Martino Pepe l , Enrico Cerrato m , Sergio Raposeiras n , Adelina Gonzalez o , Francisco Franco-Leon p , Lin Wang b , Emilio Alfonso q , Fabrizio Ugo r , Juan Fortunato García-Prieto s , Gisela Feltes t , Mohammad Abumayyaleh u , Carolina Espejo-Paeres v , Jorge Jativa w , Alvaro López Masjuan x , Carlos Macaya b , Juan A. Carbonell Asíns y , Vicente Estrada b , On behalf of HOPE COVID-19 investigators a Hospital Clínico Universitario, INCLIVA, Universidad de Valencia, Valencia, Spain Hospital Clínico San Carlos, Universidad Complutense de Madrid, Instituto de Investigación Sanitaria del Hospital Clínico San Carlos (IdISSC), Madrid, Spain c Hospital Universitario de la Princesa, Universidad Autónoma de Madrid, Centro de Investigación en Red de Enfermedades Respiratorias (CIBERES), Instituto de Salud Carlos III (ISCIII), Madrid, Spain d Hospital Universitario Guadalajara, Guadalajara, Spain e Hospital Universitario La Paz, Instituto de Investigacion, Hospital Universitario La Paz (IdiPAZ), Madrid, Spain f Hospital Universitario Getafe, Madrid, Spain g Hospital Clínico Universitario de Valladolid, Valladolid, Spain h Hospital Severo Ochoa, Leganés, Spain i Hospital Universitario Puerta de Hierro, Majadahonda, Spain j Unidad de Gestión Clínica Área del Corazón, Instituto de Investigación Biomédica de Málaga (IBIMA), Hospital Universitario Virgen de la Victoria, Universidad de Málaga, CIBERCV, Málaga, Spain k The Second People's Hospital of Shenzhen, Shenzhen, China l Azienda ospedaliero-universitaria consorziale policlinico di Bari, Italy m San Luigi Gonzaga University Hospital, Rivoli, Turin, Italy n University Hospital Álvaro Cunqueiro, Vigo, Spain o Hospital Universitario Infanta Sofia, San Sebastián de los Reyes, Madrid, Spain p Hospital General del norte de Guayaquil IESS Los Ceibos, Guayaquil, Ecuador q Instituto de Cardiología y Cirugía Cardiovascular, Havana, Cuba r Sant'Andrea Hospital, Verdelli, Italy s Hospital Manises, Valencia, Spain t Hospital Nuestra Señora de América, Madrid, Spain u First Department of Medicine, Medical Faculty Mannheim, University Heidelberg, DZHK (German Center for Cardiovascular Research), Partner Site, Heidelberg-Mannheim, Mannheim, Germany v Hospital Universitario Príncipe de Asturias, Alcalá de Henares, Madrid, Spain w Hospital de Especialidades de las Fuerzas Armadas N1, Quito, Ecuador x Hospital Universitario Juan Ramón Jiménez, Huelva, Spain y Bioinformatics and Biostatisctics Unit, INCLIVA, Valencia, Spain b a r t i c l e i n f o Article history: Received 27 August 2020 Accepted 19 November 2020 Available online 16 December 2020 Keywords: COVID-19 a b s t r a c t Introduction: Patients with pre-existing respiratory diseases in the setting of COVID-19 may have a greater risk of severe complications and even death. Methods: A retrospective, multicenter, cohort study with 5847 COVID-19 patients admitted to hospitals. Patients were separated in two groups, with/without previous lung disease. Evaluation of factors associated with survival and secondary composite..
Please send us corrections, updates, or comments. Vaccines and treatments are complementary. All practical, effective, and safe means should be used based on risk/benefit analysis. No treatment, vaccine, or intervention is 100% available and effective for all current and future variants. We do not provide medical advice. Before taking any medication, consult a qualified physician who can provide personalized advice and details of risks and benefits based on your medical history and situation.
FLCCC
and
WCH
provide treatment protocols.
Submit