Retrospective 2,011 hospitalized patients in France, median age 67, showing lower mortality with HCQ+AZ, and further benefit with the addition of zinc.
risk of death,

32.0% lower

, HR 0.68, p = 0.004
, treatment 93 of 1,270 (7.3%), control 146 of 841 (17.4%), NNT 10.0, adjusted per study, multivariable, Cox proportional hazards.
Effect extraction follows pre-specified rules prioritizing more serious outcomes. Submit updates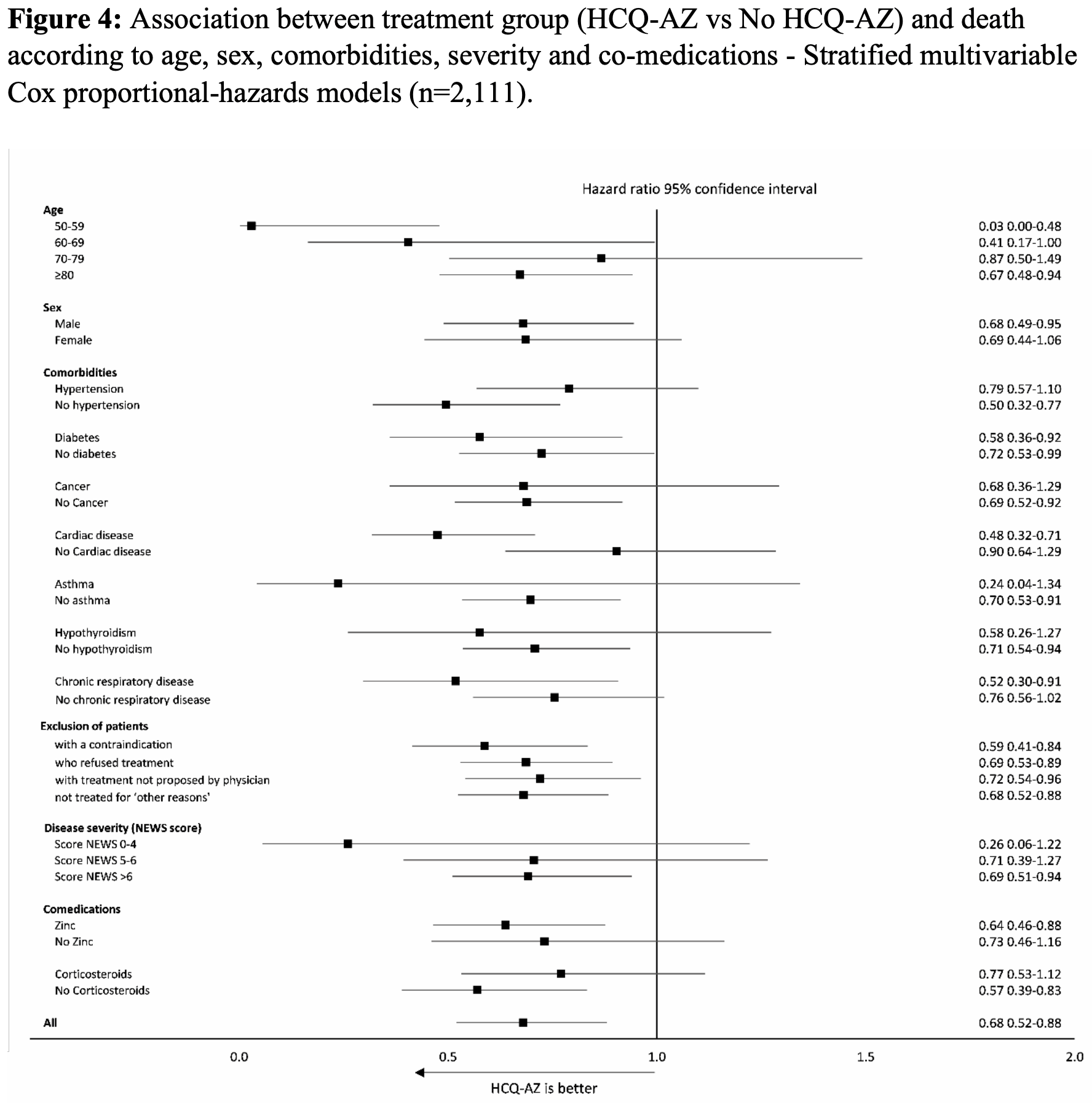 Lagier et al., 4 Jun 2021, retrospective, France, peer-reviewed, 32 authors.
Outcomes of 2111 COVID-19 Hospitalized Patients Treated with Hydroxychloroquine/Azithromycin and Other Regimens in Marseille, France, 2020: A Monocentric Retrospective Analysis
Therapeutics and Clinical Risk Management, doi:10.2147/tcrm.s364022
Objectives: We evaluated the 6-week mortality of SARS-CoV-2 hospitalized patients treated using a standardized protocol in 2020 in Marseille, France. Methods: A retrospective monocentric cohort study was conducted in the standard hospital wards at the Institut Hospitalo-Universitaire Méditerranée Infection, between March and December 2020 in adults with SARS-CoV-2 PCR-proven infection. Results: Of the 2111 hospitalized patients (median age, 67 [IQR 55-79] years; 1154 [54.7%] men), 271 were transferred to the intensive care unit (12.8%) and 239 died (11.3%; the mean age of patients who died was 81.2 (±9.9)). Treatment with hydroxychloroquine plus azithromycin (HCQ-AZ), used in 1270 patients, was an independent protective factor against death (0.68 [0.52 -0.88]). This effect was consistent for all subgroups of age, comorbidities, severity of the disease and comedications with zinc or corticosteroids. Zinc was independently protective against death (0.39 [0.23 -0.67]), in a subgroup analysis of patients treated with HCQ-AZ without dexamethasone. The use of high-flow oxygen therapy in elderly patients who were not eligible for intensive care unit transfer saved 19 patients (33.9%). Conclusions: In our 2020 cohort, treating COVID-19 with HCQ-AZ was associated with lower mortality. These results need to be analyzed in the context of academic discussions about observational studies versus randomized clinical trials. More data will deserve to be analyzed in the SARS-Cov 2 variants, vaccination and post-vaccination era.
Disclosure Prof. Dr Didier Raoult reports personal fees from Scientific board member of Eurofins company, Founder and shareholder of a microbial culture company (Culture Top), received personal fees from Hitachi High-Technologies Corporation, Tokyo, Japan, from 2018 to 2020, Founder and shareholder of Biotechnology "Techno-jouvence", Founder and shareholder of a Biotech company "Gene and Green TK, Founder and shareholder of rapid diagnosis of infectious diseases company "Pocramé", outside the submitted work. The authors declare no other competing interests. Funding sources had no role in the design and conduct of the study; collection, management, analysis, and interpretation of the data; and preparation, review, or approval of the manuscript. Therapeutics and Clinical Risk Management Dovepress
References
Wang, Zhang, Du, Remdesivir in adults with severe COVID-19: a randomised, double-blind, placebo-controlled, multicentre trial, Lancet Infect Dis