Pharmacotherapy prescribing pattern and outcome for hospitalized patients with severe and critical COVID-19
Pharmacotherapy prescribing pattern and outcome for hospitalized patients with severe and critical COVID-19
,
, H., Current Issues in Pharmacy and Medical Sciences, doi:10.2478/cipms-2022-0020
,
Retrospective 346 hospitalized patients in Iraq, showing lower mortality with HCQ in unadjusted results. HCQ results are only provided within the 93% of patients treated with enoxaparin. This study is excluded in the after exclusion results of meta analysis: unadjusted results with no group details;
confounding by time
possible, propensity to use HCQ changed significantly during the study period.
risk of death,

59.7% lower

, RR 0.40, p = 0.002
, treatment 9 of 72 (12.5%), control 68 of 219 (31.1%), NNT 5.4, enoxaparin+HCQ vs. enoxaparin.
Effect extraction follows pre-specified rules prioritizing more serious outcomes. Submit updates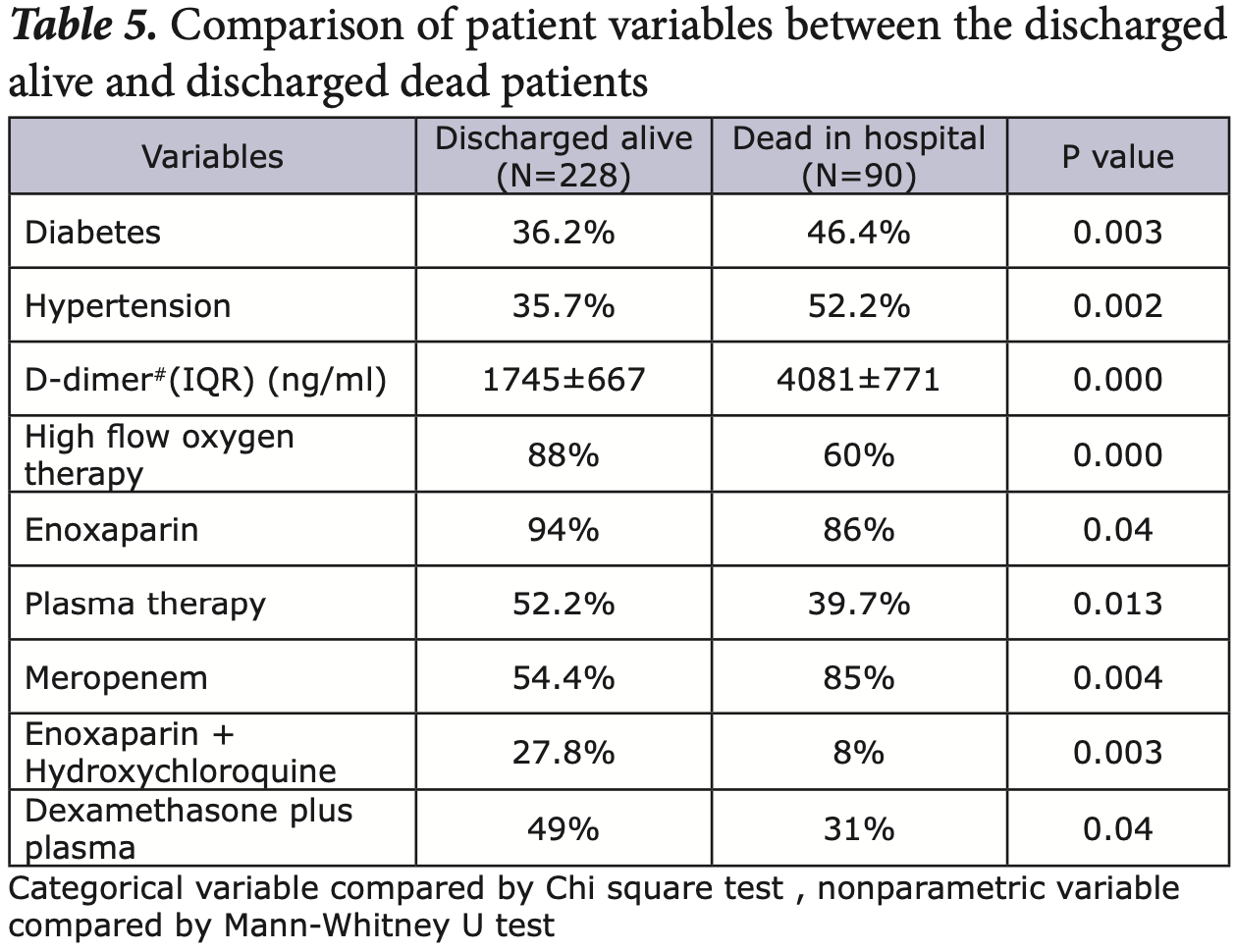 Assad et al., 21 Oct 2022, retrospective, Iraq, peer-reviewed, 1 author, study period June 2020 - September 2020.
Contact: hayderc.allami@uokufa.edu.iq.
Abstract: DOI: 10.2478/cipms-2022-0020 Curr. Issues Pharm. Med. Sci., Vol. 35, No. 3, Pages 106-110 Current Issues in Pharmacy and Medical Sciences Formerly ANNALES UNIVERSITATIS MARIAE CURIE-SKLODOWSKA, SECTIO DDD, PHARMACIA journal homepage: http://www.curipms.umlub.pl/ Pharmacotherapy prescribing pattern and outcome for hospitalized patients with severe and critical COVID-19 Hayder Assad Department of Clinical Pharmacy, Faculty of Pharmacy, University of Kufa, Najaf, Iraq ARTICLE INFO Received 08 October 2021 Accepted 10 June 2022 Keywords: COVID-19, hospitalized patients, medications, mortality rate. ABSTRACT There are many treatment modalities for COVID-19 – with varied outcome. Therefore, authors designed this study to assess prescribing patterns and the clinical outcome for hospitalized patients with severe and critical COVID-19 so as to determine the most effective approach. Authors conducted a retrospective observational study on 346 adult patients with either severe or critical COVID-19, who were admitted to public hospitals in Al-Najaf city, Iraq from June to September 2020. Patients' information, medications and outcomes were collected from their medical records in the registered office of the hospital. A total of 346 patients were enrolled, with a majority of patients being adults above 35 years old and male (70.2%). Most patients (81%) received corticosteroid as dexamethasone, and about 45% of all patients were given convalescent plasma therapy, while a few patients were prescribed antiviral favipiravir (23%) and lopinavir/ritonavir (19%). As supportive care medications, anticoagulant such as enoxaparin was administered to most of the patients (93%) and more than half of all patients received the broad-spectrum antibiotic, meropenem. The majority of the patients recovered and were discharged alive (66%), however, the inhospital mortality rate was 26%. Interestingly, patients treated with enoxaparin alone or in combination with hydroxychloroquine were associated with better outcome. The prescribing pattern of COVID-19 specific medications and supportive care is aligned with guideline recommendations and associated with a beneficial therapeutic outcome.
Please send us corrections, updates, or comments. Vaccines and treatments are complementary. All practical, effective, and safe means should be used based on risk/benefit analysis. No treatment, vaccine, or intervention is 100% available and effective for all current and future variants. We do not provide medical advice. Before taking any medication, consult a qualified physician who can provide personalized advice and details of risks and benefits based on your medical history and situation.
FLCCC
and
WCH
provide treatment protocols.
Submit