Retrospective 926 patients in Senegal, 674 treated with HCQ+AZ, showing significantly higher hospital discharge at day 15 with treatment.
risk of no hospital discharge,

38.7% lower

, OR 0.61, p = 0.02
, treatment 674, control 252, inverted to make OR<1 favor treatment, multivariate, RR approximated with OR.
Effect extraction follows pre-specified rules prioritizing more serious outcomes. Submit updates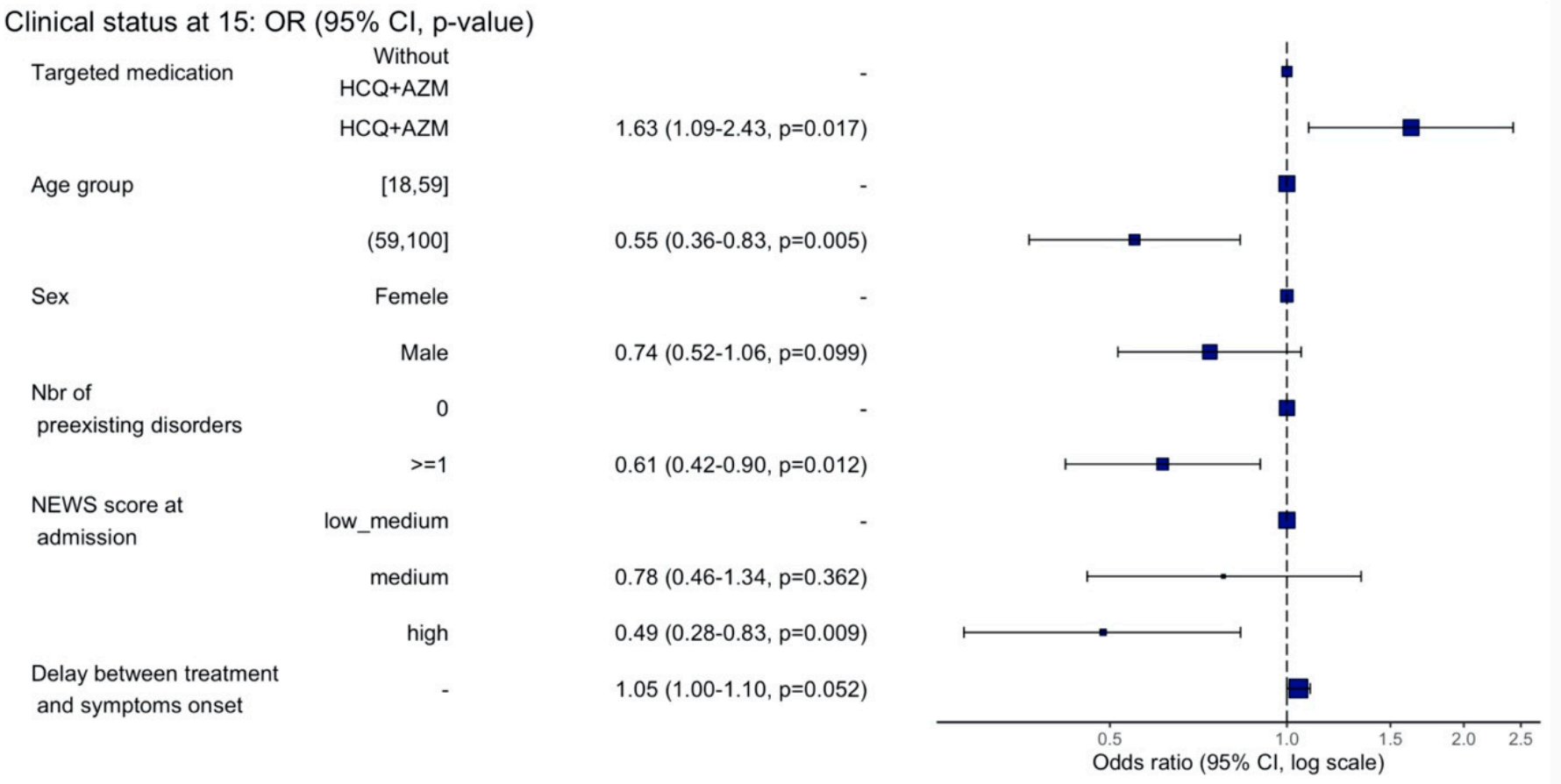 Taieb et al., 30 Jun 2021, retrospective, Senegal, peer-reviewed, 29 authors, average treatment delay 6.0 days.
Hydroxychloroquine and Azithromycin Treatment of Hospitalized Patients Infected with SARS-CoV-2 in Senegal from March to October 2020
Journal of Clinical Medicine, doi:10.3390/jcm10132954
As of today, little data is available on COVID-19 in African countries, where the case management relied mainly on a treatment by association between hydroxychloroquine (HCQ) and azithromycin (AZM). This study aimed to understand the main clinical outcomes of COVID-19 hospitalized patients in Senegal from March to October 20202. We described the clinical characteristics of patients and analysed clinical status (alive and discharged versus hospitalized or died) at 15 days after Isolation and Treatment Centres (ITC) admission among adult patients who received HCQ plus AZM and those who did not receive this combination. A total of 926 patients were included in this analysis. Six hundred seventy-four (674) (72.8%) patients received a combination of HCQ and AZM. Results showed that the proportion of patient discharge at D15 was significantly higher for patients receiving HCQ plus AZM (OR: 1.63, IC 95% (1.09-2.43)). Factors associated with a lower proportion of patients discharged alive were: age ≥ 60 years (OR: 0.55, IC 95% (0.36-0.83)), having of at least one pre-existing disorder (OR: 0.61, IC 95% (0.42-0.90)), and a high clinical risk at admission following NEWS score (OR: 0.49, IC 95% (0.28-0.83)). Few side effects were reported including 2 cases of cardiac rhythmic disorders in the HCQ and AZM group versus 13 in without HCQ + AZM. An improvement of clinical status at 15 days was found for patients exposed to HCQ plus AZM combination.
Conflicts of Interest: The authors declare no conflict of interest.
References
Core, R: A Language and Environment for Statistical Computing; R Foundation for Statistical Computing
Geleris, Sun, Platt, Zucker, Baldwin et al., Observational Study of Hydroxychloroquine in Hospitalized Patients with Covid-19, N. Engl. J. Med
Harris, Taylor, Minor, Elliott, Fernandez et al., The REDCap consortium: Building an international community of software platform partners, J. Biomed. Inform
Isaric, Novel Coronavirus (NCoV) Acute Respiratory Infection Clinical Characterisation Data Tool, Version
Rees, Nightingale, Jafari, Waterlow, Clifford et al., None
Smohas, Coronavirus (COVID-19) Situation Dashboard
Stokkermans, Goyal, Bansal, Trichonas, Chloroquine and Hydroxychloroquine Toxicity
Who Who Director, s Opening Remarks at the Media Briefing on COVID-19-11