Treatment with Hydroxychloroquine, Azithromycin, and Combination in Patients Hospitalized with COVID-19
Treatment with Hydroxychloroquine, Azithromycin, and Combination in Patients Hospitalized with COVID-19
,
Int. J. Infect. Dis., July 1 2020, doi:10.1016/j.ijid.2020.06.099
,
HCQ decreases mortality from 26.4% to 13.5% (HCQ) or 20.1% (HCQ+AZ). Propensity matched HCQ HR 0.487,
p
=0.009. Michigan 2,541 patients retrospective. Before propensity matching the HCQ group average age is 5 years younger and the percentage of male patients is 4% higher which is likely to favor the treatment and the control respectively in the before-propensity matching results.Some reported limtiations of this study are inaccurate
[ijidonline.com]
. Corticosteroids were controlled for in the multivariate and propensity analyses as were age and comorbidities including cardiac disease and severity of illness. Age was an independent risk factor associated with mortality. HCQ was independently associated with decreased mortality, distinct from the steroid effect. 91% of all patients began treatment within two days of admission. HCQ was used throughout the study period, limiting time bias. Patients assigned to HCQ group had moderate and severe illness at presentation, which would favor worse outcome with HCQ.
risk of death,

51.3% lower

, HR 0.49, p = 0.009
, treatment 162 of 1,202 (13.5%), control 108 of 409 (26.4%), NNT 7.7.
Effect extraction follows pre-specified rules prioritizing more serious outcomes. Submit updates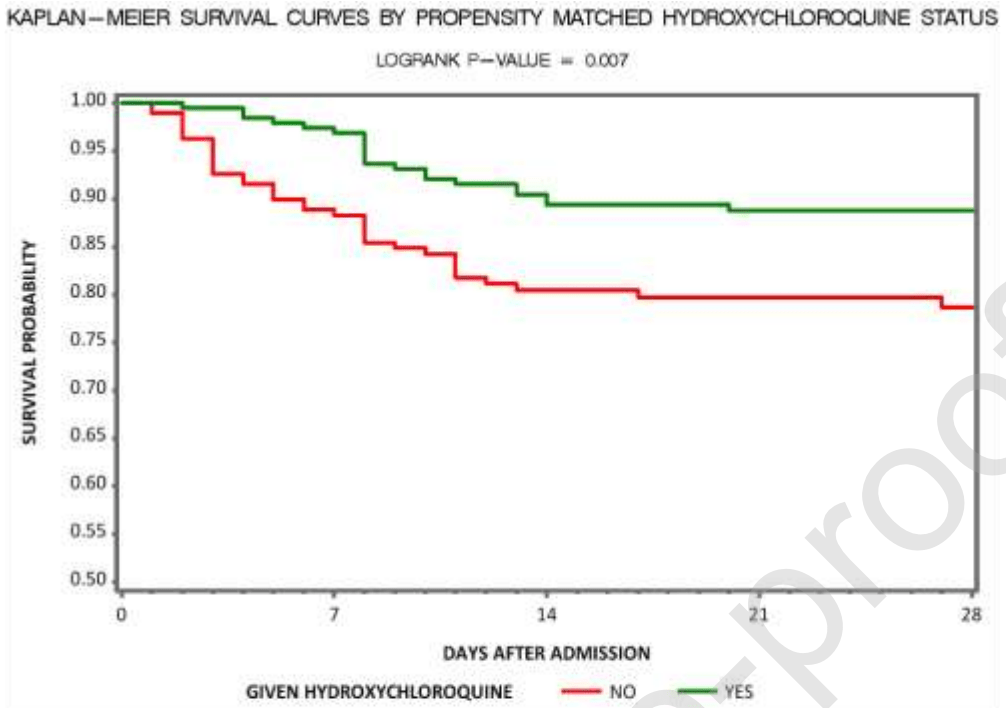 Arshad et al., 1 Jul 2020, retrospective, USA, peer-reviewed, 12 authors.
Abstract: International Journal of Infectious Diseases 97 (2020) 396–403 Contents lists available at ScienceDirect International Journal of Infectious Diseases journal homepage: www.elsevier.com/locate/ijid Treatment with hydroxychloroquine, azithromycin, and combination in patients hospitalized with COVID-19 Samia Arshada , Paul Kilgoreb,c , Zohra S. Chaudhrya , Gordon Jacobsene , Dee Dee Wangd , Kylie Huitsinga , Indira Brara , George J. Alangadena,c , Mayur S. Ramesha , John E. McKinnona , William O'Neilld , Marcus Zervosa,c,* , Henry Ford COVID-19 Task Force1 a Infectious Diseases, Henry Ford Hospital, Detroit, MI, United States Eugene Applebaum College of Pharmacy, Wayne State University, Detroit, MI, United States c Wayne State University School of Medicine, Detroit, MI, United States d Division of Cardiovascular Disease & Structural Heart, Henry Ford Hospital, Detroit, MI, United States e Public Health Sciences, Henry Ford Hospital, Detroit, MI, United States b A R T I C L E I N F O A B S T R A C T Article history: Received 28 May 2020 Received in revised form 22 June 2020 Accepted 29 June 2020 Significance: The United States is in an acceleration phase of the COVID-19 pandemic. Currently there is no known effective therapy or vaccine for treatment of SARS-CoV-2, highlighting urgency around identifying effective therapies. Objective: The purpose of this study was to evaluate the role of hydroxychloroquine therapy alone and in combination with azithromycin in hospitalized patients positive for COVID-19. Design: Multi-center retrospective observational study. Setting: The Henry Ford Health System (HFHS) in Southeast Michigan: large six hospital integrated health system; the largest of hospitals is an 802-bed quaternary academic teaching hospital in urban Detroit, Michigan. Participants: Consecutive patients hospitalized with a COVID-related admission in the health system from March 10, 2020 to May 2, 2020 were included. Only the first admission was included for patients with multiple admissions. All patients evaluated were 18 years of age and older and were treated as inpatients for at least 48 h unless expired within 24 h. Exposure: Receipt of hydroxychloroquine alone, hydroxychloroquine in combination with azithromycin, azithromycin alone, or neither. Main outcome: The primary outcome was in-hospital mortality. Results: Of 2,541 patients, with a median total hospitalization time of 6 days (IQR: 4–10 days), median age was 64 years (IQR:53–76 years), 51% male, 56% African American, with median time to follow-up of 28.5 days (IQR:3–53). Overall in-hospital mortality was 18.1% (95% CI:16.6%–19.7%); by treatment: hydroxychloroquine + azithromycin, 157/783 (20.1% [95% CI: 17.3%–23.0%]), hydroxychloroquine alone, 162/1202 (13.5% [95% CI: 11.6%–15.5%]), azithromycin alone, 33/147 (22.4% [95% CI: 16.0%–30.1%]), and neither drug, 108/409 (26.4% [95% CI: 22.2%–31.0%]). Primary cause of mortality was respiratory failure (88%); no patient had documented torsades de pointes. From Cox regression modeling, predictors of mortality were age>65 years (HR:2.6 [95% CI:1.9–3.3]), white race (HR:1.7 [95% CI:1.4–2.1]), CKD (HR:1.7 [95%CI:1.4–2.1]), reduced O2 saturation level on admission (HR:1.5 [95%CI:1.1–2.1]), and ventilator use during admission (HR: 2.2 [95%CI:1.4–3.3]). Hydroxychloroquine provided a 66% hazard ratio reduction, and hydroxychloroquine + azithromycin 71% compared to neither treatment (p < 0.001). Conclusions and relevance: In this..
Please send us corrections, updates, or comments. Vaccines and treatments are complementary. All practical, effective, and safe means should be used based on risk/benefit analysis. No treatment, vaccine, or intervention is 100% available and effective for all current and future variants. We do not provide medical advice. Before taking any medication, consult a qualified physician who can provide personalized advice and details of risks and benefits based on your medical history and situation.
FLCCC
and
WCH
provide treatment protocols.
Submit