Enhanced In Vitro Antiviral Activity of Hydroxychloroquine Ionic Liquids against SARS-CoV-2
et al., Pharmaceutics,
In Vitro
study showing improved antiviral activity with ionic formulations of HCQ.
14 In Vitro studies
support the efficacy of HCQ
[Andreani, Clementi, Dang, Delandre, Faísca, Hoffmann, Liu, Ou, Purwati, Sheaff, Wang, Wang (B), Yao, Yuan]
.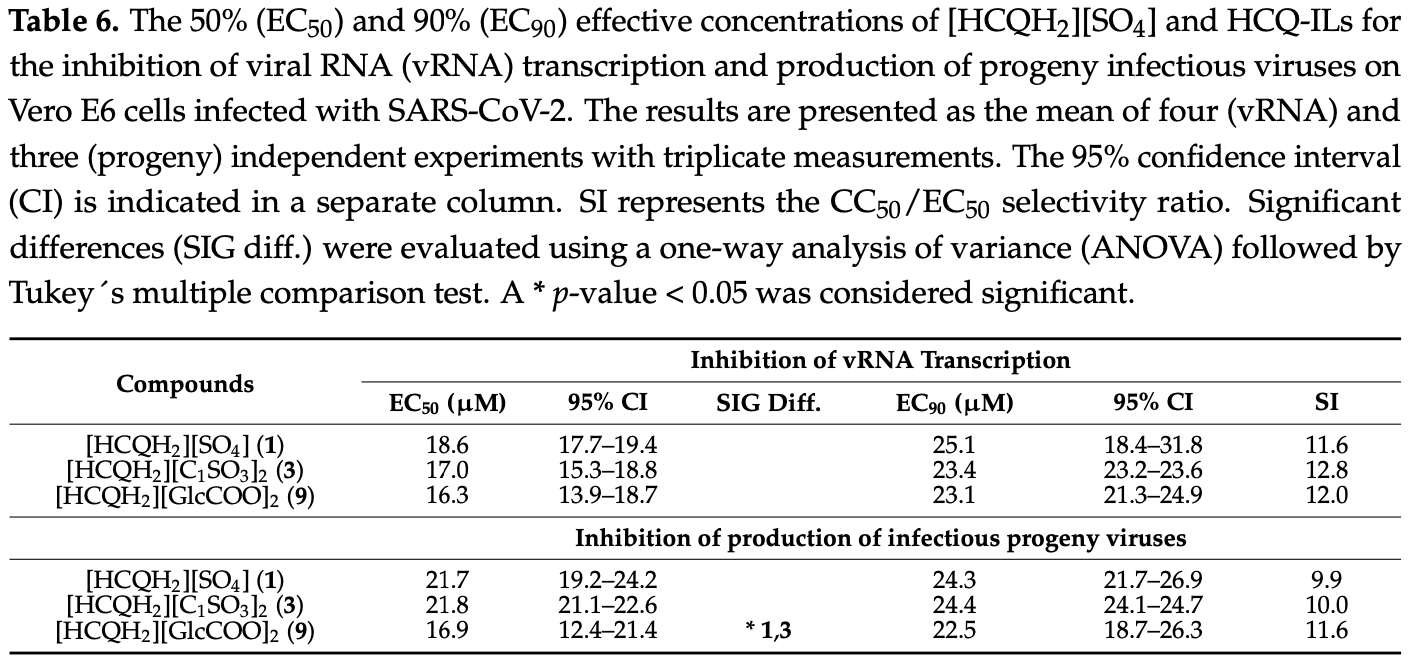 Faísca et al., 17 Apr 2022, peer-reviewed, 6 authors.
In Vitro studies are an important part of preclinical research, however results may be very different in vivo.
Abstract: pharmaceutics Article Enhanced In Vitro Antiviral Activity of Hydroxychloroquine Ionic Liquids against SARS-CoV-2 Francisco Faísca 1,† , Vanessa Correia 2,† , Željko Petrovski 1 , Luís C. Branco 1 , Helena Rebelo-de-Andrade 2,3, * and Miguel M. Santos 1, * 1 2 3 * † Citation: Faísca, F.; Correia, V.; Petrovski, Ž.; Branco, L.C.; Rebelo-de-Andrade, H.; Santos, M.M. Enhanced In Vitro Antiviral Activity of Hydroxychloroquine Ionic Liquids against SARS-CoV-2. Pharmaceutics 2022, 14, 877. https://doi.org/ LAQV-REQUIMTE, Departamento de Química, Faculdade de Ciências e Tecnologia, Universidade Nova de Lisboa, 2829-516 Caparica, Portugal; f.faisca@campus.fct.unl.pt (F.F.); z.petrovski@fct.unl.pt (Ž.P.); l.branco@fct.unl.pt (L.C.B.) Antiviral Resistance Lab, Research & Development Unit, Infectious Diseases Department, Instituto Nacional de Saúde Doutor Ricardo Jorge, IP, Av. Padre Cruz, 1649-016 Lisboa, Portugal; vanessa.correia@insa.min-saude.pt Host-Pathogen Interaction Unit, Research Institute for Medicines (iMed.ULisboa), Faculty of Pharmacy, Universidade de Lisboa, Av. Professor Gama Pinto, 1649-003 Lisboa, Portugal Correspondence: h.rebelo.andrade@insa.min-saude.pt (H.R.-d.-A.); miguelmsantos@fct.unl.pt (M.M.S.) These authors contributed equally to this work. Abstract: The development of effective antiviral drugs against SARS-CoV-2 is urgently needed and a global health priority. In light of the initial data regarding the repurposing of hydroxychloroquine (HCQ) to tackle this coronavirus, herein we present a quantitative synthesis and spectroscopic and thermal characterization of seven HCQ room temperature ionic liquids (HCQ-ILs) obtained by direct protonation of the base with two equivalents of organic sulfonic, sulfuric and carboxylic acids of different polarities. Two non-toxic and hydrophilic HCQ-ILs, in particular, [HCQH2 ][C1 SO3 ]2 and [HCQH2 ][GlcCOO]2 , decreased the virus-induced cytopathic effect by two-fold in comparison with the original drug, [HCQH2 ][SO4 ]. Despite there being no significant differences in viral RNA production between the three compounds, progeny virus production was significantly affected (p < 0.05) by [HCQH2 ][GlcCOO]2 . Overall, the data suggest that the in vitro antiviral activities of the HCQ-ILs are most likely the result of specific intra- and intermolecular interactions and not so much related with their hydrophilic or lipophilic character. This work paves the way for the development of future novel ionic formulations of hydroxychloroquine with enhanced physicochemical properties. 10.3390/pharmaceutics14040877 Keywords: API-ILs; COVID-19; hydroxychloroquine; pharmaceutical ionic liquids; SARS-CoV-2 Academic Editors: Lidia Tajber and Haibing Zhou Received: 24 February 2022 Accepted: 12 April 2022
Please send us corrections, updates, or comments. Vaccines and treatments are complementary. All practical, effective, and safe means should be used based on risk/benefit analysis. No treatment, vaccine, or intervention is 100% available and effective for all current and future variants. We do not provide medical advice. Before taking any medication, consult a qualified physician who can provide personalized advice and details of risks and benefits based on your medical history and situation.
FLCCC
and
WCH
provide treatment protocols.
Submit