In Vitro
and mouse study showing that activating α7 nAChR with the agonist GTS-21 reduced oxidative stress and inflammation, and reduced live virus infection in lung epithelial cells.The results provide some mechanistic insight into how HCQ may inhibit SARS-CoV-2 infection, by acting through the α7 nAChR pathway. Previous
in silico
studies predict HCQ blocks SARS-CoV-2 binding to both ACE2 and α7 nAChR. This study provides experimental evidence that activating α7 nAChR decreases ACE2 expression and reduces SARS-CoV-2 infection. Activating the α7 nAChR pathway (with agonists) or protecting it from viral interference (with HCQ for example) could be viable therapeutic approaches against COVID-19.
26 preclinical studies support the efficacy of HCQ for COVID-19:
18 In Vitro studies
Alsmadi, Andreani, Clementi, Dang, Delandre, Faísca, Kamga Kapchoup, Liu, Milan Bonotto, Ou, Purwati, Shang, Sheaff, Wang, Wang (B), Wen, Yao, Yuan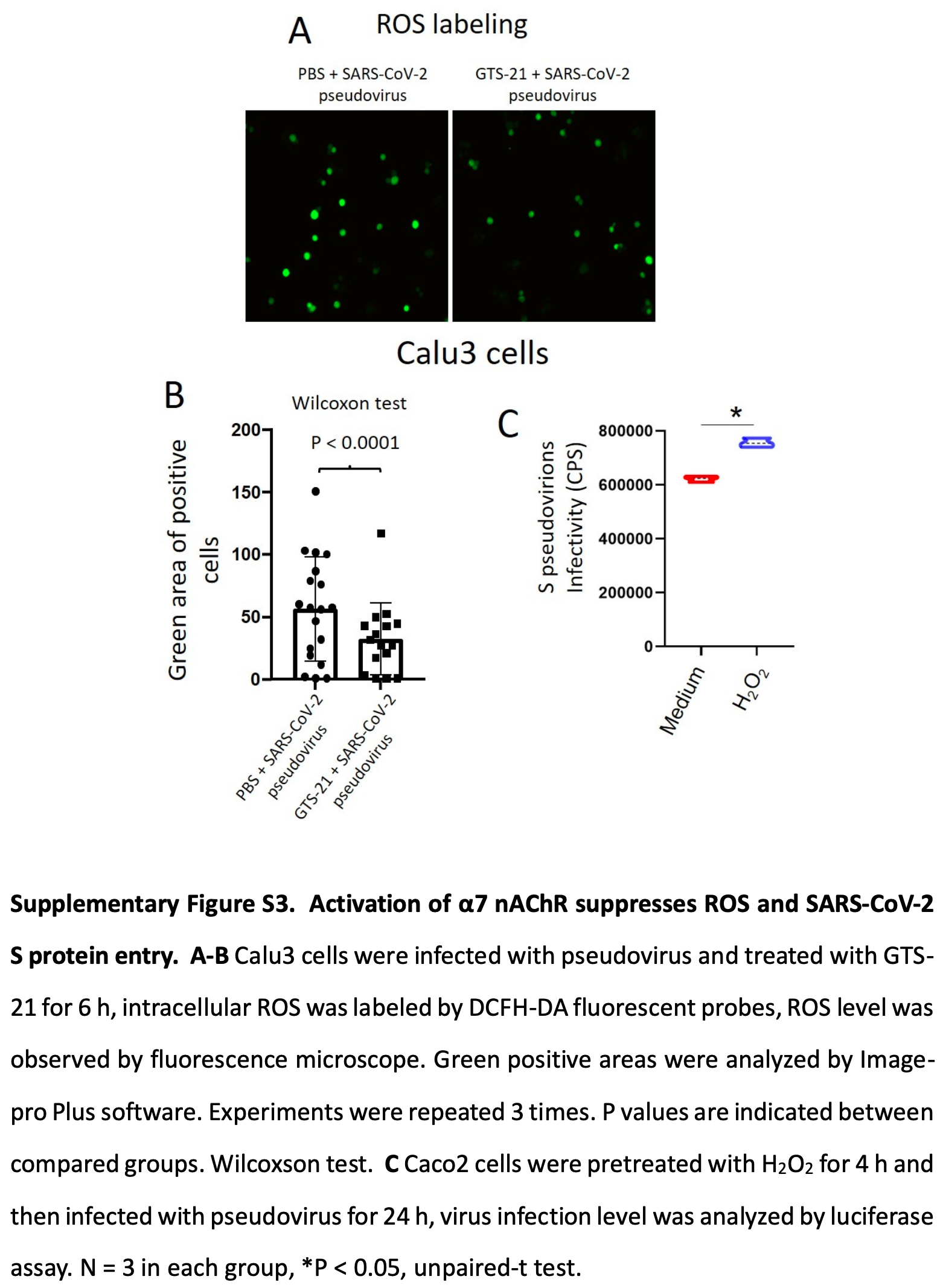 Wen et al., 25 Jul 2023, peer-reviewed, 5 authors.
Contact: zhaojincun@gird.cn, xsu@ips.ac.cn.
Cholinergic α7 nAChR signaling suppresses SARS-CoV-2 infection and inflammation in lung epithelial cells
doi:10.1093/jmcb/mjad048/7231085
The severe acute respiratory syndrome coronavirus 2 (SARS-CoV-2)-induced coronavirus disease 2019 (COVID-19) has caused more than 6 million deaths and poses a huge threat to the global economy and public health. SARS-CoV-2 enters lung epithelial cells depending on S protein binding with angiotensin converting enzyme 2 (ACE2). In-silico studies have shown that both SARS-CoV and SARS-CoV-2 S glycoproteins can interact with the extracellular domain of α7 nicotinic acetylcholine receptor (nAChR). Hydroxychloroquine, a known SARS-CoV-2 inhibitor, acts at the entry stage of SARS-CoV-2 by blocking the virus-binding sites on the two receptors, ACE2 and α7 nAChR (Navya and Hosur, 2021). Given that α7 nAChR possesses anti-inflammatory effects and could interact with the SARS-CoV-2 S protein,
References
Azabou, Bao, Bounab, Vagus Nerve Stimulation: A Potential Adjunct Therapy for COVID-19, Frontiers in medicine
Bonaz, Sinniger, Pellissier, Targeting the cholinergic anti-inflammatory pathway with vagus nerve stimulation in patients with Covid-19?, Bioelectronic medicine
Hsieh, Wang, Wu, Reactive Oxygen Species-Dependent c-Fos/Activator Protein 1 Induction Upregulates Heme Oxygenase-1 Expression by Bradykinin in Brain Astrocytes, Antioxidants & redox signaling
Kipshidze, Chekanov, Kipshidze, Transpulmonary electrotherapy for reduction of lung viral load of SARS-CoV-2 in patients with COVID-19, Medical hypotheses
Kox, Pompe, Peters, alpha7 nicotinic acetylcholine receptor agonist GTS-21 attenuates ventilator-induced tumour necrosis factor-alpha production and lung injury, Br J Anaesth
Li, Li, Wang, SARS-CoV-2 spike promotes inflammation and apoptosis through autophagy by ROS-suppressed PI3K/AKT/mTOR signaling, Biochimica et biophysica acta. Molecular basis of disease