Pharmacokinetic Basis of the Hydroxychloroquine Response in COVID-19: Implications for Therapy and Prevention
Pharmacokinetic Basis of the Hydroxychloroquine Response in COVID-19: Implications for Therapy and Prevention
,
European Journal of Drug Metabolism and Pharmacokinetics, doi:10.1007/s13318-020-00640-6
,
In Silico analysis of HCQ treatment showing concluding that HCQ may affect viral clearance if administered early enough when the virus is still confined to the pharyngeal cavity; HCQ's effects against SARS-CoV-2 might be exerted more through enhanced cell-mediated immunity than direct antiviral effects; and the effects of HCQ on SARS-CoV-2 viral load may be missed in clinical trials if measurements are not done at the peak of viral replication; and the effects are only evident at dosages able to guarantee a certain plasma drug concentration, i.e., > 400 mg/day.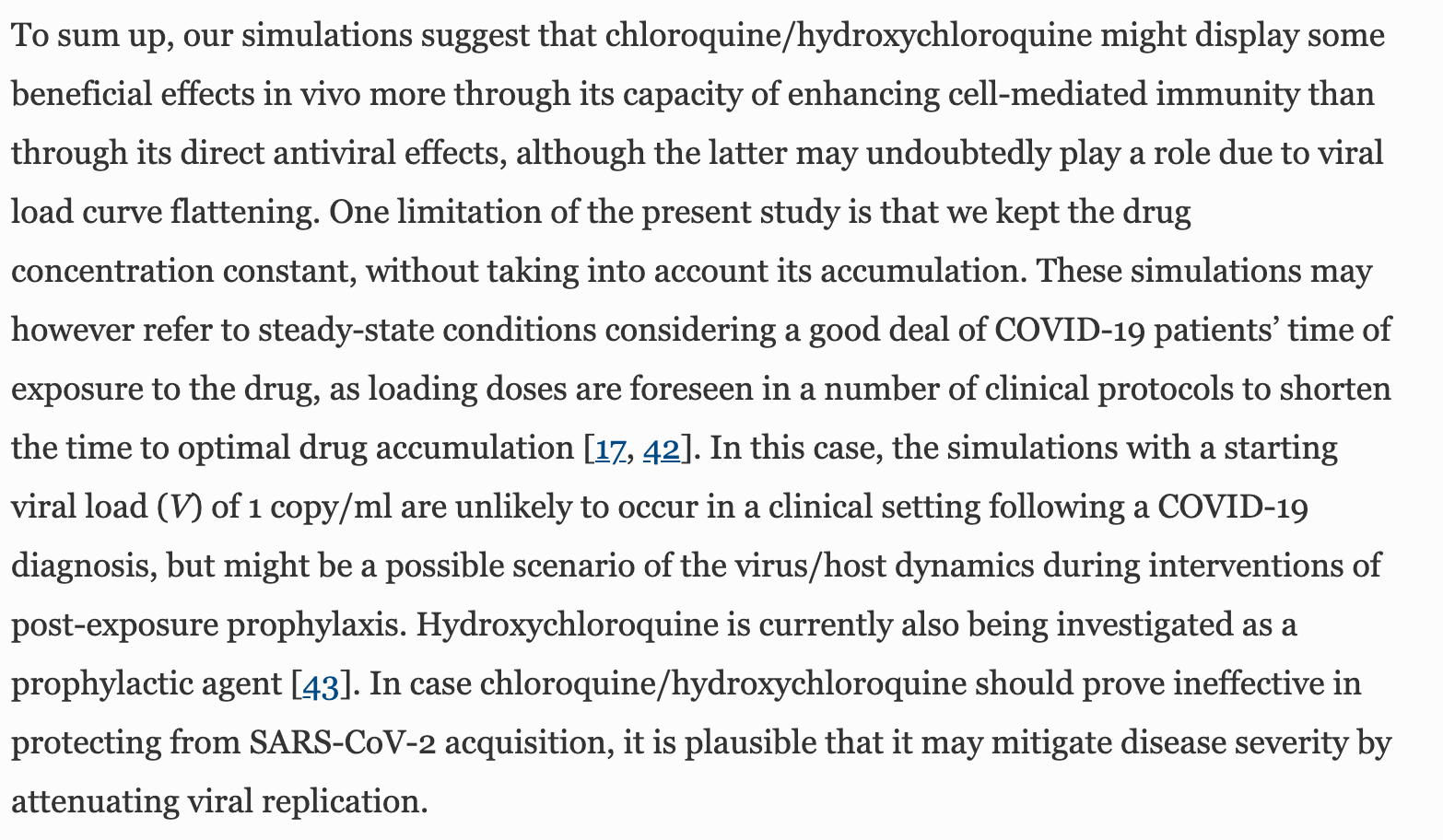 Tarek et al., 11 Aug 2020, peer-reviewed, 2 authors.
In Silico studies are an important part of preclinical research, however results may be very different in vivo.
Abstract: European Journal of Drug Metabolism and Pharmacokinetics (2020) 45:715–723 https://doi.org/10.1007/s13318-020-00640-6 ORIGINAL RESEARCH ARTICLE Pharmacokinetic Basis of the Hydroxychloroquine Response in COVID‑19: Implications for Therapy and Prevention Mohammad Tarek1 · Andrea Savarino2 Published online: 11 August 2020 © Springer Nature Switzerland AG 2020 Abstract Background and Objectives Chloroquine/hydroxychloroquine has recently been the subject of intense debate regarding its potential antiviral activity against SARS-Cov-2, the etiologic agent of COVID-19. Some report possible curative effects; others do not. Therefore, the objective of this study was to simulate possible scenarios of response to hydroxychloroquine in COVID-19 patients using mathematical modeling. Methods To shed some light on this controversial topic, we simulated hydroxychloroquine-based interventions on virus/host cell dynamics using a basic system of previously published differential equations. Mathematical modeling was implemented using Python programming language v 3.7. Results According to mathematical modeling, hydroxychloroquine may have an impact on the amplitude of the viral load peak and viral clearance if the drug is administered early enough (i.e., when the virus is still confined within the pharyngeal cavity). The effects of chloroquine/hydroxychloroquine may be fully explained only when also considering the capacity of this drug to increase the death rate of SARS-CoV-2-infected cells, in this case by enhancing the cell-mediated immune response. Conclusions These considerations may not only be applied to chloroquine/hydroxychloroquine but may have more general implications for development of anti-COVID-19 combination therapies and prevention strategies through an increased death rate of the infected cells.
Please send us corrections, updates, or comments. Vaccines and treatments are complementary. All practical, effective, and safe means should be used based on risk/benefit analysis. No treatment, vaccine, or intervention is 100% available and effective for all current and future variants. We do not provide medical advice. Before taking any medication, consult a qualified physician who can provide personalized advice and details of risks and benefits based on your medical history and situation.
FLCCC
and
WCH
provide treatment protocols.
Submit