Molecular Docking Identification for the efficacy of Some Zinc Complexes with Chloroquine and Hydroxychloroquine against Main Protease of COVID-19
Molecular dynamics analysis recommending Zn (CQ) Cl2(H2O) and Zn (HCQ) Cl2(H2O) as potential inhibitors for COVID-19 Mpro. Zn (HCQ) Cl2(H2O) exhibited a strong binding to the main protease receptor, forming eight hydrogen bonds.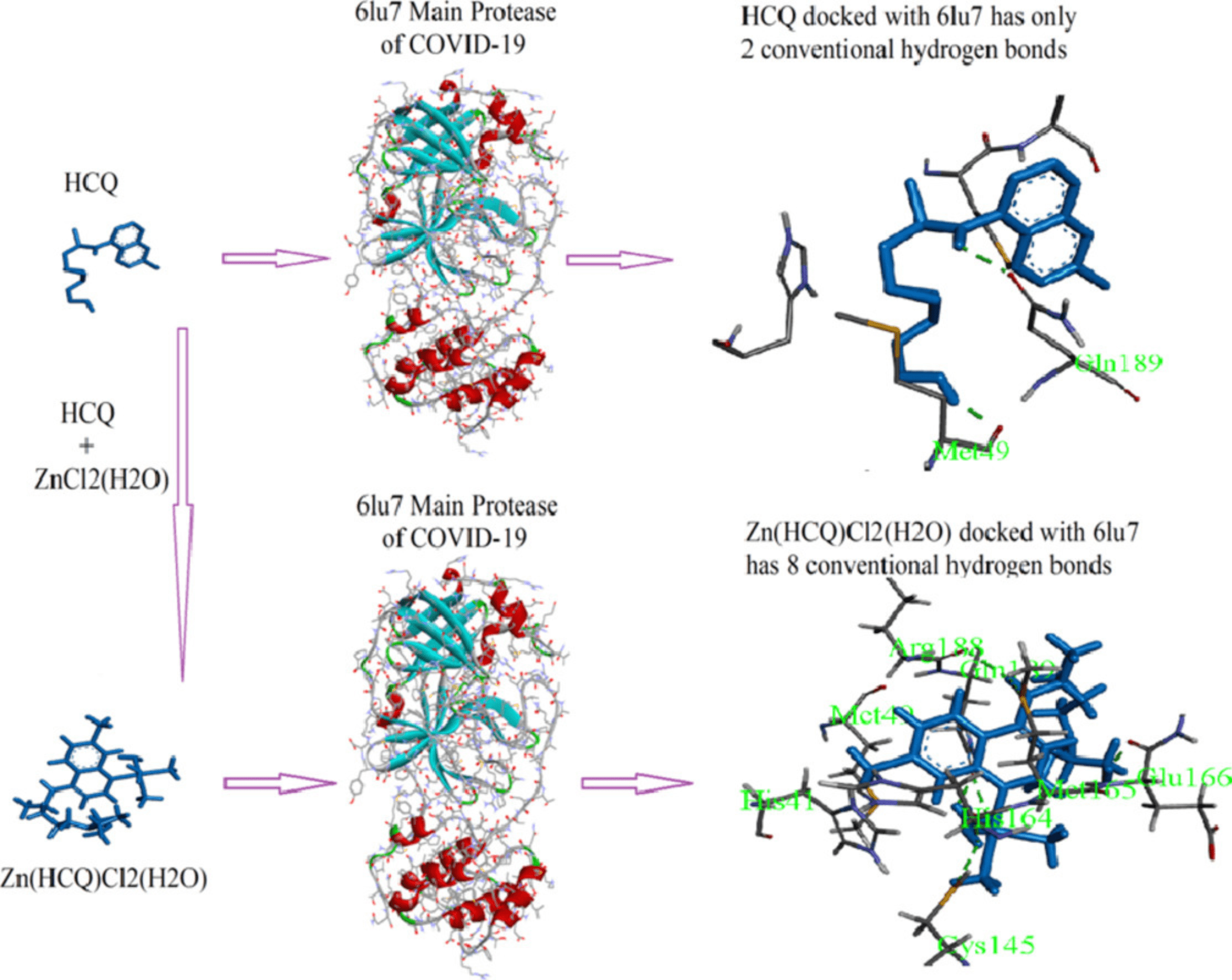 Hussein et al., 25 Jan 2021, peer-reviewed, 2 authors.
In Silico studies are an important part of preclinical research, however results may be very different in vivo.
Abstract: Journal of Molecular Structure 1231 (2021) 129979 Contents lists available at ScienceDirect Journal of Molecular Structure journal homepage: www.elsevier.com/locate/molstr Molecular docking identification for the efficacy of some zinc complexes with chloroquine and hydroxychloroquine against main protease of COVID-19 R.K. Hussein a,∗, H.M. Elkhair a,b a b Imam Mohammad Ibn Saud Islamic University (IMSIU), College of Science, Physics department, P.O. Box 90950, Riyadh 11623, Saudi Arabia Department of Physics, Al Neelain University, P. O. Box 12702, Khartoum 11121, Sudan a r t i c l e i n f o Article history: Received 31 July 2020 Revised 18 January 2021 Accepted 19 January 2021 Available online 25 January 2021 Keywords: COVID-19 Chloroquine Hydroxychloroquine Zinc complexes: molecular docking Molecular dynamics a b s t r a c t Vast amount of research has been recently conducted to discover drugs for efficacious treatment of corona virus disease 2019 (COVID-19). The ambiguity about using Chloroquine/ Hydroxychloroquine to treat this illness was a springboard towards new methods for improving the adequacy of these drugs. The effective treatment of COVID-19 using Zinc complexes as add-on to Chloroquine/ Hydroxychloroquine has received major attention in this context. The current studies have shed a light on molecular docking and molecular dynamics methodologies as powerful techniques in establishing therapeutic strategies to combat COVID-19 pandemic. We are proposing some zinc compounds coordination to Chloroquine/ Hydroxychloroquine in order to enhance their activity. The molecular docking calculations showed that Zn(QC)Cl2(H2O) has the least binding energy -7.70 Kcal /mol then Zn(HQC)Cl2(H2O) -7.54 Kcal /mol. The recorded hydrogen bonds were recognized in the strongest range of H Bond category distances. Identification of binding site interactions revealed that the interaction of Zn(QC)Cl2(H2O)with the protease of COVID-19 results in three hydrogen bonds, while Zn(HQC)Cl2(H2O) exhibited a strong binding to the main protease receptor by forming eight hydrogen bonds. The dynamic behavior of the proposed complexes was revealed by molecular dynamics simulations. The outcomes obtained from Molecular dynamics calculations approved the stability of Mpro-Zn(CQ/HCQ)Cl2H2O systems. These findings recommend Zn (CQ) Cl2H2O and Zn (HCQ) Cl2H2O as potential inhibitors for COVID-19 Mpro. © 2021 Elsevier B.V. All rights reserved.
Please send us corrections, updates, or comments. Vaccines and treatments are complementary. All practical, effective, and safe means should be used based on risk/benefit analysis. No treatment, vaccine, or intervention is 100% available and effective for all current and future variants. We do not provide medical advice. Before taking any medication, consult a qualified physician who can provide personalized advice and details of risks and benefits based on your medical history and situation.
FLCCC
and
WCH
provide treatment protocols.
Submit