In vitro
study of HCQ with mouse and human pluripotent stem cells and their cardiomyocyte derivatives. Results suggest HCQ has differential dose-dependent effects in mouse vs. human stem cell-derived cardiomyocytes. At lower concentrations (20-50μM), HCQ promoted proliferation and contractility. However at higher doses, HCQ was toxic. 20μM of HCQ promoted proliferation of stem cells, suggesting it may have a cardioprotective effect and could be a candidate for tissue repair. But higher doses above 100μM induced apoptosis and negative inotropic effects. The authors recommend careful HCQ dosing to avoid potential cardiotoxicity. Monitoring of treatment in lifelong users is also advised due to HCQ's long half-life.
26 preclinical studies support the efficacy of HCQ for COVID-19:
18 In Vitro studies
Alsmadi, Andreani, Clementi, Dang, Delandre, Faísca, Kamga Kapchoup, Liu, Milan Bonotto, Ou, Purwati, Shang, Sheaff, Wang, Wang (B), Wen, Yao, Yuan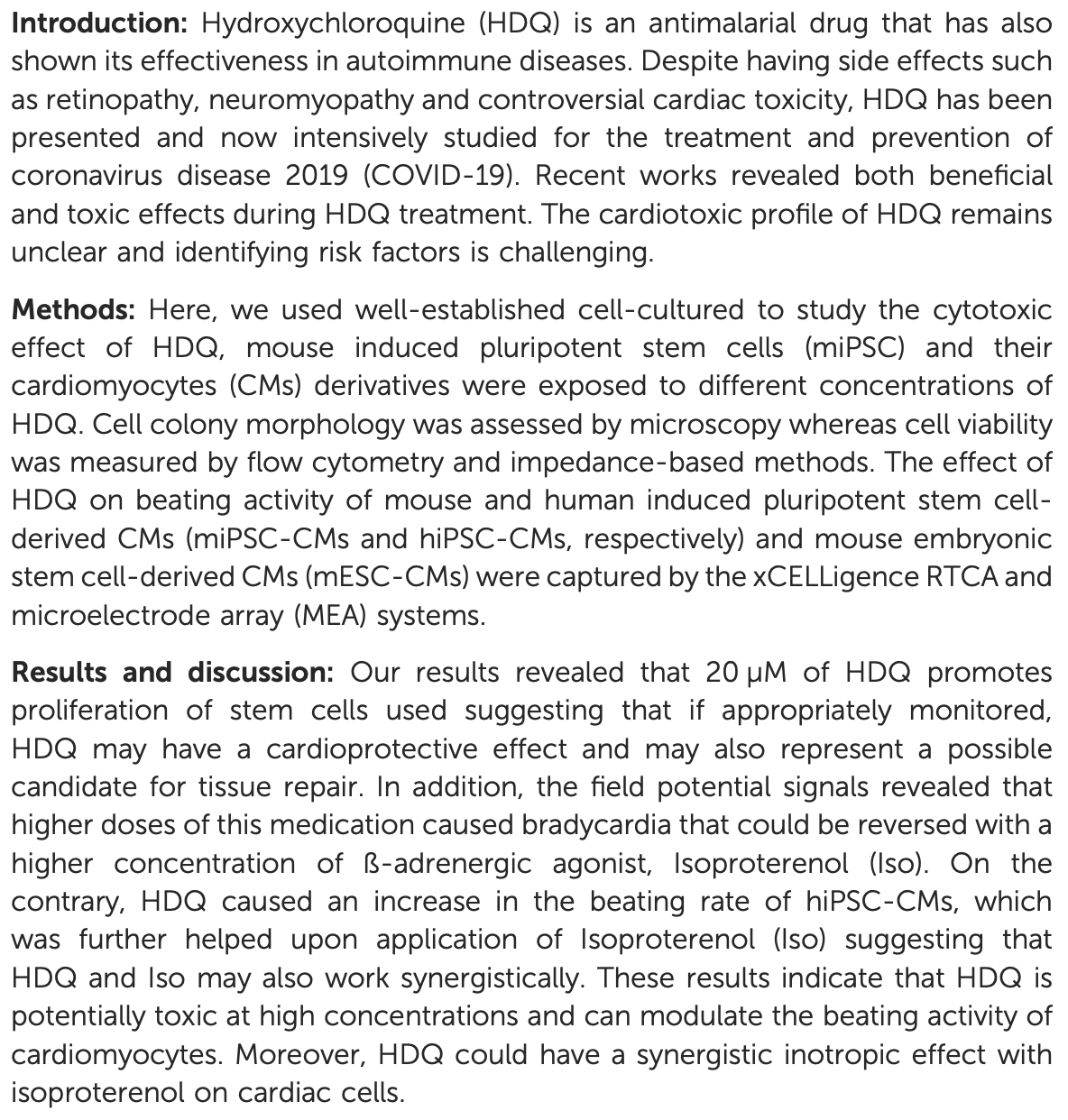 Kamga Kapchoup et al., 12 Jul 2023, China, peer-reviewed, 3 authors.
Contact: nguemo@uni-koeln.de.
In Vitro studies are an important part of preclinical research, however results may be very different in vivo.
In vitro effect of hydroxychloroquine on pluripotent stem cells and their cardiomyocytes derivatives
Frontiers in Pharmacology, doi:10.3389/fphar.2023.1128382
Introduction: Hydroxychloroquine (HDQ) is an antimalarial drug that has also shown its effectiveness in autoimmune diseases. Despite having side effects such as retinopathy, neuromyopathy and controversial cardiac toxicity, HDQ has been presented and now intensively studied for the treatment and prevention of coronavirus disease 2019 . Recent works revealed both beneficial and toxic effects during HDQ treatment. The cardiotoxic profile of HDQ remains unclear and identifying risk factors is challenging. Methods: Here, we used well-established cell-cultured to study the cytotoxic effect of HDQ, mouse induced pluripotent stem cells (miPSC) and their cardiomyocytes (CMs) derivatives were exposed to different concentrations of HDQ. Cell colony morphology was assessed by microscopy whereas cell viability was measured by flow cytometry and impedance-based methods. The effect of HDQ on beating activity of mouse and human induced pluripotent stem cellderived CMs (miPSC-CMs and hiPSC-CMs, respectively) and mouse embryonic stem cell-derived CMs (mESC-CMs) were captured by the xCELLigence RTCA and microelectrode array (MEA) systems. Results and discussion: Our results revealed that 20 µM of HDQ promotes proliferation of stem cells used suggesting that if appropriately monitored, HDQ may have a cardioprotective effect and may also represent a possible candidate for tissue repair. In addition, the field potential signals revealed that higher doses of this medication caused bradycardia that could be reversed with a higher concentration of ß-adrenergic agonist, Isoproterenol (Iso). On the contrary, HDQ caused an increase in the beating rate of hiPSC-CMs, which was further helped upon application of Isoproterenol (Iso) suggesting that HDQ and Iso may also work synergistically. These results indicate that HDQ is potentially toxic at high concentrations and can modulate the beating activity of cardiomyocytes. Moreover, HDQ could have a synergistic inotropic effect with isoproterenol on cardiac cells.
Author contributions FN and MK conceived, planed and designed the experiments; MK performed the measurements and analysis. MK drafted and wrote the manuscript with input from all authors. JH and FN revised the manuscript critically. All authors contributed to the article and approved the submitted version. Conflict of interest The authors declare that the research was conducted in the absence of any commercial or financial relationships that could be construed as a potential conflict of interest. Publisher's note All claims expressed in this article are solely those of the authors and do not necessarily represent those of their affiliated organizations, or those of the publisher, the editors and the reviewers. Any product that may be evaluated in this article, or claim that may be made by its manufacturer, is not guaranteed or endorsed by the publisher.
References
Browning, Pharmacology of chloroquine and hydroxychloroquine
Fong, Trinkaus, Adkins, Vij, Devine et al., None
Lakshminarayanan, Walsh, Mohanraj, Factors associated with low bone mineral density in female patients with systemic lupus erythematosus, J. rheumatology
Liu, Cao, Xu, Wang, Zhang et al., None
Mubagwa, Cardiac effects and toxicity of chloroquine: A short update
Stokkermans, Goyal, Bansal, Trichonas, Chloroquine and hydroxychloroquine toxicity
Yang, Ray, Krafts, Cell proliferation