In Silico
analysis showing that HCQ binds to multiple targets related to SARS-CoV-2 infection, including the ACE2 receptor, α7 nicotinic acetylcholine receptor, α1D-adrenergic receptor, and topoisomerase III β, suggesting that HCQ may interfere with viral entry, replication, and inflammation through interactions with these targets. Results support action of HCQ both at the entry and post-entry stages of SARS-CoV2 infection.
26 preclinical studies support the efficacy of HCQ for COVID-19:
18 In Vitro studies
Alsmadi, Andreani, Clementi, Dang, Delandre, Faísca, Kamga Kapchoup, Liu, Milan Bonotto, Ou, Purwati, Shang, Sheaff, Wang, Wang (B), Wen, Yao, Yuan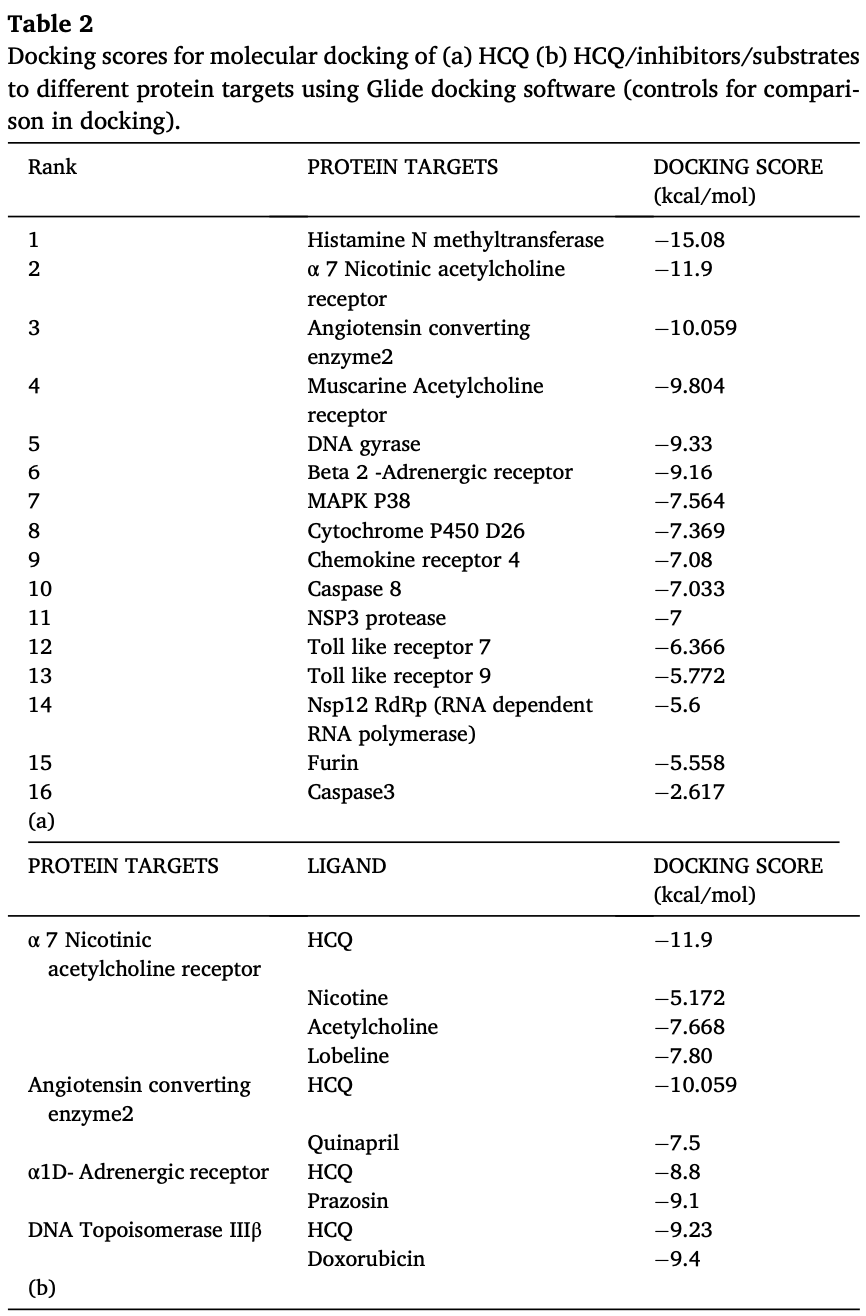 Navya et al., 23 Aug 2021, peer-reviewed, 2 authors.
Contact: hosurmv@nias.res.in.
In Silico studies are an important part of preclinical research, however results may be very different in vivo.
A computational study on hydroxychloroquine binding to target proteins related to SARS-COV-2 infection
Informatics in Medicine Unlocked, doi:10.1016/j.imu.2021.100714
Since January 2020 Elsevier has created a COVID-19 resource centre with free information in English and Mandarin on the novel coronavirus COVID-19. The COVID-19 resource centre is hosted on Elsevier Connect, the company's public news and information website. Elsevier hereby grants permission to make all its COVID-19-related research that is available on the COVID-19 resource centre -including this research content -immediately available in PubMed Central and other publicly funded repositories, such as the WHO COVID database with rights for unrestricted research re-use and analyses in any form or by any means with acknowledgement of the original source. These permissions are granted for free by Elsevier for as long as the COVID-19 resource centre remains active.
Declaration of competing interests The authors declare that they have no known competing financial interests or personal relationships that could have appeared to influence the work reported in this paper. Appendix A. Supplementary data Supplementary data to this article can be found online at https://doi. org/10.1016/j.imu.2021.100714.
References
Battle, PDBePISA : Identifying and interpreting the likely biological assemblies of a protein structure What is PDBePISA ? Where does the data come from ? PDBePISA for analysing the NGF structure 1bet Starting the PDBePISA service
Delano, Pymol: an open-source molecular graphics tool, CCP4 Newsl. Protein Crystallogr
Huang, Yang, Xu, Xu, Liu, Structural and functional properties of SARS-CoV-2 spike protein: potential antivirus drug development for COVID-19