Hydroxychloroquine and azithromycin as a treatment of COVID-19: results of an open-label non-randomized clinical trial
et al., Int. J. of Antimicrobial Agents,
HCQ was significantly associated with reduction / elimination of viral load, which was enhanced with AZ. Updated 8/13: responses to this paper have raised methodological issues
[sciencedirect.com, sciencedirect.com (B), sciencedirect.com (C)]
.Despite the limitations, this early observational study was a milestone in the discovery process, including detailed daily evolution of PCR positivity. This study should be viewed in the context of the series of studies from this group.An update to this paper, including originally excluded patients, confirms the effectiveness of HCQ+AZ on viral clearance and early discharge
[sciencedirect.com (D)]
. Also see
[sciencedirect.com (E)]
and the response from the authors
[sciencedirect.com (F)]
.
risk of no virological cure at day 6,

66.0% lower

, RR 0.34, p = 0.001
, treatment 6 of 20 (30.0%), control 14 of 16 (87.5%), NNT 1.7.
Effect extraction follows pre-specified rules prioritizing more serious outcomes. Submit updates
This study is excluded in the after exclusion results of meta analysis: excessive unadjusted differences between groups; results only for PCR status which may be significantly different to symptoms.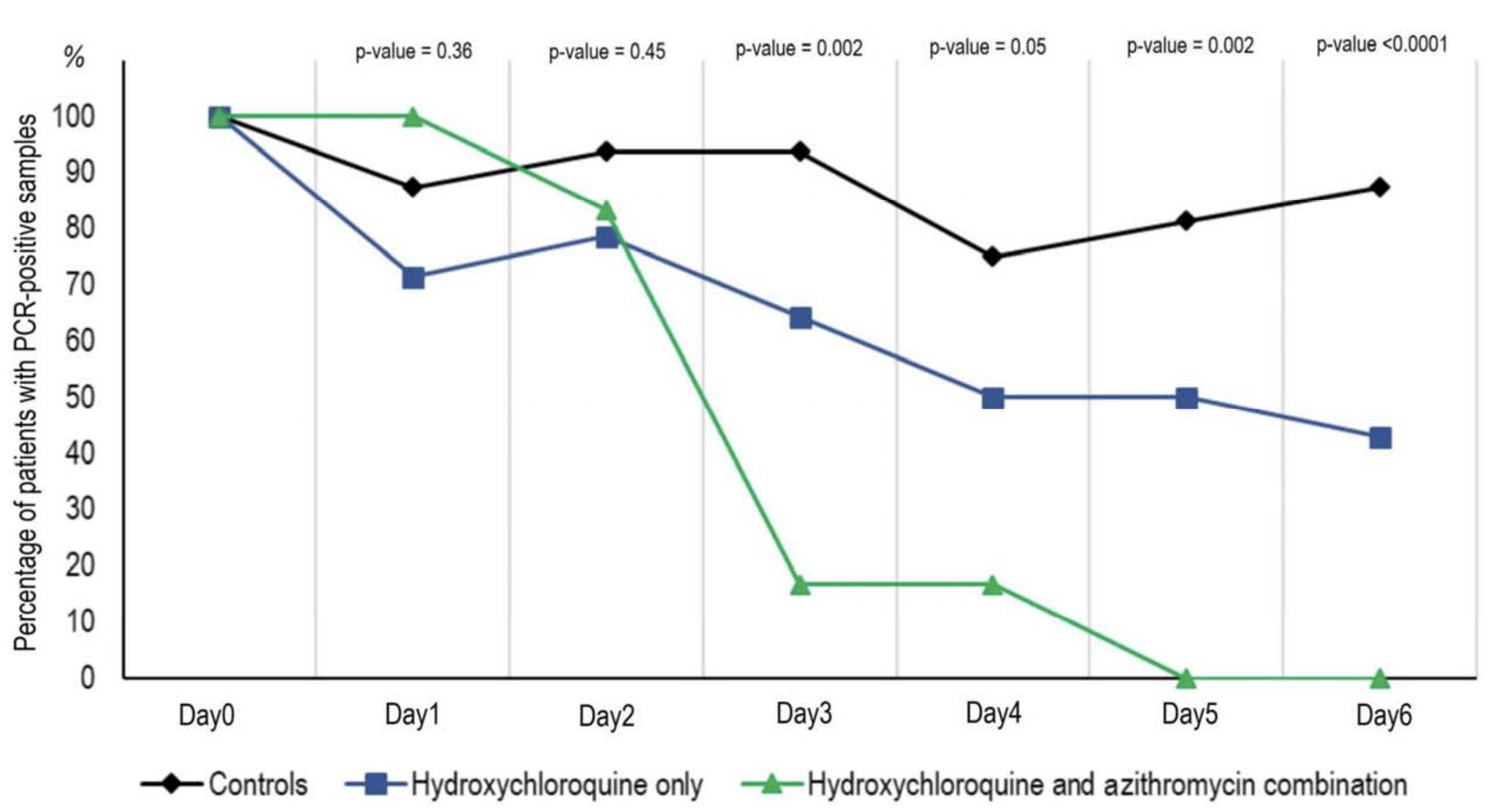 Gautret et al., 17 Mar 2020, prospective, France, peer-reviewed, 18 authors, average treatment delay 4.1 days, dosage 200mg tid days 1-10.