HCQ was significantly associated with reduction / elimination of viral load, which was enhanced with AZ. Updated 8/13: responses to this paper have raised methodological issues
sciencedirect.com, sciencedirect.com (B), sciencedirect.com (C)
.Despite the limitations, this early observational study was a milestone in the discovery process, including detailed daily evolution of PCR positivity. This study should be viewed in the context of the series of studies from this group.An update to this paper, including originally excluded patients, confirms the effectiveness of HCQ+AZ on viral clearance and early discharge
sciencedirect.com (D)
. Also see
sciencedirect.com (E)
and the response from the authors
sciencedirect.com (F)
.
This study is excluded in the after exclusion results of meta analysis: excessive unadjusted differences between groups; results only for PCR status which may be significantly different to symptoms.
risk of no virological cure at day 6,

66.0% lower

, RR 0.34, p = 0.001
, treatment 6 of 20 (30.0%), control 14 of 16 (87.5%), NNT 1.7.
Effect extraction follows pre-specified rules prioritizing more serious outcomes. Submit updates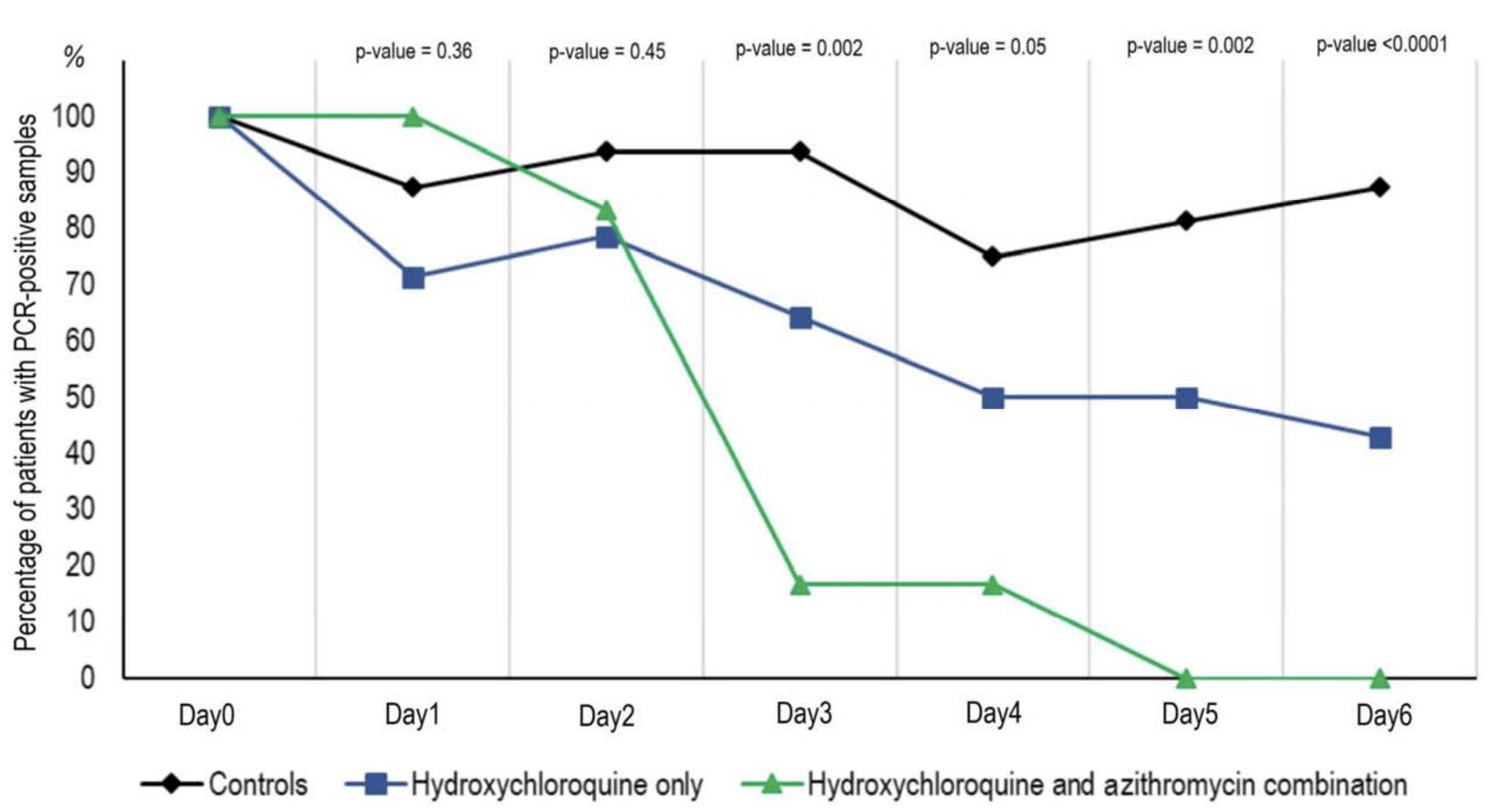 Gautret et al., 17 Mar 2020, prospective, France, peer-reviewed, 18 authors, average treatment delay 4.1 days, dosage 200mg tid days 1-10.
Hydroxychloroquine and azithromycin as a treatment of COVID-19: results of an open-label non-randomized clinical trial
International Journal of Antimicrobial Agents, doi:10.1016/j.ijantimicag.2020.105949
Background: Chloroquine and hydroxychloroquine have been found to be efficient on SARS-CoV-2, and reported to be efficient in Chinese COV-19 patients. We evaluate the effect of hydroxychloroquine on respiratory viral loads. Patients and methods: French Confirmed COVID-19 patients were included in a single arm protocol from early March to March 16 th , to receive 600mg of hydroxychloroquine daily and their viral load in nasopharyngeal swabs was tested daily in a hospital setting. Depending on their clinical presentation, azithromycin was added to the treatment. Untreated patients from another center and cases refusing the protocol were included as negative controls. Presence and absence of virus at Day6-post inclusion was considered the end point. Results: Six patients were asymptomatic, 22 had upper respiratory tract infection symptoms and eight had lower respiratory tract infection symptoms. Twenty cases were treated in this study and showed a significant reduction of the viral carriage at D6-post inclusion compared to controls, and much lower average carrying duration than reported in the litterature for untreated patients. Azithromycin added to hydroxychloroquine was significantly more efficient for virus elimination. Conclusion: Despite its small sample size, our survey shows that hydroxychloroquine treatment is significantly associated with viral load reduction/disappearance in COVID-19 patients and its effect is reinforced by azithromycin.
Declarations Supplementary material Supplementary material associated with this article can be found, in the online version, at doi: 10.1016/j.ijantimicag.2020. 105949 .
References
Amrane, Tissot-Dupont, Doudier, Eldin, Hocquart et al., Rapid viral diagnosis and ambulatory management of suspected COVID-19 cases presenting at the infectious diseases referral hospital in Marseille, France, -January 31st to March 1st, 2020: A respiratory virus snapshot, Travel Med Infect Dis
Armstrong, Richez, Raoult, Chabriere, Simultaneous UHPLC-UV analysis of hydroxychloroquine, minocycline and doxycycline from serum samples for the therapeutic drug monitoring of Q fever and Whipple's disease, B Analyt. Technol. Biomed. Life Sci
Biot, Daher, Chavain, Fandeur, Khalife et al., Design and synthesis of hydroxyferroquine derivatives with antimalarial and antiviral activities, J Med Chem
Colson, Rolain, Lagier, Brouqui, Raoult, Chloroquine and hydroxychloroquine as available weapons to fight COVID-19, Int J Antimicrob Agents
Raoult, Houpikian, Dupont, Riss, Arditi-Djiane et al., Treatment of Q fever endocarditis: comparison of 2 regimens containing doxycycline and ofloxacin or hydroxychloroquine, Arch Intern Med
Retallack, Lullo, Arias, Knopp, Laurie et al., Zika virus cell tropism in the developing human brain and inhibition by azithromycin, Proc Natl Acad Sci U S A
Wang, Cao, Zhang, Yang, Liu et al., Remdesivir and chloroquine effectively inhibit the recently emerged novel coronavirus (2019-nCoV) in vitro, Cell Res
Wang, Wang, Ye, Liu, A review of the 2019 Novel Coronavirus (COVID-19) based on current evidence, Int J Antimicrob Agents