Hydroxychloroquine and azithromycin as a treatment of COVID-19: results of an open-label non-randomized clinical trial
et al., Int. J. of Antimicrobial Agents,
Hydroxychloroquine and azithromycin as a treatment of COVID-19: results of an open-label non-randomized..
,
Int. J. of Antimicrobial Agents, doi:10.1016/j.ijantimicag.2020.105949 (date from earlier preprint)
,
HCQ was significantly associated with reduction / elimination of viral load, which was enhanced with AZ. Updated 8/13: responses to this paper have raised methodological issues
[sciencedirect.com, sciencedirect.com (B), sciencedirect.com (C)]
.Despite the limitations, this early observational study was a milestone in the discovery process, including detailed daily evolution of PCR positivity. This study should be viewed in the context of the series of studies from this group.An update to this paper, including originally excluded patients, confirms the effectiveness of HCQ+AZ on viral clearance and early discharge
[sciencedirect.com (D)]
. Also see
[sciencedirect.com (E)]
and the response from the authors
[sciencedirect.com (F)]
. This study is excluded in the after exclusion results of meta analysis: excessive unadjusted differences between groups; results only for PCR status which may be significantly different to symptoms.
risk of no virological cure at day 6,

66.0% lower

, RR 0.34, p = 0.001
, treatment 6 of 20 (30.0%), control 14 of 16 (87.5%), NNT 1.7.
Effect extraction follows pre-specified rules prioritizing more serious outcomes. Submit updates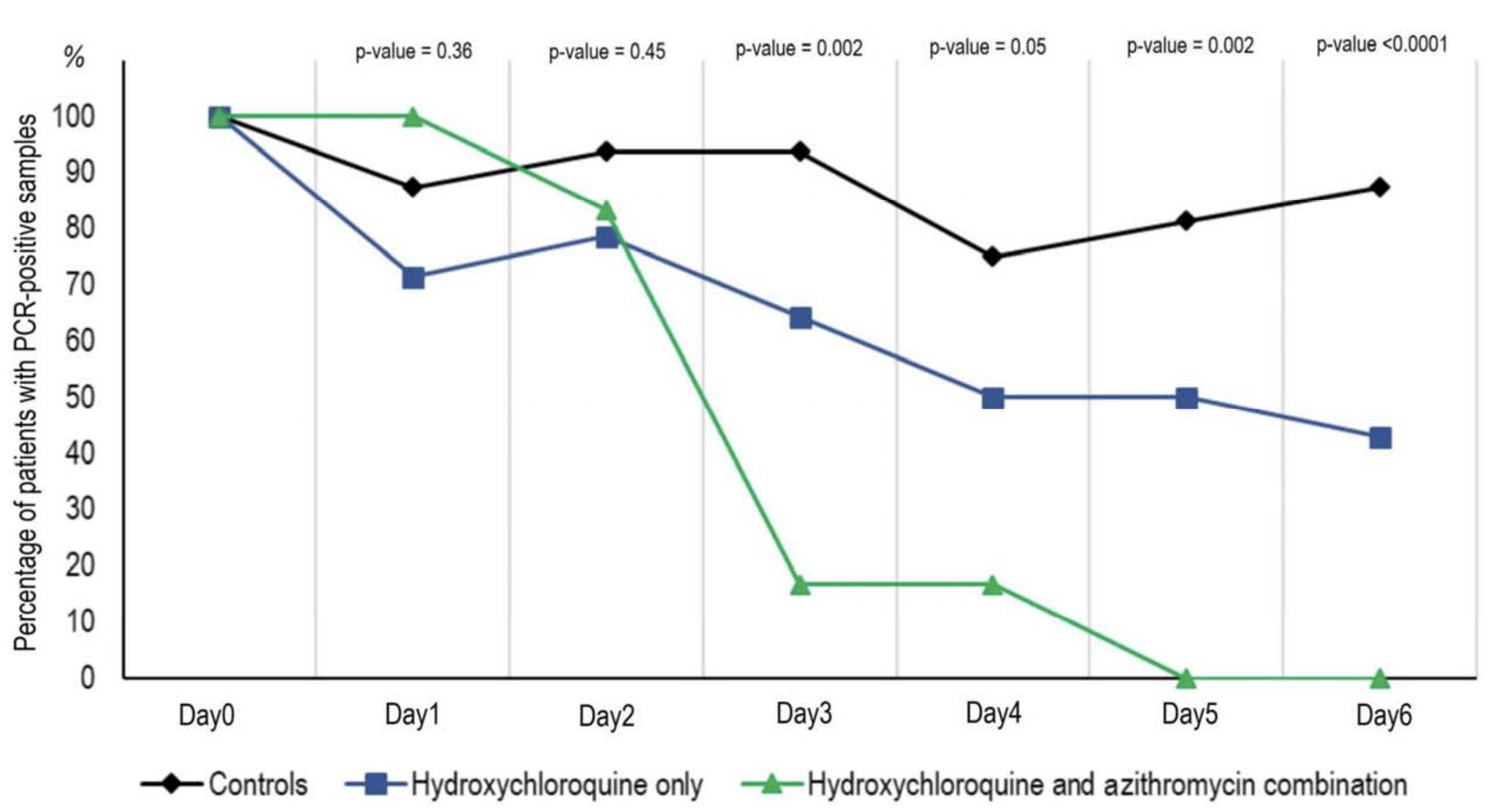 Gautret et al., 17 Mar 2020, prospective, France, peer-reviewed, 18 authors, average treatment delay 4.1 days, dosage 200mg tid days 1-10.
Abstract: International Journal of Antimicrobial Agents 56 (2020) 105949 Contents lists available at ScienceDirect International Journal of Antimicrobial Agents journal homepage: www.elsevier.com/locate/ijantimicag Hydroxychloroquine and azithromycin as a treatment of COVID-19: results of an open-label non-randomized clinical trial ✩ Philippe Gautret a,b,$, Jean-Christophe Lagier a,c,$, Philippe Parola a,b, Van Thuan Hoang a,b,d, Line Meddeb a, Morgane Mailhe a, Barbara Doudier a, Johan Courjon e,f,g, Valérie Giordanengo h, Vera Esteves Vieira a, Hervé Tissot Dupont a,c, Stéphane Honoré i,j, Philippe Colson a,c, Eric Chabrière a,c, Bernard La Scola a,c, Jean-Marc Rolain a,c, Philippe Brouqui a,c, Didier Raoult a,c,∗ a IHU-Méditerranée Infection, Marseille, France Aix Marseille Univ, IRD, AP-HM, SSA, VITROME, Marseille, France c Aix Marseille Univ, IRD, APHM, MEPHI, Marseille, France d Thai Binh University of Medicine and Pharmacy, Thai Binh, Viet Nam e Infectiologie, Hôpital de l'Archet, Centre Hospitalier Universitaire de Nice, Nice, France f Université Côte d'Azur, Nice, France g U1065, Centre Méditerranéen de Médecine Moléculaire, C3M, Virulence Microbienne et Signalisation Inflammatoire, INSERM, Nice, France h Department of Virology, Biological and Pathological Center, Centre Hospitalier Universitaire de Nice, 06200 Nice, France i Service Pharmacie, Hôpital Timone, AP-HM, Marseille, France j Laboratoire de Pharmacie Clinique, Aix Marseille Université, Marseille, France b a r t i c l e i n f o Editor: Dr. Po-Ren Hsueh Key words: 2019-nCoV SARS-CoV-2 COVID-19 Hydroxychloroquine Azithromycin Clinical trial a b s t r a c t Background: Chloroquine and hydroxychloroquine have been found to be efficient on SARS-CoV-2, and reported to be efficient in Chinese COV-19 patients. We evaluate the effect of hydroxychloroquine on respiratory viral loads. Patients and methods: French Confirmed COVID-19 patients were included in a single arm protocol from early March to March 16th , to receive 600mg of hydroxychloroquine daily and their viral load in nasopharyngeal swabs was tested daily in a hospital setting. Depending on their clinical presentation, azithromycin was added to the treatment. Untreated patients from another center and cases refusing the protocol were included as negative controls. Presence and absence of virus at Day6-post inclusion was considered the end point. Results: Six patients were asymptomatic, 22 had upper respiratory tract infection symptoms and eight had lower respiratory tract infection symptoms. Twenty cases were treated in this study and showed a significant reduction of the viral carriage at D6-post inclusion compared to controls, and much lower average carrying duration than reported in the litterature for untreated patients. Azithromycin added to hydroxychloroquine was significantly more efficient for virus elimination. Conclusion: Despite its small sample size, our survey shows that hydroxychloroquine treatment is significantly associated with viral load reduction/disappearance in COVID-19 patients and its effect is reinforced by azithromycin. © 2020 Published by Elsevier B.V.
Please send us corrections, updates, or comments. Vaccines and treatments are complementary. All practical, effective, and safe means should be used based on risk/benefit analysis. No treatment, vaccine, or intervention is 100% available and effective for all current and future variants. We do not provide medical advice. Before taking any medication, consult a qualified physician who can provide personalized advice and details of risks and benefits based on your medical history and situation.
FLCCC
and
WCH
provide treatment protocols.
Submit