A Randomized Trial of Hydroxychloroquine as Postexposure Prophylaxis for Covid-19
A Randomized Trial of Hydroxychloroquine as Postexposure Prophylaxis for Covid-19
,
NEJM, June 3 2020, doi:10.1056/NEJMoa2016638
,
Remote post-exposure prophylaxis RCT reporting "[HCQ] did not prevent illness compatible with Covid-19 or confirmed infection when used as postexposure prophylaxis within 4 days after exposure".However, this statement is incorrect - cases were reduced, just without statistical significance - it's not possible to conclude there was no efficacy. Additionally, treatment was not within 4 days - there was up to 68 hours shipping delay as below.Further, 6 independent analyses of the data in this study indicate efficacy:
[arxiv.org, blog.philbirnbaum.com, drive.google.com, longdom.org, medrxiv.org, osf.io, researchgate.net]
.COVID-19 cases were reduced by [49%, 29%, 16%] respectively when taken within ~[70, 94, 118] hours of exposure (including shipping delay). The treatment delay-response relationship is significant at
p
=0.002. For more detailed analysis, see
[c19hcq.com]
.See also:
[nejm.org]
. Regarding the use of folic acid, see
[sciencedirect.com]
.Time of dosing was not recorded in these trials:
[osf.io (B)]
. See
[medrxiv.org (B)]
, and Pullen et al.
[ncbi.nlm.nih.gov]
, which shows shipping delay for these trials of 19 - 68 hours. With enrollment up to 4 days from exposure, this implies delivery 19 - 164 hours after exposure.
risk of case,

17.0% lower

, RR 0.83, p = 0.35
, treatment 49 of 414 (11.8%), control 58 of 407 (14.3%), NNT 41.
risk of case,

25.1% lower

, RR 0.75, p = 0.22
, treatment 32 of 414 (7.7%), control 42 of 407 (10.3%), NNT 39, probable COVID-19 cases.
Effect extraction follows pre-specified rules prioritizing more serious outcomes. Submit updates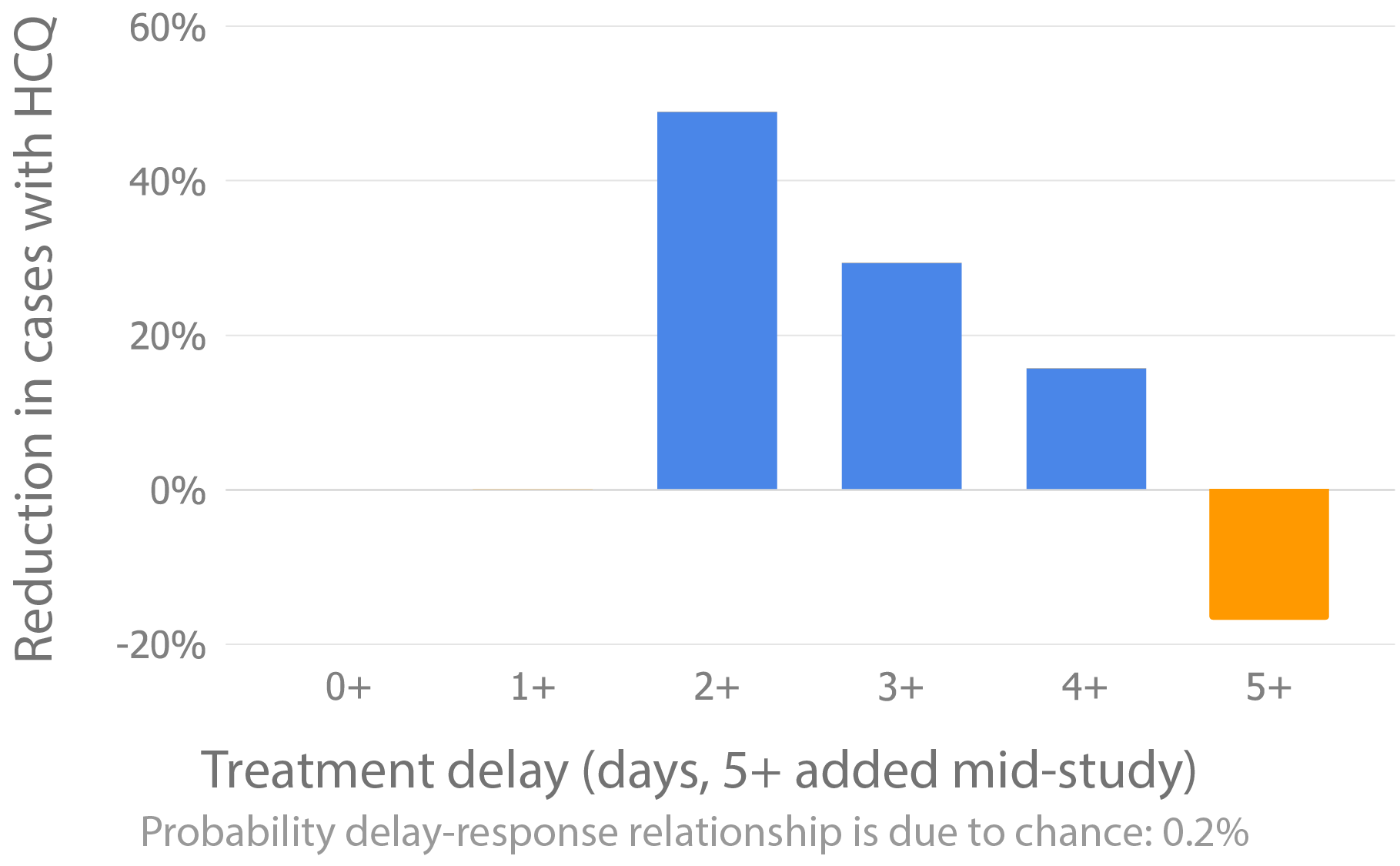 Boulware et al., 3 Jun 2020, Randomized Controlled Trial, USA, peer-reviewed, 24 authors, this trial compares with another treatment - results may be better when compared to placebo.
Abstract: The n e w e ng l a n d j o u r na l of m e dic i n e Original Article A Randomized Trial of Hydroxychloroquine as Postexposure Prophylaxis for Covid-19 D.R. Boulware, M.F. Pullen, A.S. Bangdiwala, K.A. Pastick, S.M. Lofgren, E.C. Okafor, C.P. Skipper, A.A. Nascene, M.R. Nicol, M. Abassi, N.W. Engen, M.P. Cheng, D. LaBar, S.A. Lother, L.J. MacKenzie, G. Drobot, N. Marten, R. Zarychanski, L.E. Kelly, I.S. Schwartz, E.G. McDonald, R. Rajasingham, T.C. Lee, and K.H. Hullsiek​​ A BS T R AC T BACKGROUND Coronavirus disease 2019 (Covid-19) occurs after exposure to severe acute respiratory syndrome coronavirus 2 (SARS-CoV-2). For persons who are exposed, the standard of care is observation and quarantine. Whether hydroxychloroquine can prevent symptomatic infection after SARS-CoV-2 exposure is unknown. METHODS We conducted a randomized, double-blind, placebo-controlled trial across the United States and parts of Canada testing hydroxychloroquine as postexposure prophylaxis. We enrolled adults who had household or occupational exposure to someone with confirmed Covid-19 at a distance of less than 6 ft for more than 10 minutes while wearing neither a face mask nor an eye shield (high-risk exposure) or while wearing a face mask but no eye shield (moderate-risk exposure). Within 4 days after exposure, we randomly assigned participants to receive either placebo or hydroxychloroquine (800 mg once, followed by 600 mg in 6 to 8 hours, then 600 mg daily for 4 additional days). The primary outcome was the incidence of either laboratory-confirmed Covid-19 or illness compatible with Covid-19 within 14 days. The authors' full names, academic degrees, and affiliations are listed in the Appendix. Address reprint requests to Dr. Boulware at the University of Minnesota, 689 23rd Ave., Minneapolis, MN 55455, or at ­boulw001@​­umn​.­edu. This article was published on June 3, 2020, at NEJM.org. DOI: 10.1056/NEJMoa2016638 Copyright © 2020 Massachusetts Medical Society. RESULTS We enrolled 821 asymptomatic participants. Overall, 87.6% of the participants (719 of 821) reported a high-risk exposure to a confirmed Covid-19 contact. The incidence of new illness compatible with Covid-19 did not differ significantly between participants receiving hydroxychloroquine (49 of 414 [11.8%]) and those receiving placebo (58 of 407 [14.3%]); the absolute difference was −2.4 percentage points (95% confidence interval, −7.0 to 2.2; P = 0.35). Side effects were more common with hydroxychloroquine than with placebo (40.1% vs. 16.8%), but no serious adverse reactions were reported. CONCLUSIONS After high-risk or moderate-risk exposure to Covid-19, hydroxychloroquine did not prevent illness compatible with Covid-19 or confirmed infection when used as postexposure prophylaxis within 4 days after exposure. (Funded by David Baszucki and Jan Ellison Baszucki and others; ClinicalTrials.gov number, NCT04308668.) n engl j med  nejm.org The New England Journal of Medicine Copyright © 2020 Massachusetts Medical Society. All rights reserved. 1 The n e w e ng l a n d j o u r na l S evere acute respiratory syndrome coronavirus 2 (SARS-CoV-2) is the global, rapidly emerging virus causing coronavirus disease 2019 (Covid-19).1 The current public health strategies to mitigate transmission are rapid identification of cases, isolation, contact tracing, and..
Please send us corrections, updates, or comments. Vaccines and treatments are complementary. All practical, effective, and safe means should be used based on risk/benefit analysis. No treatment, vaccine, or intervention is 100% available and effective for all current and future variants. We do not provide medical advice. Before taking any medication, consult a qualified physician who can provide personalized advice and details of risks and benefits based on your medical history and situation.
FLCCC
and
WCH
provide treatment protocols.
Submit