Meta analysis of prophylactic and early treatment RCTs, 24% reduction in cases, hospitalization or death with HCQ, RR 0.76,
p
=0.025. No serious adverse cardiac events were reported. 5,577 patients.The Boulware study provides a breakdown for treatment delay. For the case of < ~4 days (2 days enrollment, ~46 hours shipping), the result of the meta analysis becomes RR 0.68,
p
=0.0097.The actual effect may be larger due to treatment delays, followup loss, protocol deviation, active placebos, no severity analysis for cases, and suboptimal regimens.For the individual studies see
Boulware, Mitjà, Mitjà (B), Rajasingham, Skipper
.
Currently there are
38 HCQ for COVID-19 early treatment studies
, showing 72% lower mortality
[59‑81%]
, 67% lower ventilation
[-710‑99%]
, 28% lower ICU admission
[-17‑55%]
, and 41% lower hospitalization
[28‑51%]
.
risk of death/hospitalization/cases,

24.0% lower

, RR 0.76, p = 0.03
.
Effect extraction follows pre-specified rules prioritizing more serious outcomes. Submit updates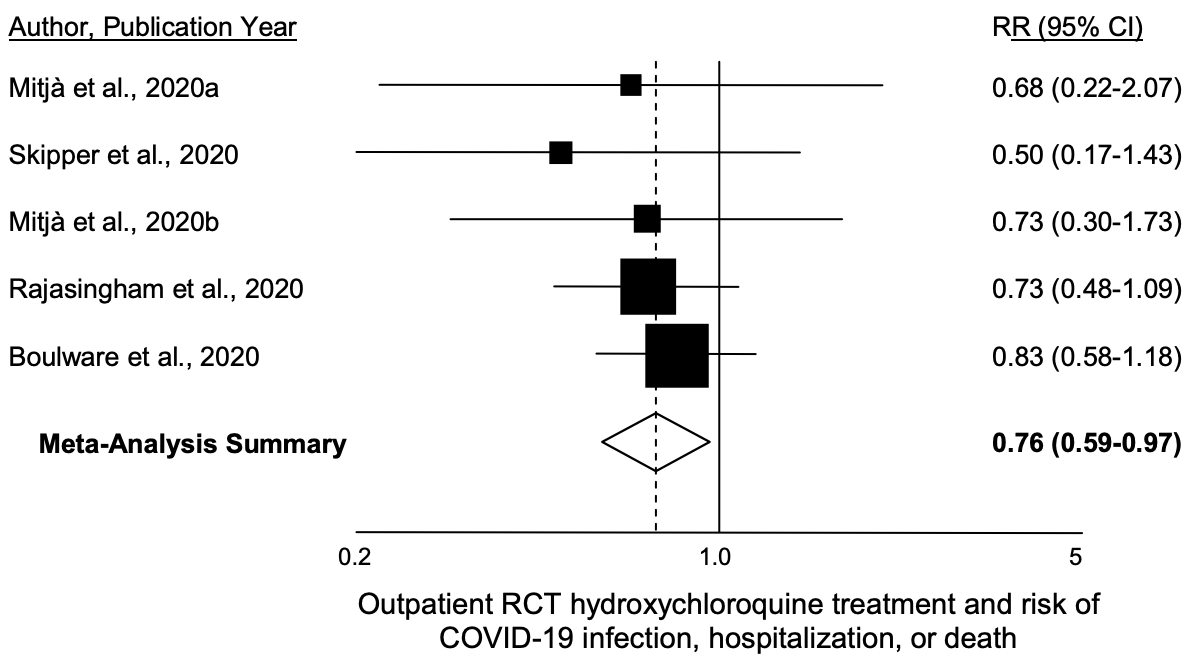 Ladapo et al., 30 Sep 2020, preprint, 4 authors.
Randomized Controlled Trials of Early Ambulatory Hydroxychloroquine in the Prevention of COVID-19 Infection, Hospitalization, and Death: Meta-Analysis
doi:10.1101/2020.09.30.20204693
Objective-To determine if hydroxychloroquine (HCQ) reduces the incidence of new illness, hospitalization or death among outpatients at risk for or infected with SARS-CoV-2 (COVID-19). Design-Systematic review and meta-analysis of randomized clinical trials. Data sources-Search of MEDLINE, EMBASE, PubMed, medRxiv, PROSPERO, and the Cochrane Central Register of Controlled Trials. Also review of reference lists from recent meta-analyses. Study selection-Randomized clinical trials in which participants were treated with HCQ or placebo/standard-of-care for pre-exposure prophylaxis, post-exposure prophylaxis, or outpatient therapy for COVID-19. Methods-Two investigators independently extracted data on trial design and outcomes. Medication side effects and adverse reactions were also assessed. The primary outcome was COVID-19 hospitalization or death. When unavailable, new COVID-19 infection was used. We calculated random effects meta-analysis according to the method of DerSimonian and Laird. Heterogeneity between the studies was evaluated by calculation of Cochran Q and I 2 parameters. An Egger funnel plot was drawn to investigate publication bias. We also calculated the fixed effects meta-analysis summary of the five studies. All calculations were done in Excel, and results were considered to be statistically significant at a two-sided threshold of P=.05. Results-Five randomized controlled clinical trials enrolling 5,577 patients were included. HCQ was associated with a 24% reduction in COVID-19 infection, hospitalization or death, P=.025
Conflicts of Interest Dr. Risch acknowledges past advisory consulting work with two of the more than 50 manufacturers of hydroxychloroquine, azithromycin and doxycycline. This past work was not related to any of these medications and was completed more than two years ago. He has no ongoing, planned or projected relationships with any of these companies, nor any other potential conflicts-of-interest to disclose. None of the other authors have any potential conflicts of interest to disclose. Key Messages Box: What is already known on this topic • Various government, clinical and research entities have been trying to evaluate the degree of benefit of hydroxychloroquine in early COVID-19 outpatient treatment. • Seven nonrandomized but controlled clinical trials to date have shown significant reductions in hospitalization and mortality with early ambulatory hydroxychloroquine use, but individual randomized outpatient trials have not shown statistical significance of benefit with these or other outcomes. What this study adds • The five outpatient randomized controlled studies to date examining new infection, hospitalization or mortality together show statistically significant evidence of reduced risk, RR=0.76 (95% CI 0.59 to 0.97). • No serious adverse cardiac events were reported in any of the studies. • The combined literature of seven nonrandomized controlled trials and five randomized controlled trials provides substantial and statistically significant evidence of benefit..
References
Lagier, Million, Gautret, Outcomes of 3,737 COVID-19 patients treated with hydroxychloroquine/azithromycin and other regimens in Marseille, France: A retrospective analysis, Travel Med Infect Dis
Ly, Zanini, Laforge, Pattern of SARS-CoV-2 infection among dependant elderly residents living in retirement homes in Marseille, France, Preprints
Watanabe, Efficacy of hydroxychloroquine as prophylaxis for Covid-19, Preprints