Review of pathophysiological principles related to early outpatient treatment and therapeutic approaches including reduction of reinoculation, combination antiviral therapy, immunomodulation, antiplatelet/antithrombotic therapy, and administration of oxygen, monitoring, and telemedicine.Proposes an algorithm based on age and comorbidities that allows for a large proportion to be monitored and treated at home during self-isolation with the aim of reducing the risks of hospitalization and death.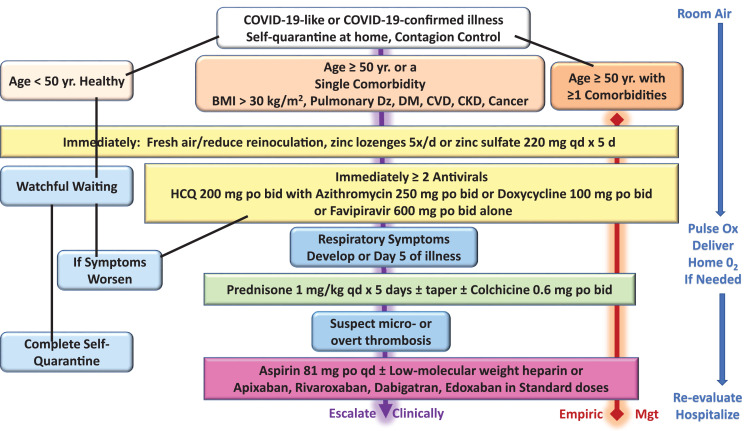 McCullough et al., 6 Aug 2020, peer-reviewed, 23 authors.
Pathophysiological Basis and Rationale for Early Outpatient Treatment of SARS-CoV-2 (COVID-19) Infection
The American Journal of Medicine, doi:10.1016/j.amjmed.2020.07.003
Approximately 9 months of the severe acute respiratory syndrome coronavius-2 (SARS-CoV-2 [COVID-19]) spreading across the globe has led to widespread COVID-19 acute hospitalizations and death. The rapidity and highly communicable nature of the SARS-CoV-2 outbreak has hampered the design and execution of definitive randomized, controlled trials of therapy outside of the clinic or hospital. In the absence of clinical trial results, physicians must use what has been learned about the pathophysiology of SARS-CoV-2 infection in determining early outpatient treatment of the illness with the aim of preventing hospitalization or death. This article outlines key pathophysiological principles that relate to the patient with early infection treated at home. Therapeutic approaches based on these principles include 1) reduction of reinoculation, 2) combination antiviral therapy, 3) immunomodulation, 4) antiplatelet/antithrombotic therapy, and 5) administration of oxygen, monitoring, and telemedicine. Future randomized trials testing the principles and agents discussed will undoubtedly refine and clarify their individual roles; however, we emphasize the immediate need for management guidance in the setting of widespread hospital resource consumption, morbidity, and mortality.
References
Bhandari, Rankawat, Bagarhatta, Clinico-radiological evaluation and correlation of CT chest images with progress of disease in COVID-19 patients, J Assoc Physicians India
B€ Osm€ Uller, Traxler, Bitzer, The evolution of pulmonary pathology in fatal COVID-19 disease: an autopsy study with clinical correlation
Chan, Slim, Shaaban, Pulmonary Embolism and Increased Levels of d-Dimer in Patients with Coronavirus Disease
Kolilekas, Loverdos, Giannakaki, Can steroids reverse the severe COVID-19 induced "cytokine storm
Mestre, Omez, Lorente-Ramos, Rogado, Incidence of pulmonary embolism in non-critically ill COVID-19 patients. Predicting factors for a challenging diagnosis
Mikami, Miyashita, Yamada, Risk Factors for Mortality in Patients with COVID-19 in New York City
Moores, Tritschler, Brosnahan, Diagnosis, and Treatment of VTE in Patients With Coronavirus Disease
Pilkington, Pepperrell, Hill, A review of the safety of favipiravir -a potential treatment in the COVID-19 pandemic?, J Virus Erad
Rahman, Idid, Can Zn Be a Critical Element in COVID-19 Treatment?
Risch, Early outpatient treatment of symptomatic, high-risk covid-19 patients that should be ramped-up immediately as key to the pandemic crisis
Worldometer, COVID-19 coronavirus pandemic
Zelenko, Clinical dx protocol