A Cluster-Randomized Trial of Hydroxychloroquine as Prevention of Covid-19 Transmission and Disease
et al., NEJM,
A Cluster-Randomized Trial of Hydroxychloroquine as Prevention of Covid-19 Transmission and Disease
,
NEJM, doi:10.1056/NEJMoa2021801 (date from earlier preprint)
,
For positive symptomatic cases, a greater effect is seen for nursing home residents, RR=0.49 [0.21 - 1.17], vs. overall 0.89, possibly because the exposure events are identified faster in this context, versus home exposure where testing of the source may be more delayed. The trial is too small for significance here. If the trend continued this result would be significant at
p
<0.05 after about 25% more patients were added.There are 2 groups in this study: PCR+ at baseline (n=314) and PCR- at baseline (n=2000), which should be separated as they are different populations (primary outcome rates 18.6% and 22.2% compared to 3.0% and 4.3%). PCR+ already have COVID-19, so PEP analysis should be for the 2,000 PCR-, showing symptomatic COVID-19 of 4.3% (control) and 3.0% (treatment), RR 0.7,
p
=0.154.The paper has different RR values here, stating that they are adjusted for contact-level variables. It is not clear how they are computed - the adjusted RR for the overall sample is 4% lower, for PCR+ it is 20% lower, but for PCR- it is 107% higher, even though PCR- represents 86% of the sample.Hopefully, supplementary data will provide a breakdown on cases in this PCR- @baseline sample by number of days since exposure, and also provide relevant hospitalisation and death results.Enrollment was up to 7 days after exposure, median 4 days. Treatment delay is unclear. The exposure event timing is not detailed. It appears to be based on the date of a positive test for a contact, which is likely to be much later than the actual exposure time. 13.1% were already positive at baseline, which is consistent with the actual exposure time being significantly earlier. PCR testing has a very high false-negative rate in early stages (e.g., 100% on day 1, 67% on day 4, and 20% on day 8
[acpjournals.org]
), hence it is likely that a much higher percentage were infected at an unknown time before enrollment. Medication administration is not detailed. Sensitivity and specificity of the tests is not provided.Given the delay identifying index cases, PCR test delay, and PCR false negative rate at early stages, the treatment delay in general was very long and could be over 2 weeks.The RR for non-PCR positive at baseline is 0.74. Including the PCR-positive at baseline patients reduced this to 0.89. This is also consistent with earlier treatment being more effective.The paper does not mention zinc. Zinc deficiency in Spain has been reported at 83%
[mdpi.com]
, this may significantly reduce effectiveness. HCQ is a zinc ionophore which increases cellular uptake, facilitating significant intracellular concentrations of zinc, and zinc is known to inhibit SARS-CoV RNA-dependent RNA polymerase activity, and is widely thought to be important for effectiveness with SARS-CoV-2
[infezmed.it]
.This study focuses on the existence of symptoms or PCR-positive results, however severity of symptoms is more important. Research has shown HCQ concentrations can be much higher in the lung compared to plasma
[ncbi.nlm.nih.gov]
, which may help minimize the occurrence of severe cases and death.There is a treatment-delay response relationship consistent with an effective treatment, however the authors only provide 3 ranges and do not break down the earliest treatment delay times.The definition of COVID-19 symptoms is very broad - just existence of a headache alone or muscle pain alone was considered COVID-19. There was an overall very low incidence of confirmed COVID-19 (138 cases across both arms). There were no serious adverse events that were adjudicated as being treatment related. Authors exclude those with symptoms in the previous two weeks, however, those with symptoms up to several months before may still test PCR-positive even though there may be no viable virus.There appears to be incorrect data. Table 2, secondary outcomes, control, hospital/vital records shows that 8 of 1042 is 9.7% (we get 0.8%).Nasopharyngeal viral load analysis issues include test unreliability and temporo-spatial differences in viral shedding
[journal.chestnet.org]
.Data from this study has been used to show that viral load is the primary factor in transmission:
[medrxiv.org]
.
risk of death,

45.6% lower

, RR 0.54, p = 0.39
, treatment 4 of 1,196 (0.3%), control 8 of 1,301 (0.6%), NNT 357, per supplemental appendix table S7, excluding patient that did not take any study medication and had an unknown cause of death.
risk of hospitalization,

16.8% lower

, RR 0.83, p = 0.71
, treatment 13 of 1,196 (1.1%), control 17 of 1,301 (1.3%), NNT 455, per supplemental appendix table S7, excluding patient that did not take any study medication and had an unknown cause of death.
baseline PCR- risk of cases,

32.0% lower

, RR 0.68, p = 0.27
, treatment 29 of 958 (3.0%), control 45 of 1,042 (4.3%), NNT 77.
Effect extraction follows pre-specified rules prioritizing more serious outcomes. Submit updates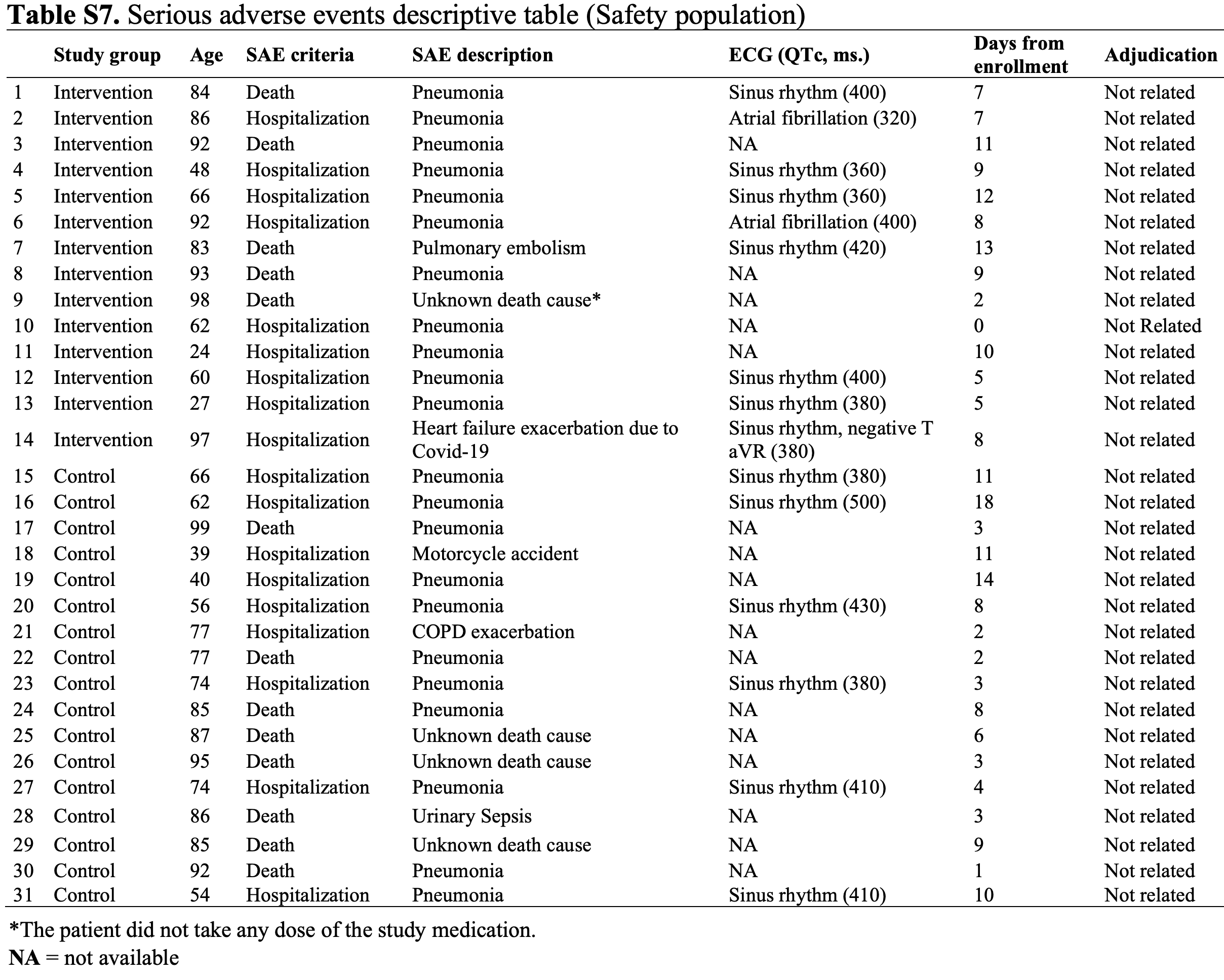 Mitjà et al., 26 Jul 2020, Randomized Controlled Trial, Spain, peer-reviewed, 12 authors.
Abstract: The n e w e ng l a n d j o u r na l of m e dic i n e Original Article A Cluster-Randomized Trial of Hydroxychloroquine for Prevention of Covid-19 O. Mitjà, M. Corbacho‑Monné, M. Ubals, A. Alemany, C. Suñer, C. Tebé, A. Tobias, J. Peñafiel, E. Ballana, C.A. Pérez, P. Admella, N. Riera‑Martí, P. Laporte, J. Mitjà, M. Clua, L. Bertran, M. Sarquella, S. Gavilán, J. Ara, J.M. Argimon, G. Cuatrecasas, P. Cañadas, A. Elizalde‑Torrent, R. Fabregat, M. Farré, A. Forcada, G. Flores‑Mateo, C. López, E. Muntada, N. Nadal, S. Narejos, A. Nieto, N. Prat, J. Puig, C. Quiñones, F. Ramírez‑Viaplana, J. Reyes‑Urueña, E. Riveira‑Muñoz, L. Ruiz, S. Sanz, A. Sentís, A. Sierra, C. Velasco, R.M. Vivanco‑Hidalgo, J. Zamora, J. Casabona, M. Vall‑Mayans, C. González‑Beiras, and B. Clotet, for the BCN-PEP-CoV2 Research Group*​​ A BS T R AC T BACKGROUND Current strategies for preventing severe acute respiratory syndrome coronavirus 2 (SARS-CoV-2) infection are limited to nonpharmacologic interventions. Hydroxychloroquine has been proposed as a postexposure therapy to prevent coronavirus disease 2019 (Covid-19), but definitive evidence is lacking. METHODS We conducted an open-label, cluster-randomized trial involving asymptomatic contacts of patients with polymerase-chain-reaction (PCR)–confirmed Covid-19 in Catalonia, Spain. We randomly assigned clusters of contacts to the hydroxychloroquine group (which received the drug at a dose of 800 mg once, followed by 400 mg daily for 6 days) or to the usual-care group (which received no specific therapy). The primary outcome was PCR-confirmed, symptomatic Covid-19 within 14 days. The secondary outcome was SARS-CoV-2 infection, defined by symptoms compatible with Covid-19 or a positive PCR test regardless of symptoms. Adverse events were assessed for up to 28 days. The authors' full names, academic degrees, and affiliations are listed in the Appendix. Address reprint requests to Dr. Oriol Mitjà at Hospital Germans Trias i Pujol, Carretera Canyet s/n, 08916 Badalona, Spain, or at ­omitja@​­f lsida​.­org. *The members of the BCN-PEP-CoV2 Research Group are listed in the Supplementary Appendix, available at NEJM.org. Drs. Corbacho-Monné and Ubals, and Drs. González-Beiras and Clotet, contributed equally to this article. This article was published on November 24, 2020, at NEJM.org. N Engl J Med 2021;384:417-27. DOI: 10.1056/NEJMoa2021801 Copyright © 2020 Massachusetts Medical Society. RESULTS The analysis included 2314 healthy contacts of 672 index case patients with Covid-19 who were identified between March 17 and April 28, 2020. A total of 1116 contacts were randomly assigned to receive hydroxychloroquine and 1198 to receive usual care. Results were similar in the hydroxychloroquine and usual-care groups with respect to the incidence of PCR-confirmed, symptomatic Covid-19 (5.7% and 6.2%, respectively; risk ratio, 0.86 [95% confidence interval, 0.52 to 1.42]). In addition, hydroxychloroquine was not associated with a lower incidence of SARS-CoV-2 transmission than usual care (18.7% and 17.8%, respectively). The incidence of adverse events was higher in the hydroxychloroquine group than in the usual-care group (56.1% vs. 5.9%), but no treatment-related serious adverse events were reported. CONCLUSIONS Postexposure therapy with hydroxychloroquine did not prevent SARS-CoV-2 infection or symptomatic Covid-19 in healthy persons exposed to a PCR-positive case patient. (Funded by the crowdfunding campaign YoMeCorono and..
Please send us corrections, updates, or comments. Vaccines and treatments are complementary. All practical, effective, and safe means should be used based on risk/benefit analysis. No treatment, vaccine, or intervention is 100% available and effective for all current and future variants. We do not provide medical advice. Before taking any medication, consult a qualified physician who can provide personalized advice and details of risks and benefits based on your medical history and situation.
FLCCC
and
WCH
provide treatment protocols.
Submit