Tolerability and pharmacokinetic evaluation of an inhaled dry powder formulation of HCQ. Inhaled HCQ was generally well-tolerated, with only minor adverse effects. Pulmonary function tests found no significant drop in FEV1 after inhalation compared to baseline. ECGs showed no clinically significant QTc prolongation after inhaled HCQ doses up to 20mg. Serum HCQ levels remained very low (<10 μg/L) at all doses, indicating low systemic exposure. Single doses of inhaled dry powder HCQ up to 20mg were found to be safe and well-tolerated in healthy volunteers. The very low serum levels suggest effective lung delivery with minimal systemic exposure. The results support further clinical studies of inhaled HCQ for COVID-19 treatment.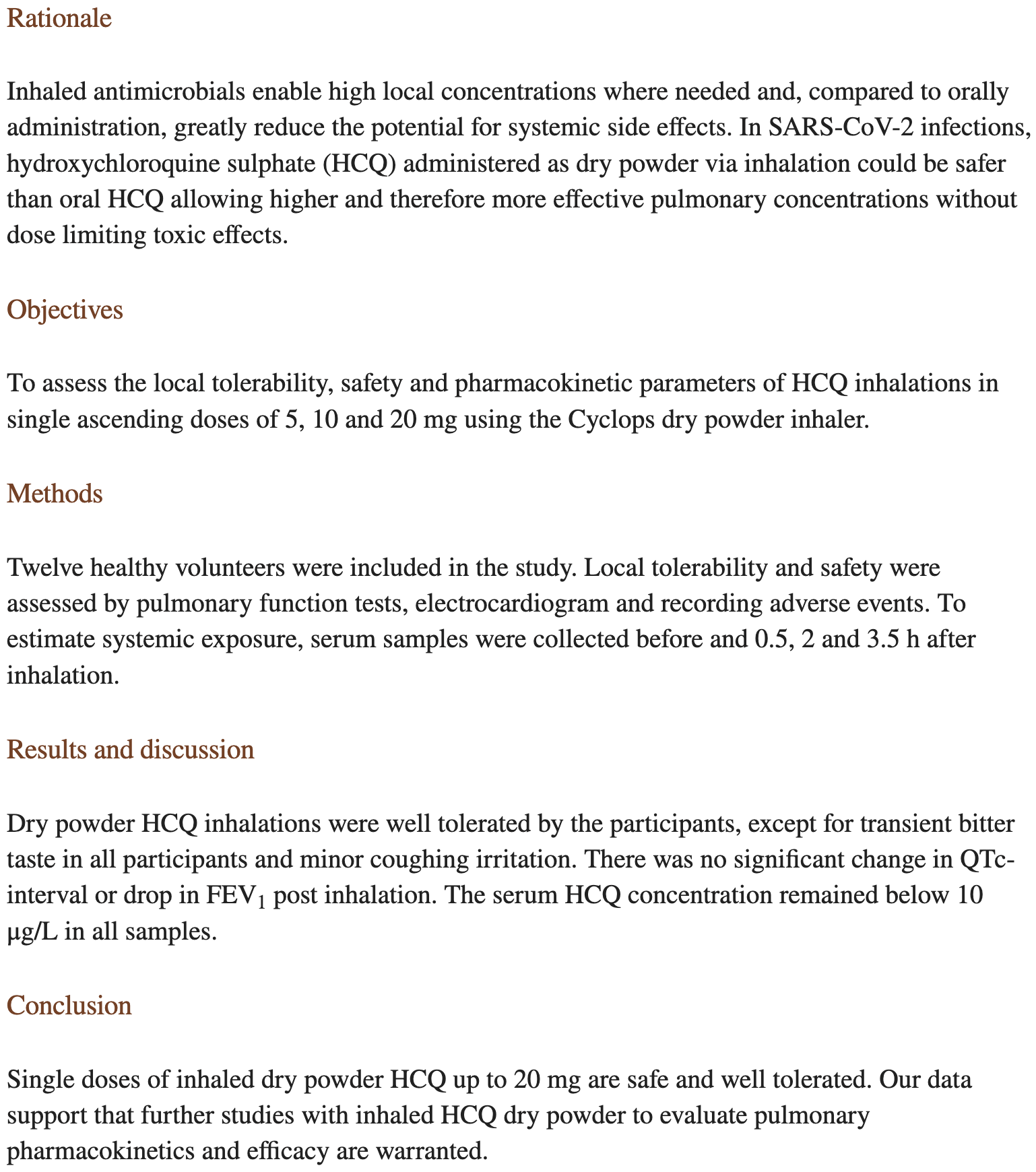 de Reus et al., 5 Aug 2022, Netherlands, peer-reviewed, 9 authors, study period 29 September, 2020 - 16 October, 2020, trial
NCT04497519
(history)
.
Contact: o.w.akkerman@umcg.nl.
Tolerability and pharmacokinetic evaluation of inhaled dry powder hydroxychloroquine in healthy volunteers
PLOS ONE, doi:10.1371/journal.pone.0272034
Rationale Inhaled antimicrobials enable high local concentrations where needed and, compared to orally administration, greatly reduce the potential for systemic side effects. In SARS-CoV-2 infections, hydroxychloroquine sulphate (HCQ) administered as dry powder via inhalation could be safer than oral HCQ allowing higher and therefore more effective pulmonary concentrations without dose limiting toxic effects. Objectives To assess the local tolerability, safety and pharmacokinetic parameters of HCQ inhalations in single ascending doses of 5, 10 and 20 mg using the Cyclops dry powder inhaler. Methods Twelve healthy volunteers were included in the study. Local tolerability and safety were assessed by pulmonary function tests, electrocardiogram and recording adverse events. To estimate systemic exposure, serum samples were collected before and 0.5, 2 and 3.5 h after inhalation. Results and discussion Dry powder HCQ inhalations were well tolerated by the participants, except for transient bitter taste in all participants and minor coughing irritation. There was no significant change in QTc-interval or drop in FEV 1 post inhalation. The serum HCQ concentration remained below 10 μg/L in all samples.
Supporting information S1 Checklist. CONSORT checklist. (DOC) Author Contributions
References
Chen, Efficacy of hydroxychloroquine and azithromycin as a treatment of COVID-19: results of a randomized clinical trial
Lammers, Brohet, Theunissen, Koster, Rood et al., Early Hydroxychloroquine but not Chloroquine use reduces ICU admission in COVID-19 patients, Int J Infect Dis
Mahe ´vas, No evidence of clinical efficacy of hydroxychloroquine in patients hospitalised for COVID-19 infection and requiring oxygen: Results of a study using routinely collected data to emulate a target trial, MedRxiv
Mdel, Aguilar-Fernandez, Cabrera-Roca, Idiopathic pulmonary haemosiderosis in childhood: a good response to systemic steroids
Who, None
Yao, Ye, Zhang, Cui, Huang et al., In Vitro Antiviral Activity and Projection of Optimized Dosing Design of Hydroxychloroquine for the Treatment of Severe Acute Respiratory Syndrome Coronavirus 2 (SARS-CoV-2), Clin Infect Dis