Small 105 patient RCT in Uganda showing no significant differences. No mortality was reported. The patients were very young (median age 32), recovering in a median time of 3 days with standard of care, so there is little room for a treatment to make improvements. Time since symptom onset is not specified, but the distribution of symptoms at baseline suggests that the enrollment is relatively late within a cohort of low risk patients.
Viral load measured by PCR may not accurately reflect infectious virus measured by viral culture.
Porter
show that viral load early in infection was correlated with infectious virus, but viral load late in infection could be high even with low or undetectable infectious virus. Assessing viral load later in infection may underestimate reductions in infectious virus with treatment.
recovery time,

no change

, relative time 1.00, p = 0.91
, treatment 36, control 29.
relative improvement in Ct value,

29.3% better

, RR 0.71, p = 0.47
, treatment 15, control 15.
risk of no viral clearance,

2.6% higher

, RR 1.03, p = 1.00
, treatment 35 of 55 (63.6%), control 31 of 50 (62.0%), day 6.
risk of no viral clearance,

6.7% higher

, RR 1.07, p = 0.85
, treatment 27 of 55 (49.1%), control 23 of 50 (46.0%), day 10.
Effect extraction follows pre-specified rules prioritizing more serious outcomes. Submit updates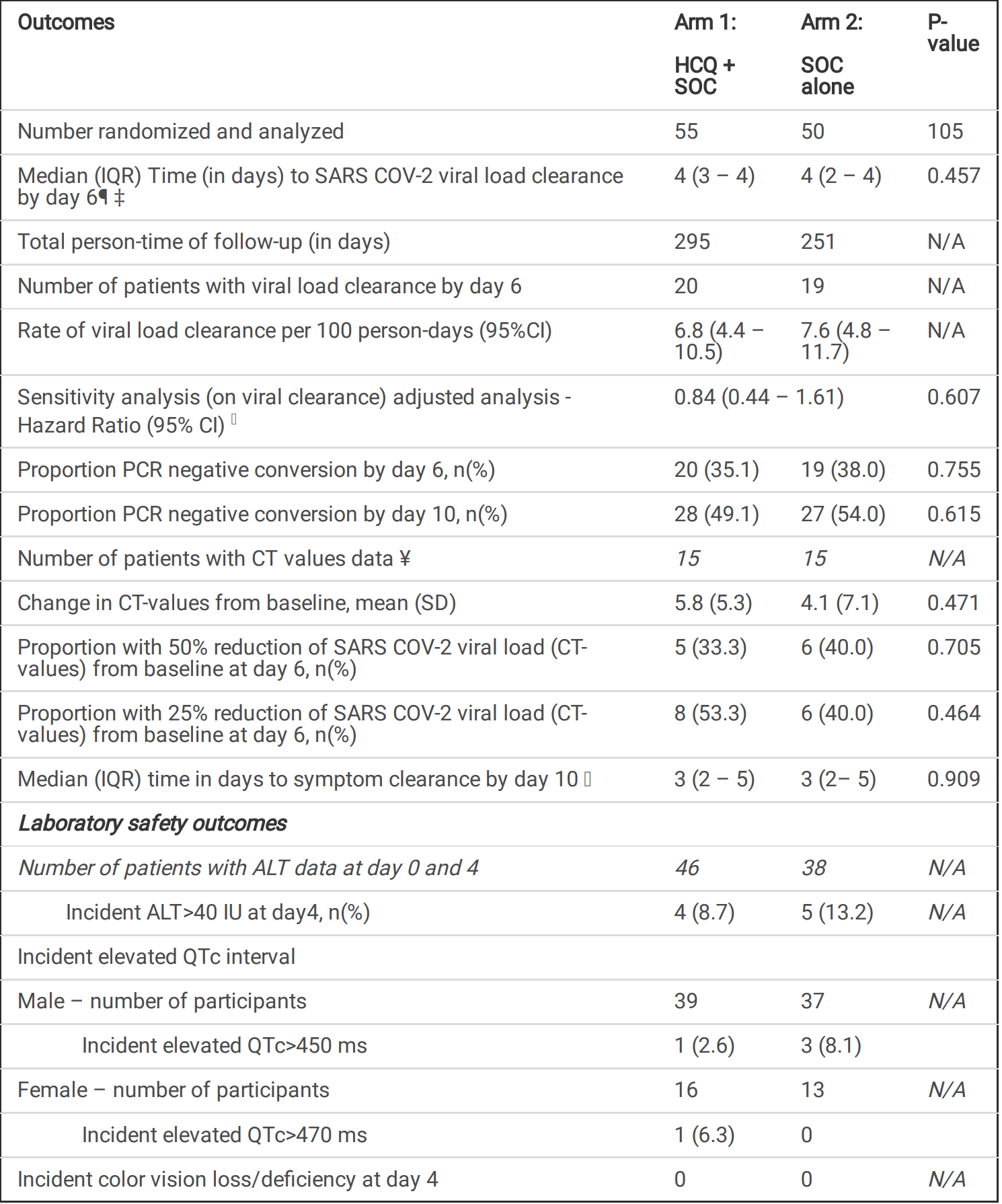 Byakika-Kibwika et al., 4 Jun 2021, Randomized Controlled Trial, Uganda, preprint, 17 authors, study period October 2020 - December 2020.
Safety and Efficacy of Hydroxychloroquine for Treatment of Non-Severe COVID-19 in Adults in Uganda: A Randomized Open Label Phase II Clinical Trial
doi:10.21203/rs.3.rs-506195/v1
Background Several repurposed drugs such as hydroxychloroquine (HCQ) have been investigated for treatment of COVID-19, but none was con rmed to be e cacious. While in vitro studies have demonstrated antiviral properties of HCQ, data from clinical trials were con icting regarding its bene t for COVID-19 treatment. Drugs that limit viral replication may be bene cial in the earlier course of the disease thus slowing progression to severe and critical illness. Design We conducted a randomized open label Phase II clinical trial from October -December 2020. Methods Patients diagnosed with COVID-19 using RT-PCR were included in the study if they were 18 years and above and had a diagnosis of COVID-19 made in the last 3 days. Patients were randomized in blocks, to receive either HCQ 400mg twice a day for the rst day followed by 200mg twice daily for the next 4 days plus standard of care (SOC) treatment or SOC treatment alone. SARS COV-2 viral load using nasal/orapharyngeal swabs was performed at baseline, day 2, 4, 6, 8 and 10. The primary outcome was median time from randomization to SARS COV-2 viral clearance by day 6. Results Of the 105 participants enrolled, 55 were assigned to the intervention group (HCQ plus SOC) and 50 to the control group (SOC only). Baseline characteristics were similar across treatment arms. Viral clearance did not differ by treatment arm, 20 and 19 participants respectively had SARS COV-2 viral load clearance by day 6 with no signi cant difference, median (IQR) number of days to viral load clearance between the two groups was 4(3-4) vs 4(2-4): p=0.457. There were no signi cant differences in secondary outcomes (symptom resolution and adverse events) between the intervention group and the control group. There were no signi cant differences in speci c adverse events such as elevated alkaline phosphatase, prolonged QTc interval on ECG, among patients in the intervention group as compared to the control group. Conclusion Our results show that HCQ 400mg twice a day for the rst day followed by 200mg twice daily for the next 4 days was safe but not associated with reduction in viral clearance or symptom resolution.
Table 3: Baseline clinical and laboratory features There were no signi cant differences in adverse events such as elevated alkaline phosphatase and prolonged QTc interval among patients in the intervention group and control group. Details of clinically signi cant laboratory abnormalities are as shown in Table 6 . (RESCLEAR/05) and the National Drug Authority (CTA 0143). Written informed consent was obtained from all study participants and the trial was conducted according to Good Clinical Practice Guidelines in accordance with the Declaration of Helsinki. Consent for publication Not applicable Competing interests: The authors declare no con ict of interest for this work. Authors' contributions All authors made substantial contributions to trial conception and design. PBK and CSW led the data collection team, JM performed the data analysis. All authors reviewed and interpreted the data, took part in drafting and review of the manuscript and agreed to submit to the current journal; gave nal approval of the version to be published; and agree to be accountable for all aspects of the work.
References
Chen, Liu, Liu, A pilot study of hydroxychloroquine in treatment of patients with moderate COVID-19
Food, Request for Emergency Use Authorization For Use of Chloroquine Phosphate or Hydroxychloroquine Sulfate