Analysis of HCQ from two manufacturers showing 9 different impurities, with significantly different concentrations for each manufacturer.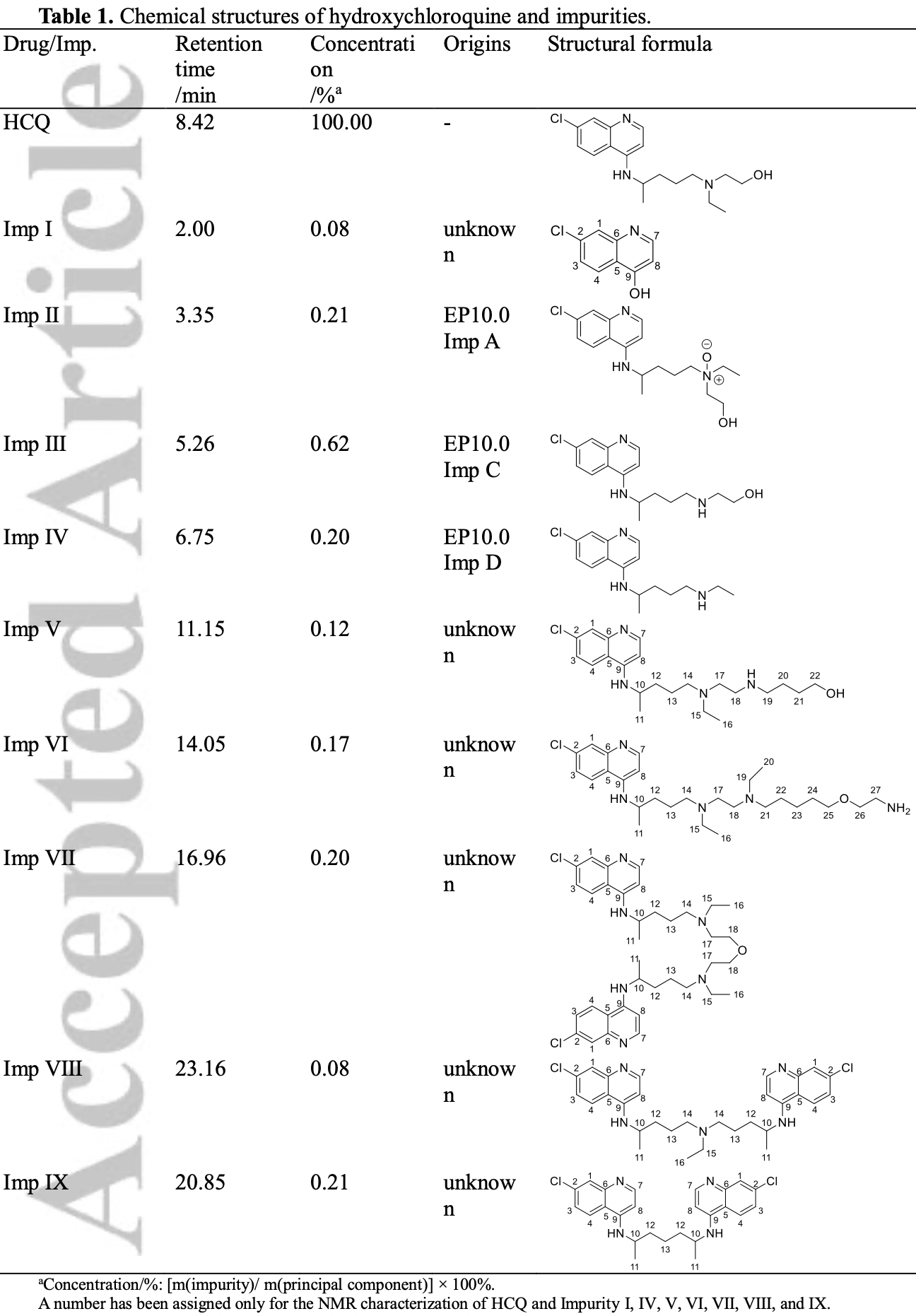 Xu et al., 26 Jul 2022, peer-reviewed, 4 authors.
Contact: clare_ruan@163.com, sunnan@zjut.edu.cn.
A study of impurities in the repurposed COVID‐19 drug hydroxychloroquine sulfate using ultra‐high‐performance liquid chromatography‐quadrupole/time‐of‐flight mass spectrometry and liquid chromatography‐solid‐phase extraction‐nuclear magnetic resonance
Rapid Communications in Mass Spectrometry, doi:10.1002/rcm.9358
Rationale: Hydroxychloroquine sulfate is effective in the treatment of malaria, autoimmune diseases, and as an antiviral drug. However, unreported impurities are often detected in this drug, which pose a health risk. In this study, the structures of hydroxychloroquine and six unknown impurities were analyzed using ultra-high performance liquid chromatographyquadrupole/time-of-flight tandem mass spectrometry (UHPLC-Q/TOF MS), and the structures were characterized using liquid chromatography-solid-phase extraction-nuclear magnetic resonance spectroscopy (LC-SPE-NMR). Methods: The column was an Agilent InfinityLad Poroshell HPH-C18 (100 mm × 4.6 mm, 2.7 µm). For the analysis of hydroxychloroquine and six unknown impurities, the mobile phase was 20 mM ammonium formate aqueous solution and methanol/acetonitrile (80:20, v/v), using gradient elution. Full-scan MS and MS 2 were performed in order to obtain as much structural information as possible. Additionally, six unknown impurities were separated by semi-preparative liquid chromatography and characterized by LC-SPE-NMR. Results: The MS 2 fragmentation patterns of the impurities were investigated, leading to more structural information and an understanding of the fragmentation pathways of the impurities. The unknown impurities' structures were confirmed by NMR. In addition, some possible This article is protected by copyright. All rights reserved. pathways of the formation of the impurities in the drugs were outlined, and these impurities were found to be process impurities. Conclusions: Based on the identification and characterization of these impurities, this study also describes the cause of the production of the impurities and provides insights for companies to improve their production processes and a scientific basis for the improvement of the related pharmacopoeias.
Declaration of competing interest The authors declare that they have no known competing financial interests or personal relationships that could have appeared to influence the work reported in this paper.
References