The Efficacy of Hydroxychloroquine and Azithromycin Combination Therapy on Hospital Mortality in COVID 19 Pneumonia Patients
The Efficacy of Hydroxychloroquine and Azithromycin Combination Therapy on Hospital Mortality in COVID 19..
,
Turkish Journal of Medical Sciences, doi:10.3906/sag-2009-64
,
Retrospective 370 hospitalized patients, 222 receiving HCQ+AZ and 148 receiving HCQ, showing mortality OR 0.61 [0.23-1.59], p = 0.31 for the addition of AZ.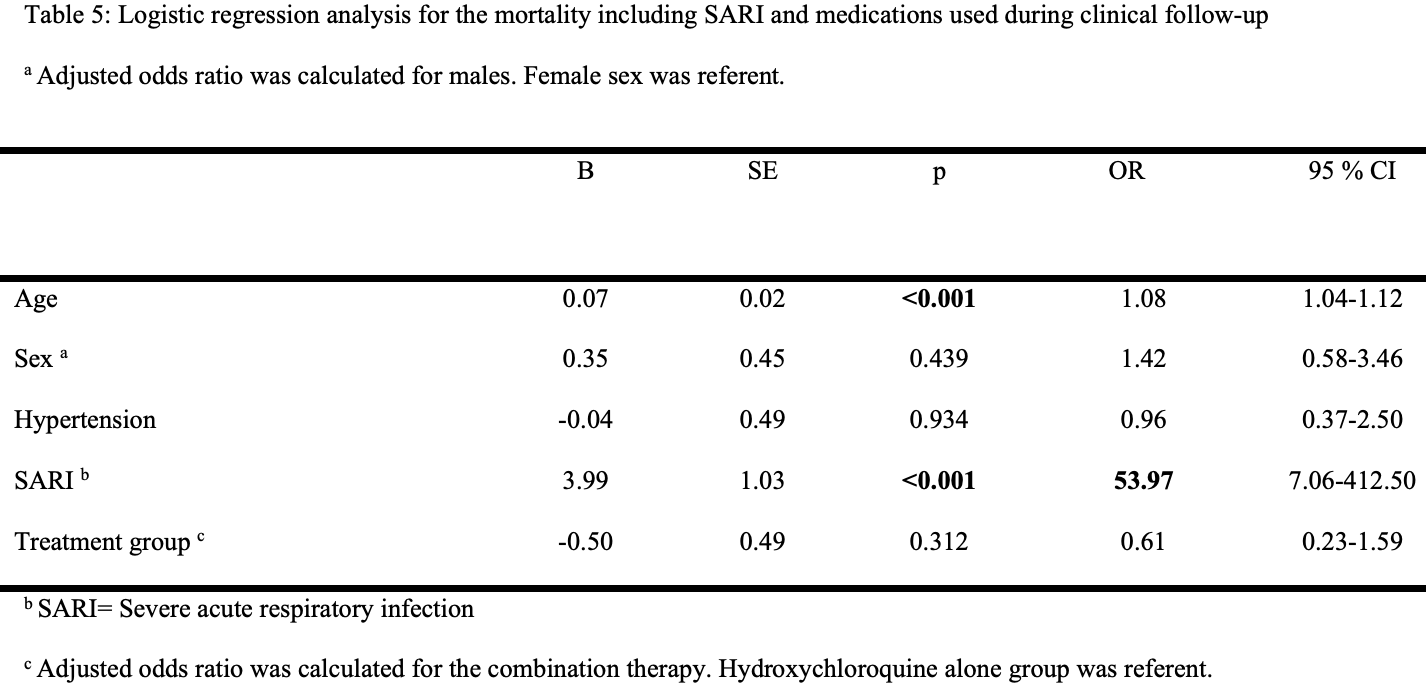 Özuygur Ermiş et al., 4 Aug 2021, peer-reviewed, 13 authors.
Abstract: 1 The Efficacy of Hydroxychloroquine and Azithromycin Combination Therapy on 2 Hospital Mortality in COVID 19 Pneumonia Patients 3 4 Abstract 5 6 Background/aim: Effective therapeutic approaches for SARS-CoV-2 pandemic are 7 urgently needed. Hydroxychloroquine (HCQ) alone or in combination with azithromycin 8 has been used in several countries, without any clear evidence. This study aimed to 9 determine the effectiveness and safety of hydroxychloroquine as compared to 10 hydroxychloroquine and azithromycin combination in patients with COVID-19 11 pneumonia. 12 13 Materials and methods: This retrospective study evaluated all patients admitted to two 14 university hospitals between 18 March and 20 May 2020 with the diagnosis of COVID- 15 19 pneumonia. Out of 496 patients, 370 met the eligibility criteria and were included in 16 the final analysis. The primary outcome was in-hospital mortality. Secondary outcomes 17 were time to recovery, presence of severe acute respiratory infection (SARI), the 18 requirement for oxygen therapy, and/or mechanical ventilation, length of hospital stay, 19 and adverse events. 20 21 Results: A total of 222 patients received hydroxychloroquine and 148 were treated with 22 HCQ and azithromycin combination. The in-hospital mortality rates were similar in the 23 two groups (10.8% vs. 6.8%, respectively, p=0.186). Additionally, the needs for oxygen 24 therapy, invasive mechanic ventilation (IMV) and intensive care unit (ICU) admission 1 25 were not different. The rate of the requirement of non-invasive mechanic ventilation 26 (NIV) was higher in patients receiving HCQ plus azithromycin (10.1% vs. 4.5%, 27 p=0.035). Time to recovery was 3.5 days in HCQ and 5.0 days in HCQ plus azithromycin 28 group (p<0.001). The median length of hospital stay was longer in patients with the 29 combination therapy (7.0 vs. 5.5 days, p<0.001). Amongst all patients, only 3 patients 30 developed electrocardiographic changes needing discontinuation of therapy. 31 Limitations: Observational design of the study is the main limitation. 32 33 Conclusions: The present findings suggest that adding azithromycin to HCQ is not 34 associated with any improvement in clinical outcome and mortality in patients with 35 COVID-19 pneumonia and supports the current knowledge not to include azithromycin 36 in the initial treatment of COVID-19. 37 38 Keywords: SARS-CoV-2, COVID-19, hydroxychloroquine, azithromycin, mortality, 39 COVID-19 pneumonia 40 41 42 43 44 45 46 47 48 2 49 50
Please send us corrections, updates, or comments. Vaccines and treatments are complementary. All practical, effective, and safe means should be used based on risk/benefit analysis. No treatment, vaccine, or intervention is 100% available and effective for all current and future variants. We do not provide medical advice. Before taking any medication, consult a qualified physician who can provide personalized advice and details of risks and benefits based on your medical history and situation.
FLCCC
and
WCH
provide treatment protocols.
Submit