Delayed publication of an early terminated late treatment RCT with low-risk (no mortality) outpatients in the USA, showing no significant differences with HCQ.Authors do not provide symptom onset data, but the subgroup analysis suggests that more patients may have been in the 5+ days group (the estimate for the 5+ days group has a smaller confidence interval, and the overall mean/median for HCQ is much closer to the 5+ days group). Treatment was started one day after enrollment according to Table S1 (authors report "commonly 1 day after randomization" in the text). This suggests that most patients were treated 6+ days after onset.Subgroup analysis for <5, ≥5 days is provided only for viral shedding duration, and shows improved results for earlier treatment. Adherence was only 66% (Figure 1).Publication was 21 months after the trial ended. Registered outcomes were modified November 2022, December 2022, and January 2023, all over a year after completion of the trial. For example, in January 2023, the household acquisition outcome at 28 days was deleted, leaving only 14 days.There are 7 versions of the SAP, all dated after the start of the trial, and 5 dated after the completion of the trial
clinicaltrials.gov
. Many outcomes in the SAP are missing, including 6 month mortality and hospitalization, QOL, and KM for hospitalization/mortality.Notably, authors provide the age subgroup analysis for symptom scores and transmission, but they do not provide the time from onset analysis.Lack of symptom onset details, lack of onset subgroup analysis for clinical outcomes, and authors' incorrect claim that none of the RCTs to date show "meaningful clinical outcomes" suggests significant bias (all 59 RCTs can be found at
c19hcq.org
).
risk of hospitalization,

72.7% higher

, RR 1.73, p = 0.54
, treatment 7 of 152 (4.6%), control 4 of 150 (2.7%), day 28.
symptom score difference,

20.4% lower

, RR 0.80, p = 0.19
, treatment 167, control 165, adjusted per study, adjusted symptom score difference relative to placebo score.
viral shedding,

17.4% lower

, HR 0.83, p = 0.19
, treatment 185, control 182, inverted to make HR<1 favor treatment.
Effect extraction follows pre-specified rules prioritizing more serious outcomes. Submit updates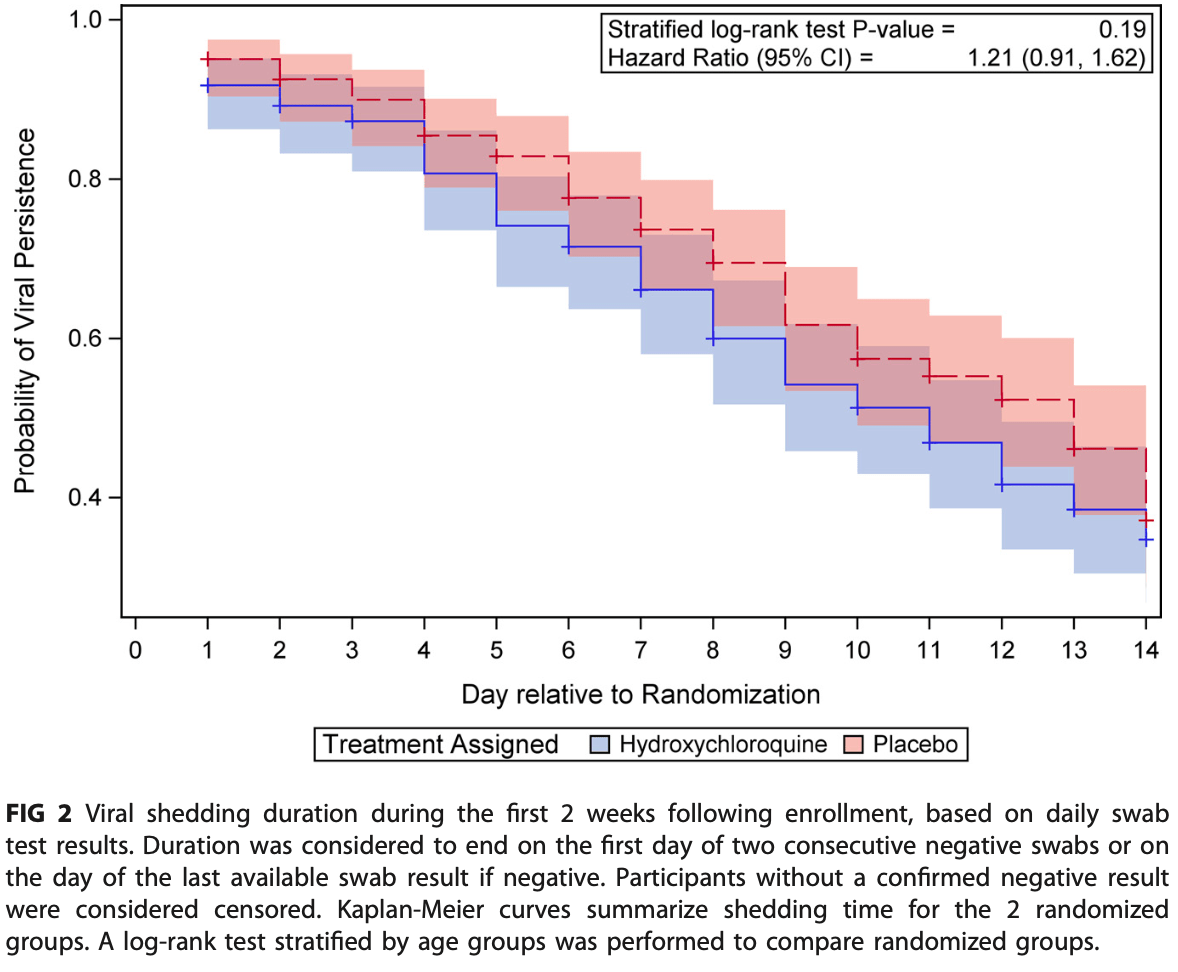 Spivak et al., 2 Mar 2023, Randomized Controlled Trial, placebo-controlled, USA, peer-reviewed, mean age 41.9, 13 authors, study period April 2020 - April 2021, dosage 800mg day 1, 400mg days 2-5, trial
NCT04342169
(history)
.
A Randomized Clinical Trial Testing Hydroxychloroquine for Reduction of SARS-CoV-2 Viral Shedding and Hospitalization in Early Outpatient COVID-19 Infection
Microbiology Spectrum, doi:10.1128/spectrum.04674-22
Early in the COVID-19 pandemic, no effective treatment existed to prevent clinical worsening of COVID-19 among recently diagnosed outpatients. At the University of Utah, Salt Lake City, Utah, we conducted a phase 2 prospective parallel group randomized placebo-controlled trial (NCT04342169) to determine whether hydroxychloroquine given early in disease reduces the duration of SARS-CoV-2 shedding. We enrolled nonhospitalized adults ($18 years of age) with a recent positive diagnostic test for SARS-CoV-2 (within 72 h of enrollment) and adult household contacts. Participants received either 400 mg hydroxychloroquine by mouth twice daily on day 1 followed by 200 mg by mouth twice daily on days 2 to 5 or oral placebo with the same schedule. We performed SARS-CoV-2 nucleic acid amplification testing (NAAT) on oropharyngeal swabs on days 1 to 14 and 28 and monitored clinical symptomatology, rates of hospitalization, and viral acquisition by adult household contacts. We identified no overall differences in the duration of oropharyngeal carriage of SARS-CoV-2 (hazard ratio of viral shedding time comparing hydroxychloroquine to placebo, 1.21; 95% confidence interval [CI], 0.91, 1.62). Overall, 28-day hospitalization incidence was similar between treatments (4.6% hydroxychloroquine versus 2.7% placebo). No differences were seen in symptom duration, severity, or viral acquisition in household contacts between treatment groups. The study did not reach the prespecified enrollment target, which was likely influenced by a steep decline in COVID-19 incidence corresponding to the initial vaccine rollout in the spring of 2021. Oropharyngeal swabs were self-collected, which may introduce variability in these results. Placebo treatments were not identical to hydroxychloroquine treatments (capsules versus tablets) which may have led to inadvertent participant unblinding. In this group of community adults early in the COVID-19 pandemic, hydroxychloroquine did not significantly alter the natural history of early COVID-19 disease. (This study has been registered at ClinicalTrials.gov under registration no. NCT04342169). IMPORTANCE Early in the COVID-19 pandemic, no effective treatment existed to prevent clinical worsening of COVID-19 among recently diagnosed outpatients. Hydroxychloroquine received attention as a possible early treatment; however, quality prospective studies were lacking. We conducted a clinical trial to test the ability of hydroxychloroquine to prevent clinical worsening of COVID-19.
Analyses were performed in SAS Software (version 9.4; SAS Institute Inc., Cary, NC). Two-sided P values less than 0.05 were considered significant. Multiple imputation was performed using chained equations implemented in IVEware (version 0.3; University of Michigan, Ann Arbor, MI), and results from 50 imputations were combined using standard methods (28) . SUPPLEMENTAL MATERIAL Supplemental material is available online only. SUPPLEMENTAL FILE 1, PDF file, 0.2 MB.
References
Biot, Daher, Chavain, Fandeur, Khalife et al., Design and synthesis of hydroxyferroquine derivatives with antimalarial Hydroxychloroquine in Early COVID-19, Clinical Trial Microbiology Spectrum Month YYYY
Dubée, Roy, Vielle, Parot-Schinkel, Blanchet et al., HYCOVID study group; HYCOVID investigators
Little, Db, Statistical analysis with missing data