Effect of Early Treatment With Hydroxychloroquine or Lopinavir and Ritonavir on Risk of Hospitalization Among Patients With COVID-19 The TOGETHER Randomized Clinical Trial
[doyourownresearch.substack.com]
.The paper indicates the placebo was talc, however the trial protocol shows the "placebo" as vitamin C, for which there are 7 COVID-19 treatment studies as of April 2021 that collectively show significant efficacy.Results differ significantly from those reported prior to publication. Prior to publication, authors reported an RR for hospitalization or death of 1.0 [0.45-2.21]
[ajtmh.org]
.
risk of death,

66.0% lower

, RR 0.34, p = 1.00
, treatment 0 of 214 (0.0%), control 1 of 227 (0.4%), NNT 227, relative risk is not 0 because of continuity correction due to zero events (with reciprocal of the contrasting arm).
risk of hospitalization,

24.0% lower

, HR 0.76, p = 0.57
, treatment 8 of 214 (3.7%), control 11 of 227 (4.8%), NNT 90, ITT, Cox proportional hazards.
risk of no viral clearance,

4.1% lower

, RR 0.96, p = 0.10
, treatment 97 of 185 (52.4%), control 102 of 179 (57.0%), NNT 22, adjusted per study, odds ratio converted to relative risk, ITT, mixed-effect logistic model.
Effect extraction follows pre-specified rules prioritizing more serious outcomes. Submit updates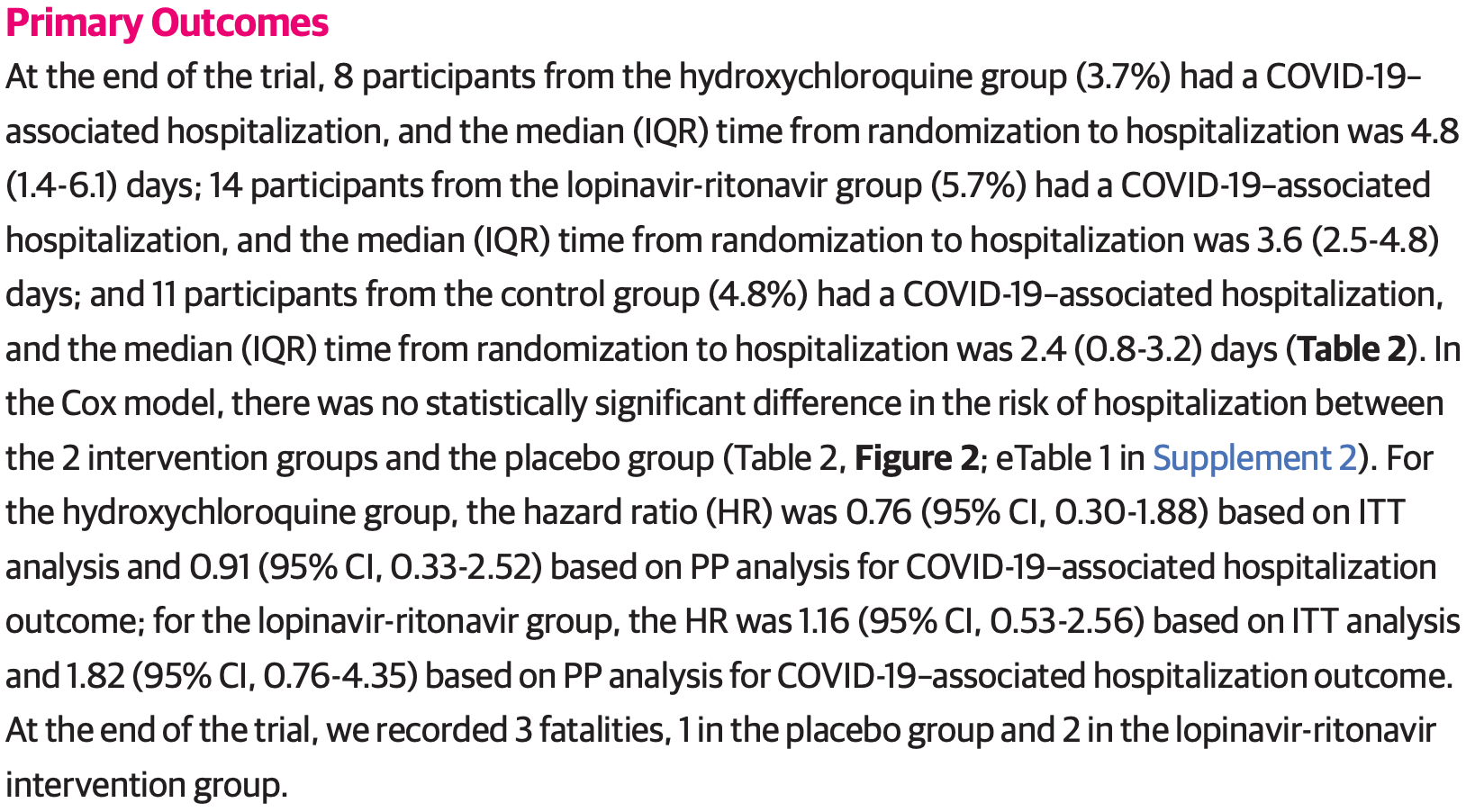 Reis et al., 22 Apr 2021, Double Blind Randomized Controlled Trial, Brazil, peer-reviewed, 18 authors, dosage 800mg day 1, 400mg days 2-10, trial
NCT04403100
(history)
(TOGETHER).
Abstract: Original Investigation | Infectious Diseases Effect of Early Treatment With Hydroxychloroquine or Lopinavir and Ritonavir on Risk of Hospitalization Among Patients With COVID-19 The TOGETHER Randomized Clinical Trial Gilmar Reis, MD; Eduardo Augusto dos Santos Moreira Silva, MD; Daniela Carla Medeiros Silva, MD; Lehana Thabane, PhD; Gurmit Singh, PhD; Jay J. H. Park, MSc; Jamie I. Forrest, MPH; Ofir Harari, PhD; Castilho Vitor Quirino dos Santos; Ana Paula Figueiredo Guimarães de Almeida, MD; Adhemar Dias de Figueiredo Neto, MD; Leonardo Cançado Monteiro Savassi, MD; Aline Cruz Milagres, RN; Mauro Martins Teixeira, MD; Maria Izabel Campos Simplicio, BScPharm; Luciene Barra Ribeiro, RN; Rosemary Oliveira; Edward J. Mills, PhD; for the TOGETHER Investigators Abstract Key Points IMPORTANCE Data on the efficacy of hydroxychloroquine or lopinavir-ritonavir for the treatment of high-risk outpatients with COVID-19 in developing countries are needed. Question Does hydroxychloroquine or lopinavir-ritonavir, administered as a 9-day course, prevent COVID-19– associated hospitalization in patients OBJECTIVE To determine whether hydroxychloroquine or lopinavir-ritonavir reduces hospitalization among high-risk patients with early symptomatic COVID-19 in an outpatient setting. with COVID-19? Findings In this trial that included 685 DESIGN, SETTING, AND PARTICIPANTS This randomized clinical trial was conducted in Brazil. patients, rates of COVID-19–associated Recently symptomatic adults diagnosed with respiratory symptoms from SARS-CoV-2 infection were hospitalization in patients treated with enrolled between June 2 and September 30, 2020. The planned sample size was 1476 patients, with hydroxychloroquine or lopinavir- interim analyses planned after 500 patients were enrolled. The trial was stopped after the interim ritonavir were not significantly different analysis for futility with a sample size of 685 patients. Statistical analysis was performed in compared with those who December 2020. received placebo. Meaning These findings may inform INTERVENTIONS Patients were randomly assigned to hydroxychloroquine (800 mg loading dose, then 400 mg daily for 9 days), lopinavir-ritonavir (loading dose of 800 mg and 200 mg, respectively, every 12 hours followed by 400 mg and 100 mg, respectively, every 12 hours for the next 9 days), or placebo. COVID-19 treatment guidelines for outpatients with COVID-19 and demonstrate that large-scale outpatient clinical trials of repurposed drugs can be successfully completed in MAIN OUTCOMES AND MEASURES The primary outcomes were COVID-19–associated low-income settings during the hospitalization and death assessed at 90 days after randomization. COVID-19–associated pandemic. hospitalization was analyzed with a Cox proportional hazards model. The trial included the following secondary outcomes: all-cause hospitalization, viral clearance, symptom resolution, and adverse events. RESULTS Of 685 participants, 632 (92.3%) self-identified as mixed-race, 377 (55.0%) were women, and the median (range) age was 53 (18-94) years. A total of 214 participants were randomized to + Visual Abstract + Supplemental content Author affiliations and article information are listed at the end of this article. hydroxychloroquine; 244, lopinavir-ritonavir; and 227, placebo. At first interim analysis, the data safety monitoring board recommended stopping enrollment of both hydroxychloroquine and lopinavir-ritonavir groups..
Please send us corrections, updates, or comments. Vaccines and treatments are complementary. All practical, effective, and safe means should be used based on risk/benefit analysis. No treatment, vaccine, or intervention is 100% available and effective for all current and future variants. We do not provide medical advice. Before taking any medication, consult a qualified physician who can provide personalized advice and details of risks and benefits based on your medical history and situation.
FLCCC
and
WCH
provide treatment protocols.
Submit