Intracellular ABCB1 as a Possible Mechanism to Explain the Synergistic Effect of Hydroxychloroquine-Azithromycin Combination in COVID-19 Therapy
, AAPS J 22, 86 (2020),
Proposes a new mechanism supporting the synergistic interaction between HCQ+AZ.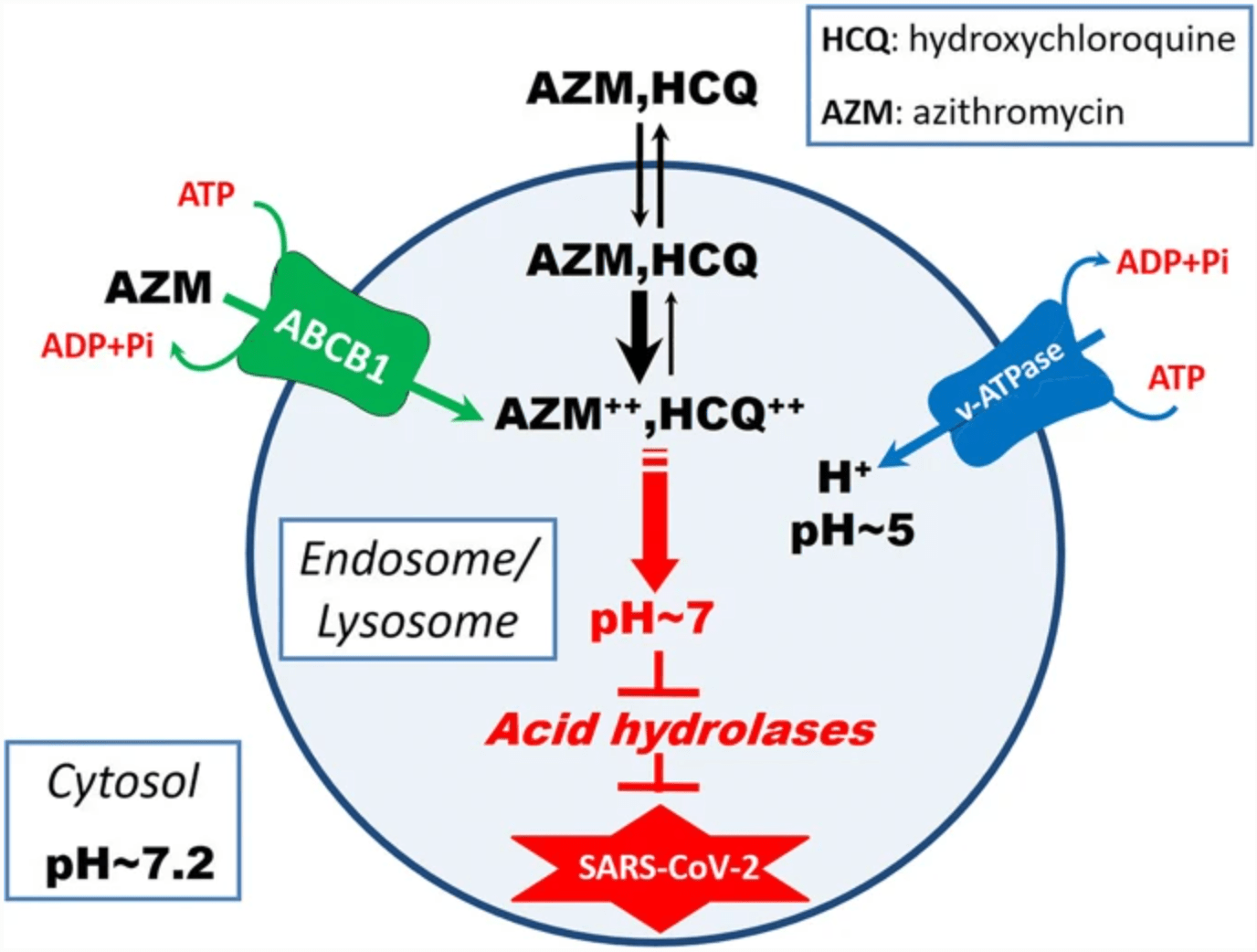 Scherrmann et al., 12 Jun 2020, peer-reviewed, 1 author.
Abstract: The AAPS Journal (2020) 22:86 DOI: 10.1208/s12248-020-00465-w Commentary Intracellular ABCB1 as a Possible Mechanism to Explain the Synergistic Effect of Hydroxychloroquine-Azithromycin Combination in COVID-19 Therapy JM. Scherrmann1,2,3 Received 17 April 2020; accepted 19 May 2020 Abstract. The co-administration of hydroxychloroquine with azithromycin is proposed in COVID-19 therapy. We hypothesize a new mechanism supporting the synergistic interaction between these drugs. Azithromycin is a substrate of ABCB1 (P-glycoprotein) which is localized in endosomes and lysosomes with a polarized substrate transport from the cell cytosol into the vesicle interior. SARS-CoV-2 and drugs meet in these acidic organelles and both basic drugs, which are potent lysosomotropic compounds, will become protonated and trapped within these vesicles. Consequently, their intra-vesicular concentrations can attain low micromolar effective cytotoxic concentrations on SARS-CoV-2 while concomitantly increase the intra-vesicular pH up to around neutrality. This last effect inhibits lysosomal enzyme activities responsible in virus entry and replication cycle. Based on these considerations, we hypothesize that ABCB1 could be a possible enhancer by confining azithromycin more extensively than expected when the trapping is solely dependent on the passive diffusion. This additional mechanism may therefore explain the synergistic effect when azithromycin is added to hydroxychloroquine, leading to apparently more rapid virus clearance and better clinical benefit, when compared to monotherapy with hydroxychloroquine alone. KEY WORDS: azithromycin; hydroxychloroquine; ABCB1; lysosomes; COVID-19. The co-administration of the antimalarial chloroquine or the anti-rheumatic hydroxychloroquine with the antibacterial azithromycin is presently proposed as a therapy amidst the COVID-19 pandemic (1). These aminoquinoline drugs and azithromycin are being repurposed for their clinical use in COVID-19, and they should be evaluated according to current practices of drug clinical trials for this indication. Although this process is normally time-consuming, population, media, and political pressures have propelled the use of this combined therapy on an emergency basis, thus opening controversial pro and con debates. Moreover, most of the different aminoquinoline clinical trials over the world are not comparable as they differ in terms of mono or bi-therapy choice, dosage regimen, and optimal time of administration versus the disease time course and severity. Several Chinese clinical trials have been based on the sole chloroquine or hydroxychloroquine administration and their clinical efficacies remain uncertain (2–4). Additionally, most of these methodological protocols suffer from major concerns in term 1 Faculty of Pharmacy, University of Paris, Inserm UMRS-1144, Paris, France. 2 Laboratoire de Pharmacocinétique, Faculté de Pharmacie, 4, avenue de l'Observatoire, 75006, Paris, France. 3 To whom correspondence should be addressed. (e–mail: jeanmichel.scherrmann@inserm.fr) of trial design quality such as inappropriateness in randomization, patient population size, and other limiting factors (5,6). The purpose of this commentary is to discuss the possible rationale for co-administering the antibiotic azithromycin with hydroxychloroquine, recognizing that azithromycin is not being used for its antibacterial activity but for its additive or synergistic effect on the antiviral action of..
Please send us corrections, updates, or comments. Vaccines and treatments are complementary. All practical, effective, and safe means should be used based on risk/benefit analysis. No treatment, vaccine, or intervention is 100% available and effective for all current and future variants. We do not provide medical advice. Before taking any medication, consult a qualified physician who can provide personalized advice and details of risks and benefits based on your medical history and situation.
FLCCC
and
WCH
provide treatment protocols.
Submit