Retrospecttive 220 COVID-19 patients with rheumatic disease in Japan, showing lower mortality and hospitalization with HCQ prophylaxis, without statistical significance.
risk of death,

92.2% lower

, RR 0.08, p = 1.00
, treatment 0 of 14 (0.0%), control 11 of 206 (5.3%), NNT 19, unadjusted, relative risk is not 0 because of continuity correction due to zero events (with reciprocal of the contrasting arm).
risk of hospitalization,

11.5% lower

, RR 0.88, p = 0.34
, treatment 9 of 14 (64.3%), control 177 of 206 (85.9%), NNT 4.6, adjusted per study, odds ratio converted to relative risk, multivariable.
Effect extraction follows pre-specified rules prioritizing more serious outcomes. Submit updates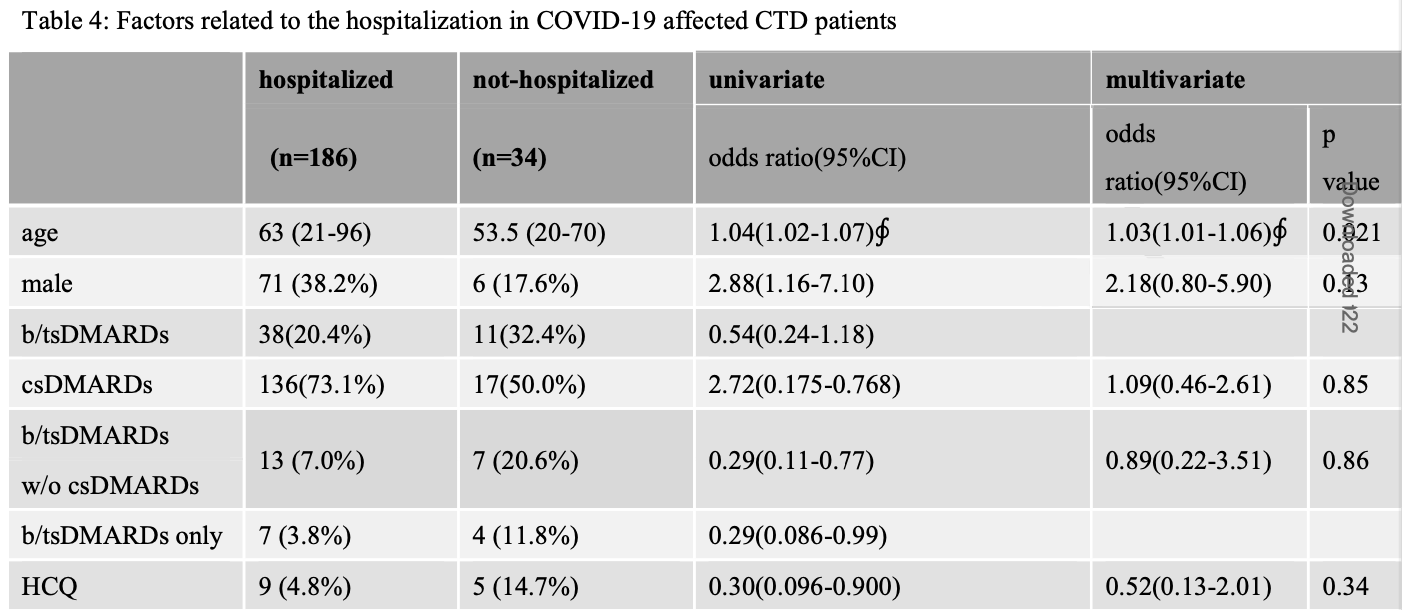 Oku et al., 6 Sep 2022, retrospective, Japan, peer-reviewed, 8 authors, study period 3 June, 2020 - 30 June, 2021.
Contact: horiuchi.takahiko.191@m.kyushu-u.ac.jp.
MORH-D-22-00049 Received: 20-Jan-2022; Accepted: 4-Aug-2022
doi:10.1093/mr/roac104/6692611
Background: The incidence and prognosis of COVID-19 and rheumatic disease vary among ethnicities and regions. COVID-19 outcomes in rheumatic disease patients remain unclear, especially in the Asia-Pacific region. This study aimed to clarify the demographic and clinical factors that may influence COVID-19 prognosis in rheumatic disease patients.
Conflict of interest K. Oku, Y. Kimoto, T. Horiuchi, M. Yamamoto, Y. Kondo, M. Okamoto, and Tatsuya Atsumi have no conflicts of interest to declare. T.Takeuchi has received a speaking fee from Eli Lilly Japan K.K., and a research grant from Chugai Pharmaceutical Co.
References
Raiker, Pakhchanian, Silva, Short term outcomes of COVID-19 in lupus: Propensity score matched analysis from a nationwide multi-centric research network, J Autoimmun
Sparks, Wallace, Seet, Associations of baseline use of biologic or targeted synthetic DMARDs with COVID-19 severity in rheumatoid arthritis: Results from the COVID-19 Global Rheumatology Alliance physician registry, Ann Rheum Dis