Prospective observational study of 215 RA patients treated with HCQ showing 9 cases, 1 hospitalization (without ICU/intubation), and no mortality.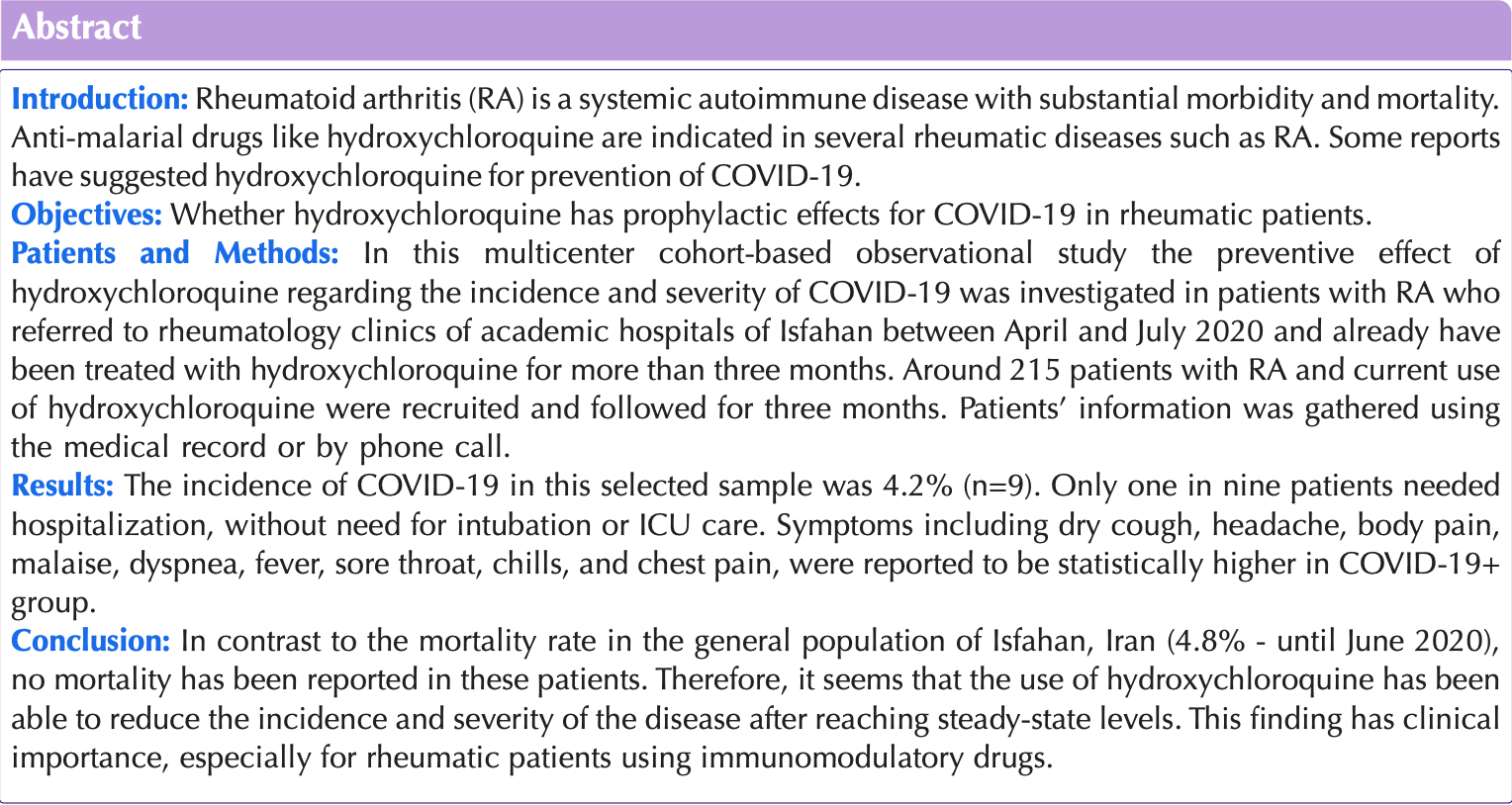 Naderi et al., 31 Jan 2021, preprint, 7 authors.
Prophylactic effects of hydroxychloroquine on the incidence of COVID-19 in patients with rheumatic arthritis: an observational cohort study
Immunopathologia Persa, doi:10.34172/ipp.2021.29
Introduction: Rheumatoid arthritis (RA) is a systemic autoimmune disease with substantial morbidity and mortality. Anti-malarial drugs like hydroxychloroquine are indicated in several rheumatic diseases such as RA. Some reports have suggested hydroxychloroquine for prevention of COVID-19. Objectives: Whether hydroxychloroquine has prophylactic effects for COVID-19 in rheumatic patients. Patients and Methods: In this multicenter cohort-based observational study the preventive effect of hydroxychloroquine regarding the incidence and severity of COVID-19 was investigated in patients with RA who referred to rheumatology clinics of academic hospitals of Isfahan between April and July 2020 and already have been treated with hydroxychloroquine for more than three months. Around 215 patients with RA and current use of hydroxychloroquine were recruited and followed for three months. Patients' information was gathered using the medical record or by phone call. Results: The incidence of COVID-19 in this selected sample was 4.2% (n=9). Only one in nine patients needed hospitalization, without need for intubation or ICU care. Symptoms including dry cough, headache, body pain, malaise, dyspnea, fever, sore throat, chills, and chest pain, were reported to be statistically higher in COVID-19+ group. Conclusion: In contrast to the mortality rate in the general population of Isfahan, Iran (4.8% -until June 2020), no mortality has been reported in these patients. Therefore, it seems that the use of hydroxychloroquine has been able to reduce the incidence and severity of the disease after reaching steady-state levels. This finding has clinical importance, especially for rheumatic patients using immunomodulatory drugs.
Authors' contribution ZN and MS contributed to the study conception and design. Material preparation, data collection and analysis were performed by ZN, BS, ZF, MS and VM. The first draft of the manuscript was written by VM and BS and ZN, MS, RS and BA left some comments on previous versions of the manuscript. All authors read and approved the final manuscript. Conflicts of interest None to be declared. Ethical considerations The authors observed the ethical issues including plagiarism, data fabrication and publication duplication.
References
Ferro, Elefante, Puxeddu, Baldini, Bartoloni et al., COVID-19: the new challenge for rheumatologists. First update, Clin Exp Rheumatol
Mehta, Mcauley, Brown, Sanchez, Tattersall et al., Correspondence COVID-19: consider cytokine storm syndromes and, Lancet
Pourdowlat, Panahi, Pooransari, Ghorbani, Prophylactic Recommendation for Healthcare Workers in COVID-19
Yao, Ye, Zhang, Cui, Huang et al., In vitro antiviral activity 551 and projection of optimized dosing design of hydroxychloroquine for the 552 treatment of severe acute respiratory syndrome coronavirus 2 553 (SARS-CoV-2), Clin Infect Dis