Retrospective 3,737 patients in France, showing lower risk of persistent viral shedding with HCQ+AZ treatment.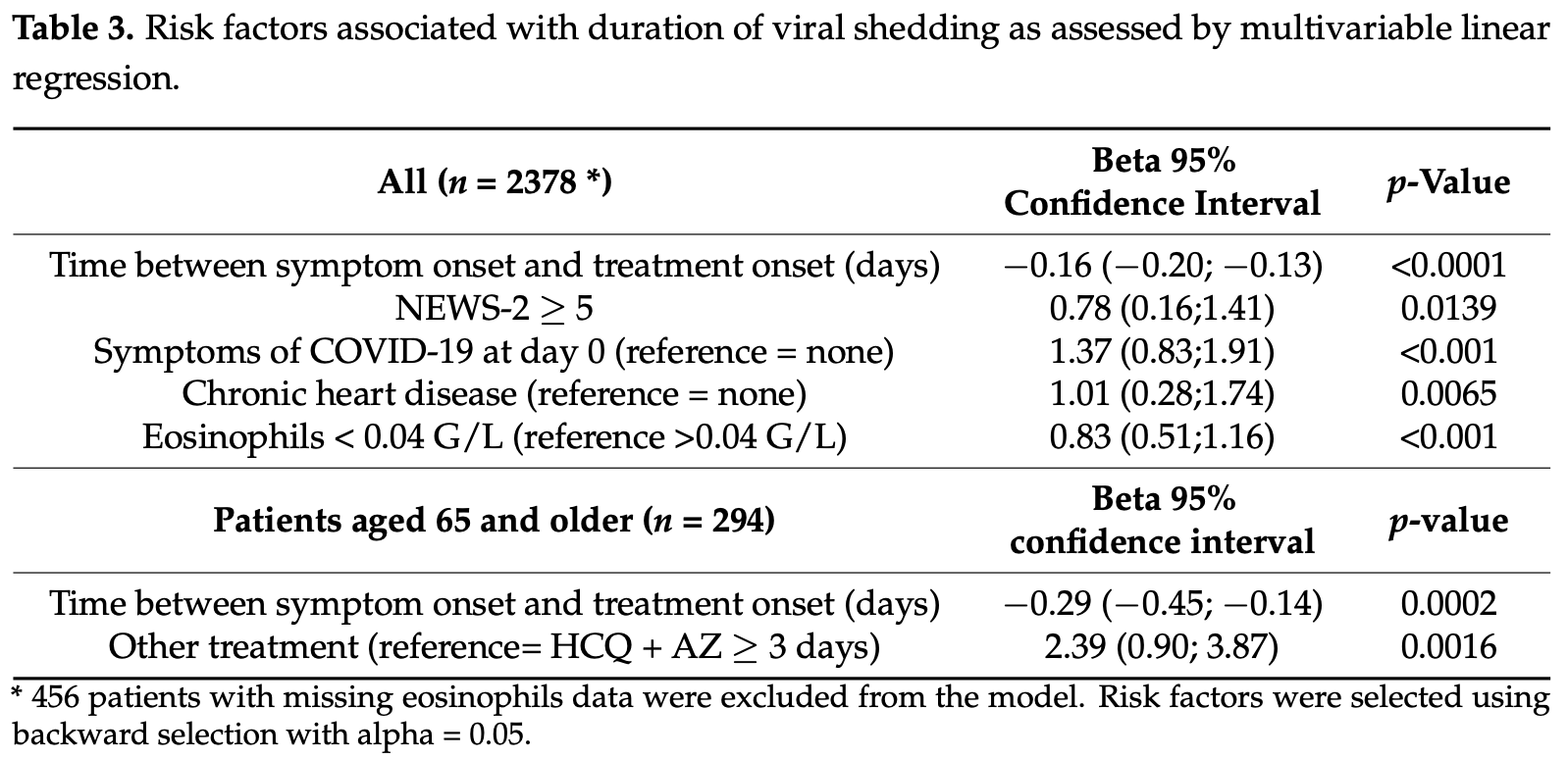 Drancourt et al., 12 May 2021, peer-reviewed, 11 authors, this trial uses multiple treatments in the treatment arm (combined with AZ) - results of individual treatments may vary.
SARS-CoV-2 Persistent Viral Shedding in the Context of Hydroxychloroquine-Azithromycin Treatment
Viruses, doi:10.3390/v13050890
SARS-CoV-2 nasopharyngeal shedding contributes to the spread of the COVID-19 epidemic. Among 3271 COVID-19 patients treated at the
This was not our situation, where only one patient had lymphoma and another had immunosuppression following kidney transplantation. In addition, several cases of viral shedding beyond 90 days occurred in patients who received treatments with convalescent plasma and/or remdesivir [17, 18] . These situations were not encountered in this series, as no patient received remdesivir or convalescent plasma and the figures reported here were observed in the context of standardized care, including the prescription of hydroxychloroquine and azithromycin treatment. It is noteworthy that almost one quarter of the 34 persistent shedders reported here did not receive the combination of hydroxychloroquine and azithromycin, a prevalence significantly higher than that in short shedders. This standardized care notably differed in other series reporting a higher proportion of persistent shedders, yet populations may not have been similar, bringing into question the impact of combination of hydroxychloroquine plus azithromycin at the dosage prescribed in reducing the time of SARS-CoV-2 nasopharyngeal shedding. This reported series mirrors the first COVID-19 epidemic in our region, which was caused by SARS-CoV-2 of clades 20A, 20B and 20C. Accordingly, based on next-generation population sequencing we did not observe any genotype pattern in any of the 21 patients whose viral genome could be explored. Further ultradeep sequencing of paired early and late nasopharyngeal swabs in the 34 patients..
References
Fournier, Colson, Levasseur, Gautret, Luciani et al., Genome sequence analysis enabled deciphering the atypical evolution of COVID-19 in
Helleberg, Niemann, Moestrup, Kirk, Lebech et al., Persistent COVID-19 in an Immunocompromised Patient Temporarily Responsive to Two Courses of Remdesivir Therapy, J. Infect. Dis
Levasseur, Delerce, Caputo, Brechard, Colson et al., Genomic diversity and evolution of coronavirus (SARS-CoV-2) in France from 309 COVID-19-infected patients, bioRxiv
London, Boutboul, Lacombe, Pirenne, Heym et al., Severe COVID-19 in Patients with B Cell Alymphocytosis and Response to Convalescent Plasma Therapy, J. Clin. Immunol
Widders, Broom, Broom, SARS-CoV-2: The viral shedding vs infectivity dilemma, Infect. Dis. Health