Prospective study of 245 hospitalized patients, 121 treated with HCQ, showing lower (non-statistically significant) mortality and higher ventilation at 30 days.
Confounding by indication
is likely.Although the 33% lower mortality is not statistically significant, it is consistent with the significant 24% lower mortality
[19‑28%]
from meta analysis of the
244 mortality results to date
.
risk of death,

32.9% lower

, RR 0.67, p = 0.10
, treatment 28 of 121 (23.1%), control 58 of 124 (46.8%), NNT 4.2, odds ratio converted to relative risk, multivariate.
risk of mechanical ventilation,

447.8% higher

, RR 5.48, p = 0.003
, treatment 32 of 121 (26.4%), control 12 of 124 (9.7%), odds ratio converted to relative risk, multivariate.
risk of death/intubation,

16.7% lower

, RR 0.83, p = 0.21
, treatment 51 of 121 (42.1%), control 63 of 124 (50.8%), NNT 12, odds ratio converted to relative risk, univariate.
Effect extraction follows pre-specified rules prioritizing more serious outcomes. Submit updates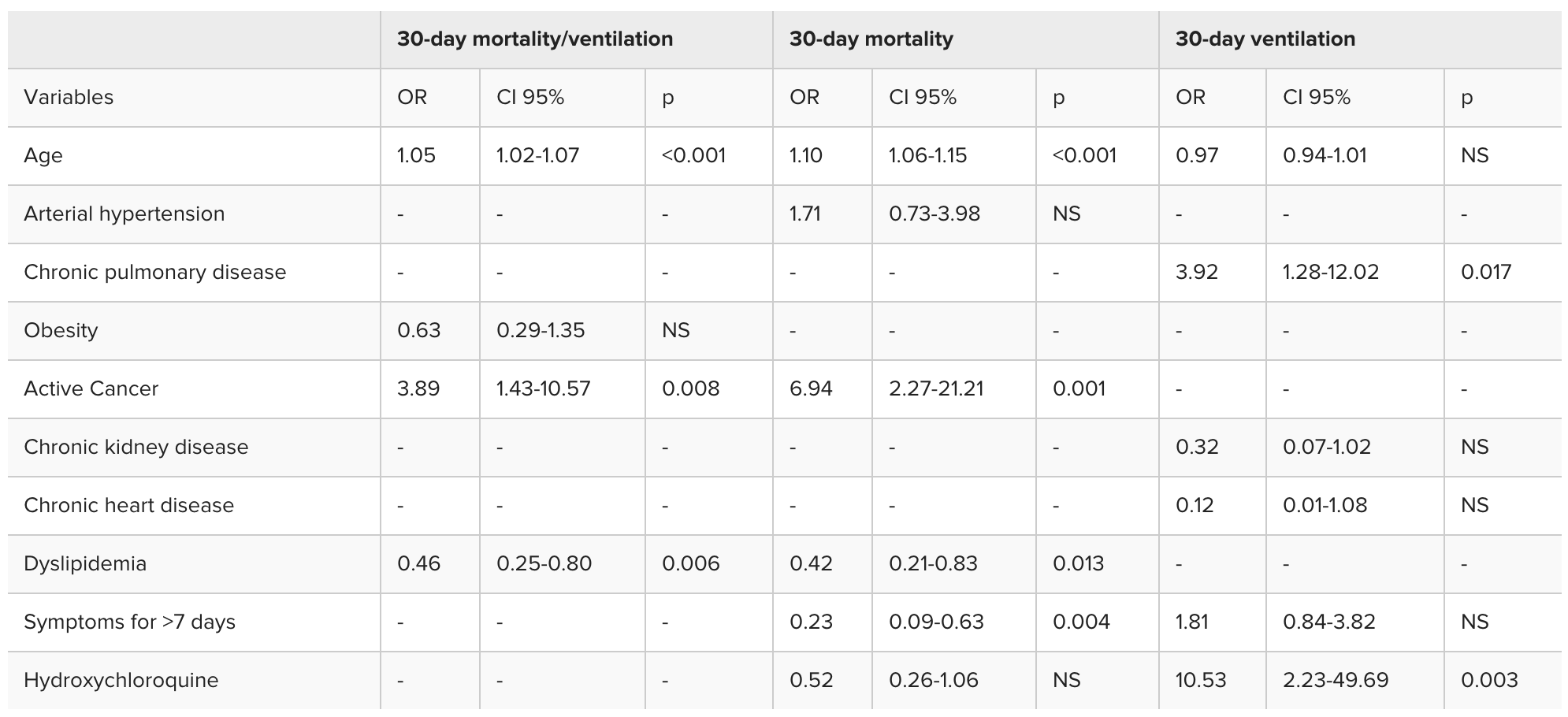 Salvador et al., 4 Mar 2021, prospective, Portugal, peer-reviewed, 10 authors.
Clinical Features and Prognostic Factors of 245 Portuguese Patients Hospitalized With COVID-19
Cureus, doi:10.7759/cureus.13687
Introduction Since the declaration of the severe acute respiratory syndrome coronavirus 2 (SARS-CoV-2) pandemic in March 2020, Portugal was considered a role model with regards to the first COVID-19 wave. However, a third wave started in 2021 started, turning the country into the worst in the world regarding new infections and death rate per capita in the last weeks of January 2021. No significant data regarding the country's first wave of hospitalized patients have been published. Those data may help understand the differences over time regarding patients and the clinical approach to them. Herein, we present data of COVID-19 patients hospitalized at the main tertiary hospital of the second-most affected county at the time and identify risk factors associated with disease progression and outcomes. Materials and methods We performed a prospective observational study of patients admitted with COVID-19 to a central hospital between March 20 and June 1, 2020. The primary endpoint of this study was 30-day mortality or the need for ventilatory support and the secondary outcomes were both outcomes individually. Results 245 patients were included, with a median age of 79 years, 52% males. Hypertension (n = 172) and dyslipidemia (n = 114) were the most frequent comorbidities. Half of the patients (n = 121) were treated with hydroxychloroquine. The primary outcome occurred in 114 patients; mortality at 30 days was 35%. Age (OR 1.05; 1.02-1.07) and active cancer (OR 3.89; were associated with the primary outcome, with dyslipidemia being protective (OR 0.46; 0.25-0.80). Treatment with hydroxychloroquine or lopinavir/ritonavir was not associated with the main outcome. Patients who had been symptomatic for more than 7 days had lower mortality (OR 0.23; 0.09-0.63). Discussion In the present study, age and cancer were associated with higher mortality, as noted in prior articles. The population had a higher median age than reported in previous studies, which may explain the increased mortality. The protective association of dyslipidemia was not previously described. This association was not related to statin intake. Conclusion The reported high mortality of COVID-19 is rarely seen in other infectious diseases. Our elderly population probably reflects more reliably the incidence of COVID-19 in European countries with constricted age pyramids.
Additional Information Disclosures Human subjects: Consent was obtained or waived by all participants in this study. Comissão de Ética para a Saúde do Centro Hospitalar de Vila Nova de Gaia/Espinho, EPE issued approval NA. Animal subjects: All authors have confirmed that this study did not involve animal subjects or tissue. Conflicts of interest: In compliance with the ICMJE uniform disclosure form, all authors declare the following: Payment/services info: All authors have declared that no financial support was received from any organization for the submitted work. Financial relationships: All authors have declared that they have no financial relationships at present or within the previous three years with any organizations that might have an interest in the submitted work. Other relationships: All authors have declared that there are no other relationships or activities that could appear to have influenced the submitted work.
References
Cdc, People who are at higher risk for severe illness
Who, Weekly epidemiological update -2