Retrospective 79 hospitalized nonagenarian patients showing unadjusted HCQ mortality RR 0.84,
p
= 0.76.Although the 16% lower mortality is not statistically significant, it is consistent with the significant 25% lower mortality
[20‑29%]
from meta analysis of the
247 mortality results to date
.
This study is excluded in the after exclusion results of meta analysis: unadjusted results with no group details.
risk of death,

15.6% lower

, RR 0.84, p = 0.76
, treatment 33 of 67 (49.3%), control 7 of 12 (58.3%), NNT 11.
Effect extraction follows pre-specified rules prioritizing more serious outcomes. Submit updates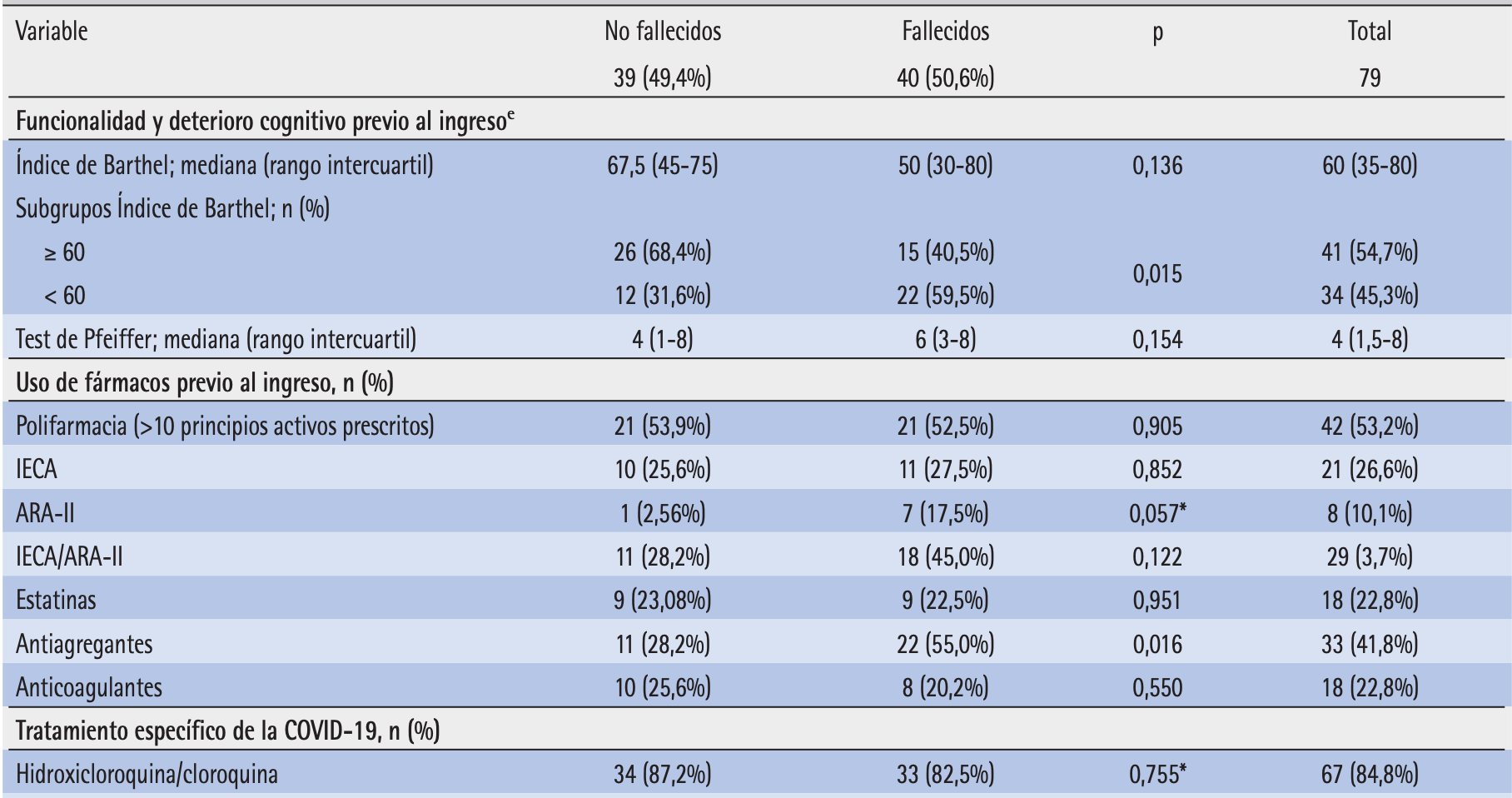 Roig et al., 31 Jan 2021, retrospective, Spain, peer-reviewed, 6 authors.
Clinical and pharmacological data in COVID-19 hospitalized nonagenarian patients
Revista Española de Quimioterapia, doi:10.37201/req/130.2020
Introduction. Despite the impact of SARS-CoV-2 infection in geriatrics, data on nonagenarian patients is scarce. The aim of this study is to describe the clinical features of COVID-19-diagnosed nonagenarians, as well as its clinical evolution and therapeutic response. Material and methods. Retrospective observational study of nonagenarians, admitted for COVID-19. Sociodemographic and clinical variables were registered, including previous polypharmacy. Blood analysis data and COVID-19-specific treatment were registered. Results. A total of 79 patients were included, with 50.6% (40 patients) of mortality. None of the comorbidities registered correlated with mortality, which was significantly higher among patients with moderate/complete functional dependence, compared to those mild-dependents/independents (59.5% vs 40.5%; p=0.015). Most prescribed drugs were hydroxychloroquine/chloroquine and azithromycin. Non-survivors presented higher counts of leukocytes and neutrophils, and higher lymphopenia. Conclusions. Nonagenarians with functional dependence presented higher mortality, irrespective of comorbidities or treatment received. Implementing an integral geriatric evaluation would enhance the implementation of personalized therapeutic strategies for nonagenarians.
References
Cockcroft-Gault, None, ml/min
Proteína, Reactiva, None
Sérica, None, ng/mL)