Comparison of two HCQ dosing regimens, showing high inter-individual variability of HCQ concentrations (as in
Ruiz
), and significantly better plasma concentrations for the dosing regimen including a loading dose.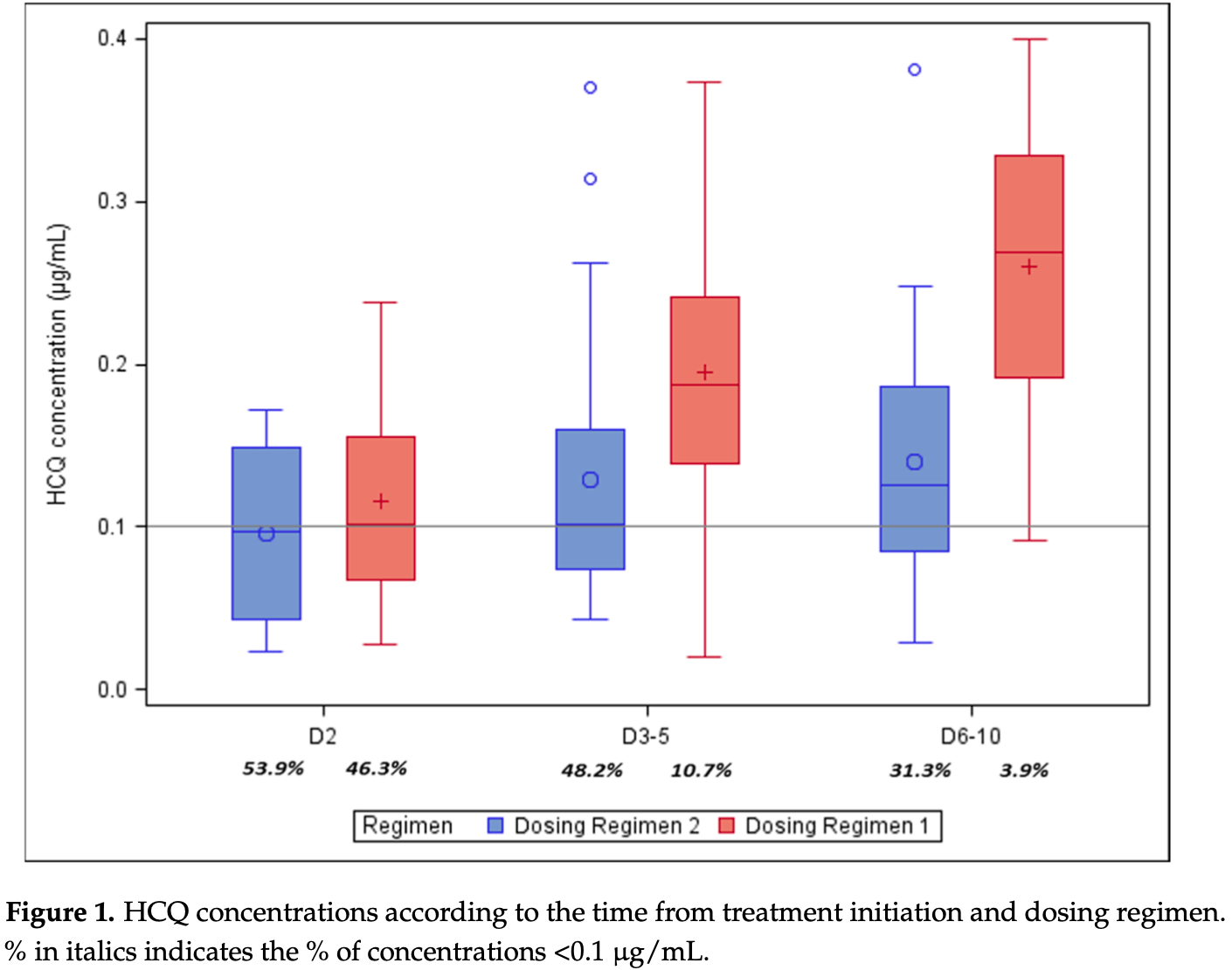 Ragonnet et al., 19 Mar 2022, peer-reviewed, 9 authors.
Drug Repositioning in Intensive Care Patients and Pharmacokinetic Variability: The Illustration of Hydroxychloroquine
Future Pharmacology, doi:10.3390/futurepharmacol2010007
During the SARS-CoV-2 pandemic, hydroxychloroquine (HCQ), was among the first drugs to be tested due to demonstrated in vitro antiviral activity against SARS-CoV-2. Pharmacokinetic variability was expected due to the frequent comorbidities and pathophysiological modifications observed in severe COVID-19 patients hospitalized in intensive care units (ICUs). The aim of this study was to describe HCQ plasmatic concentrations in ICUs and assess variability factors. A multicentric retrospective study was carried in four ICUs in Marseille from March to April 2020. There were two dosing regimens: 400 mg after a 400 mg loading dose (DR1); and 600 mg without a loading dose (DR2). HCQ concentrations were determined every 2 or 3 days. The impacts of demo-graphic, biological, and clinical covariates were investigated. The median HCQ concentration was: 0.096 mg/L on day (D) 2, 0.129 mg/L on D3 to D5, 0.140 mg/L on D6 to D10 for DR1 versus 0.116 mg/L, 0.261 mg/L, and 0.30 mg/L, respectively, for DR2. At D2, 53.9% and 46.2% of patients with DR1 and DR2, respectively, presented HCQP concentrations <0.1 µg/mL and 48.2% versus 10.7% at D3 to D5. Time post-initiation, dosing regimen, nasogastric administration, and weight showed significant association with HCQ variability. The high proportion of suboptimal HCQ concentrations can be explained by a lack of optimized dosing regimen and numerous pathophysiological changes in the COVID-19/ICU population.
References
Gagnieu, Garraffo, Solas, Peytavin, Guilhaumou et al., Recommandations pour le Suivi Thérapeutique Pharmacologique du lopinavir/r et de l'hydroxychloroquine chez les patients traités pour une infection à SARS-CoV-2 (COVID-19
Oberoi, Zhao, Sidhu, Viani, Trinh et al., A Phase 1 Study to Evaluate the Effect of Crushing, Cutting Into Half, or Grinding of Glecaprevir/Pibrentasvir Tablets on Exposures in Healthy Subjects, J. Pharm. Sci
Zhou, Yu, Du, Fan, Liu et al., Clinical course and risk factors for mortality of adult inpatients with COVID-19 in Wuhan, China: A retrospective cohort study, Lancet