Retrospective 8,811 HCQ users and 17,514 control patients, showing higher risk of COVID-19 for HCQ users. There were 12 cases for the 8,811 HCQ patients. There is no count for the control group that produces the reported unadjusted OR 4.96. The closest is 5 cases for the 17,514 patients, or 0.02%.Authors note that the period studied, Mar 8 - Apr 28, 2020, corresponds to an epidemic outbreak in the region studied, Campania. Signorelli et al.
mattioli1885journals.com
show a prevalence of 0.53% as of April 7, 2020, suggesting that the control group chosen in this study may not accurately represent the prevalence of COVID-19 at the time.Authors do not adjust for the very different baseline risk for patients on HCQ, often systemic autoimmune disease patients. Other research shows that the risk of COVID-19 for systemic autoimmune disease patients is much higher overall, Ferri et al. show OR 4.42,
p
<0.001
Ferri
.
risk of death,

60.0% lower

, RR 0.40, p = 1.00
, treatment 0 of 12 (0.0%), control 1 of 24 (4.2%), NNT 24, relative risk is not 0 because of continuity correction due to zero events (with reciprocal of the contrasting arm).
risk of mechanical ventilation,

71.4% higher

, RR 1.71, p = 0.28
, treatment 6 of 12 (50.0%), control 7 of 24 (29.2%).
risk of ARDS,

33.3% higher

, RR 1.33, p = 0.70
, treatment 4 of 12 (33.3%), control 6 of 24 (25.0%).
risk of case,

476.4% higher

, RR 5.76, p < 0.001
, treatment 12 of 8,811 (0.1%), control 24 of 17,514 (0.1%), adjusted per study, odds ratio converted to relative risk.
Effect extraction follows pre-specified rules prioritizing more serious outcomes. Submit updates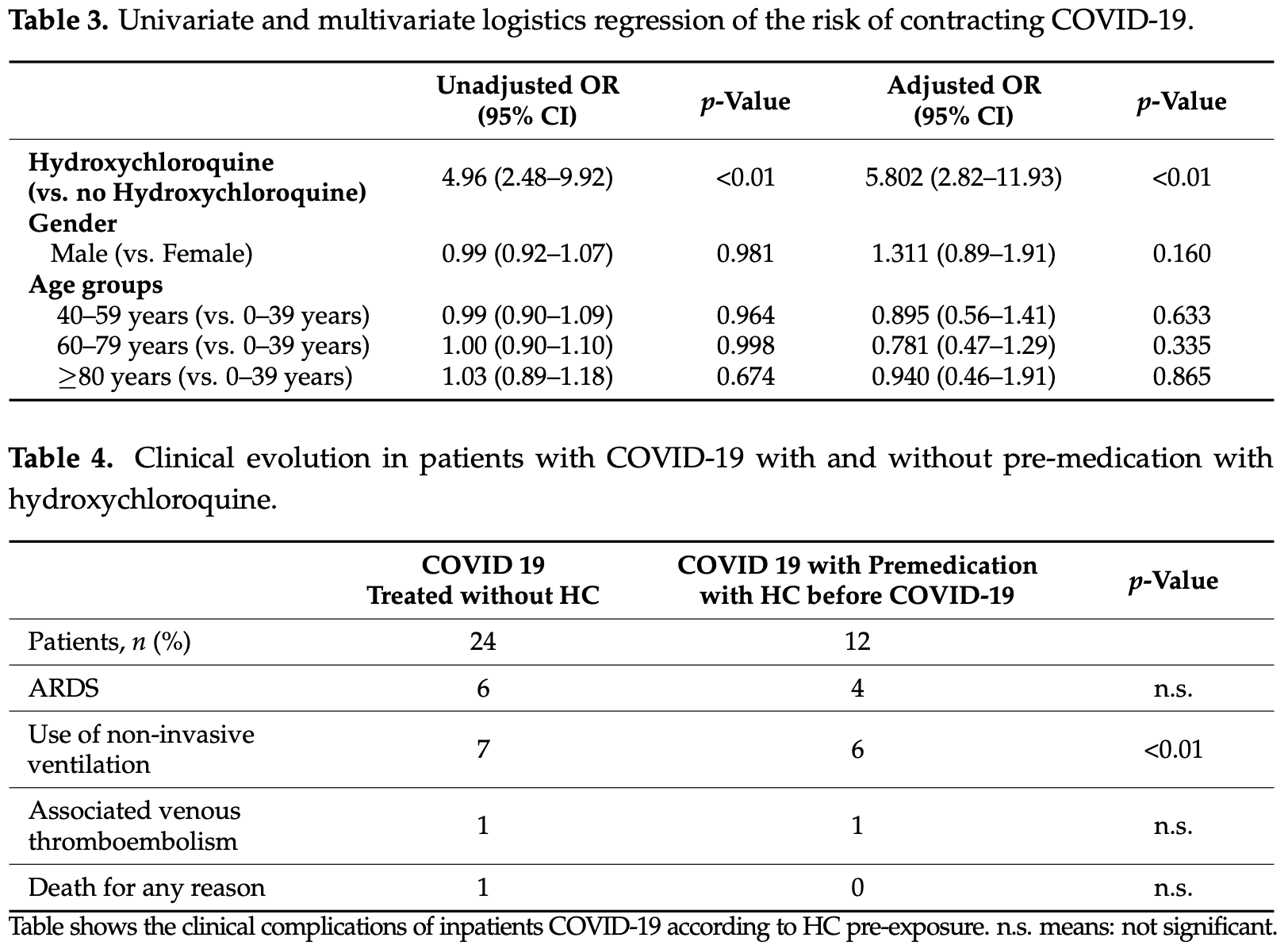 Perrella et al., 13 Oct 2021, retrospective, Italy, peer-reviewed, 6 authors.
Contact: alessandro.perrella@aocardarelli.it (corresponding author), valentina.orlando@unina.it, enrica.menditto@unina.it, ugo.trama@regione.campania.it, bernardi.francesca.futura@gmail.com, coscionienrico@gmail.com.
Pre-Exposure Prophylaxis with Hydroxychloroquine Does Not Prevent COVID-19 nor Virus Related Venous Thromboembolism
Viruses, doi:10.3390/v13102052
Different and several public health strategies have been planned to reduce transmission of pandemic due to SARS-CoV-2 since it started. None drugs have been confirmed as able to prevent viral transmission. Hydroxychloroquine with its immunomodulatory properties has been proposed as potential anti-viral drug in particular for prevention once viral exposure has been happen or in first phases of infection. Furthermore, in several immunological systemic disease hydroxychloroquine was able to reduce the number of thrombotic complications. So, because COVID-19 was associated to immunological imbalance and to thrombotic complications, we retrospectively analyzed the rate of infection in those patients being under treatment with this drug during COVID-19 epidemic outbreak from 8 March until 28 April in particular comparing those with pre-exposure to this treatment and those that were not taking this medication before SARS-CoV-2 viral infections.
Conflicts of Interest: The authors declare no conflict of interest.
References
Perrella, Carannante, Berretta, Rinaldi, Maturo et al., Novel Coronavirus 2019 (SARS-CoV-2): A global emergency that needs new approaches?, Eur. Rev. Med. Pharmacol