Retrospective very late stage hospitalized patients in New York during the first wave, showing no significant relationship between HCQ levels and outcomes. Authors note that the patients with data were the sickest patients. This study is excluded in the after exclusion results of meta analysis: substantial unadjusted
confounding by indication
likely.
risk of death,

47.7% higher

, RR 1.48, p < 0.001
, treatment 389 of 1,419 (27.4%), control 341 of 1,837 (18.6%).
Effect extraction follows pre-specified rules prioritizing more serious outcomes. Submit updates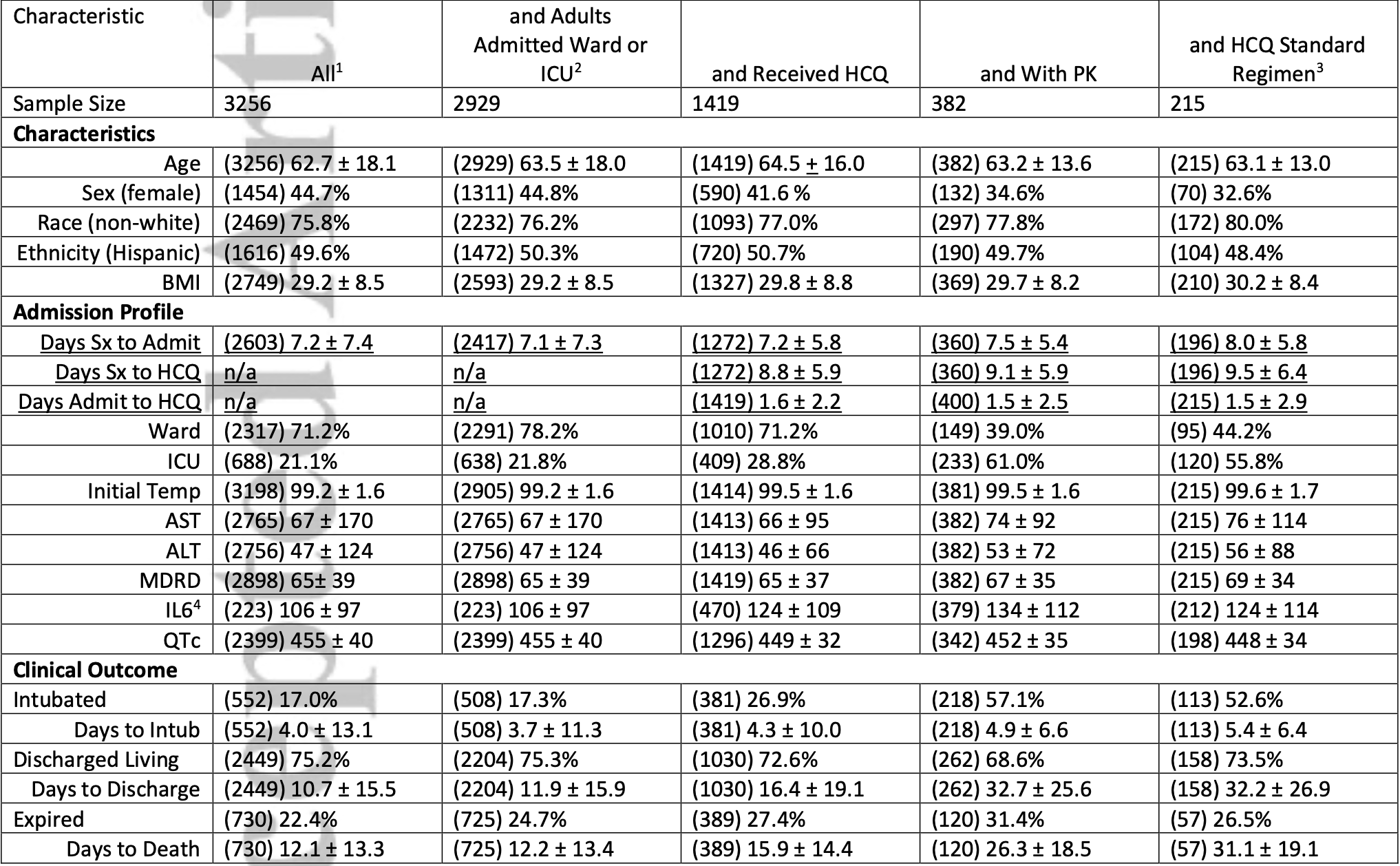 Lyashchenko et al., 12 Aug 2022, retrospective, USA, peer-reviewed, 6 authors, study period March 2020 - June 2020, average treatment delay 9.5 days.
Contact: mty@cumc.columbia.edu, sc2752@cumc.columbia.edu.
Systemic exposure to hydroxychloroquine and its relationship with outcome in severely ill COVID‐19 patients in New York City
British Journal of Clinical Pharmacology, doi:10.1111/bcp.15489
Aim: To investigate the relationship between systemic exposure to Hydroxychloroquine (HCQ) and its metabolite Desethylhydroxychloroquine (DHCQ) and clinical outcome in severely ill patients treated with a standard oral dose regimen of HCQ during the first wave of COVID-19 in New York City. Methods: We correlated retrospective clinical data with drug exposure prospectively assessed from convenience samples using population pharmacokinetics and Bayesian estimation. Systemic exposure was assessed in 215 patients admitted to ICU or COVID-ward for whom an interleukin-6 level was requested and who were still alive 24h after the last dose of HCQ. Patients received oral HCQ 600 mg bid on day 1 followed by 4 days of 400 mg qd. Results: Fifty-three% of the patients were intubated at 5.4 ± 6.4 days after admission. 26.5% died at an average of 32.2 ± 19.1 days. QTc at admission was 448 ± 34 msec. Systemic exposure to HCQ and DHCQ demonstrated substantial variability. Cumulative HCQ AUC0-inf =71.4 ± 19.3 h*mg/L and DHCQ AUC0-inf= 56.5 ± 28.3 h*mg/L. Variability in systemic exposure was not clearly explained by renal function, liver function or inflammatory state. In turn, systemic exposure did not correlate with intubation status, survival or QTc prolongation. Conclusion: This study in severely ill patients was not able to find any relationship between systemic exposure to HCQ and DHCQ and clinical outcome at a routine dose regimen and adds to the growing body of evidence that oral HCQ does not alter the course of disease in COVID-19 patients.
Conflicts of interest None of the authors has a conflict of interest for this work.
References
Cl/F, Vc, Vp, Ka, Fm et al., 341 Nearest 1 st HCQ MDRD, abnl) n=84
Denney, Duvvuri, Buckeridge, Simple, Automatic Noncompartmental Analysis: The PKNCA R Package, J Pharmacokinet Phar
Vc, Fm, Cl, Apparent volume of distribution of the central compartment for the parent drug; CL/F, Vc/F, Vp/F
Vc, None
Vmetc, None
Vmetp, None
Vp, None