Observational study of 927 low-risk healthcare workers in India, 731 volunteering for weekly HCQ prophylaxis, showing higher cases with treatment in unadjusted results. Clinical outcome was in the protocol, however no information on which patients were symptomatic is provided. There were no adverse events and no hospitalizations or deaths. Adherence was very low, decreasing weekly, with almost all participants discontinuing by week 11. The majority of infections occurred in later weeks when adherence was very low, and there was no per protocol analysis. #ECR/206/Inst/GJ/2013/RR-20.
risk of case,

49.3% higher

, RR 1.49, p = 0.02
, treatment 167 of 731 (22.8%), control 30 of 196 (15.3%).
Effect extraction follows pre-specified rules prioritizing more serious outcomes. Submit updates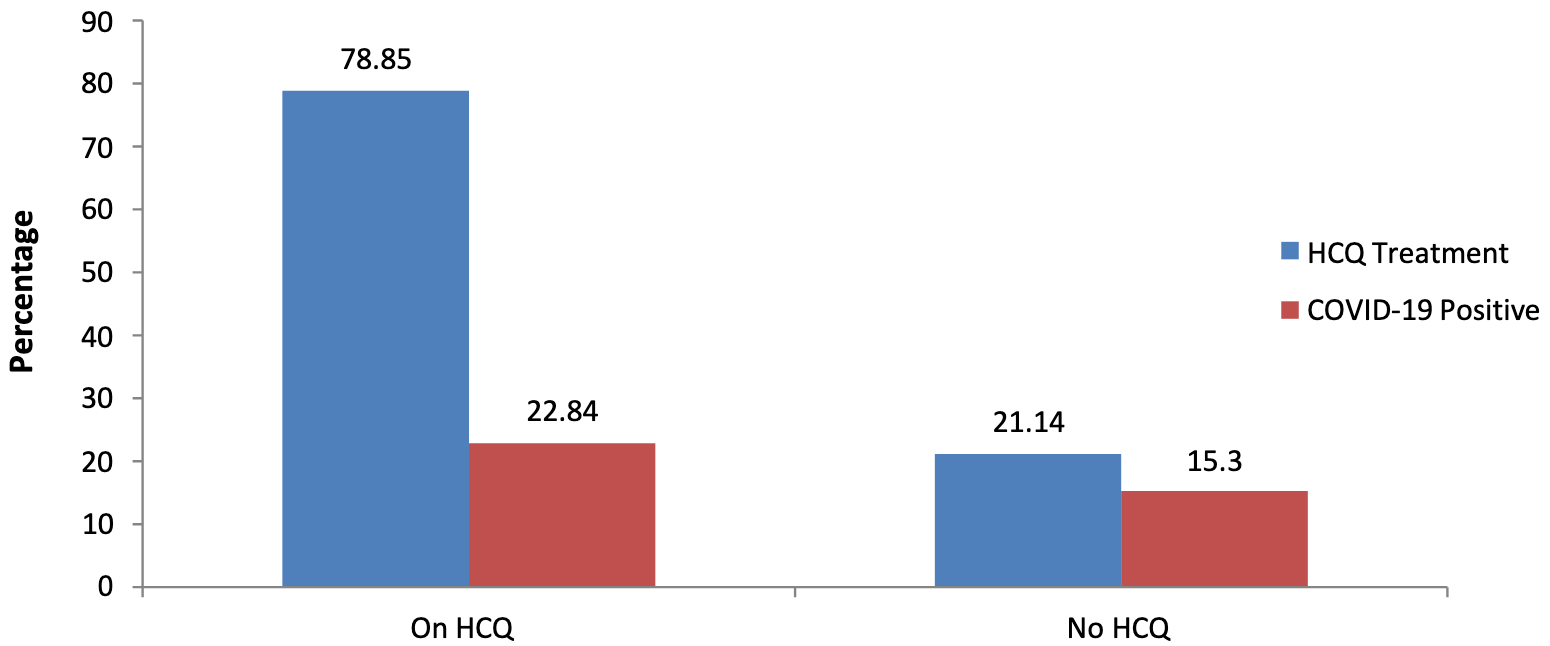 Bhatt et al., 4 Aug 2021, prospective, India, preprint, 4 authors.
Hydroxychloroquine Prophylaxis against Coronavirus Disease-19: Practice Outcomes among Health-Care Workers
doi:10.1101/2021.08.02.21260750
Background: Severe acute respiratory syndrome coronavirus 2 (SARS-CoV-2) is a rapidly emerging virus responsible for the ongoing Covid-19 pandemic with no known effective prophylaxis. We investigated whether hydroxychloroquine(HCQ) could prevent SARS CoV-2 in healthcare workers(HCW) at high-risk of exposure. Method: This voluntary observational study for the prevention and treatment of COVID-19 was conducted at a tertiary care center, from 12 th June to 12th October 2020(total 16 weeks). All consented asymptomatic HCW's of CIMS hospital were administered 400 mg HCQ twice a day on day one followed by 400 mg once weekly to be taken with meals up to 16 weeks. Data collected included OPD registration, risk assessment, medical and family history (related to COVID), physical examination and vitals, pulse oximetry, ECG (pre and post HCQ), drug adherence, side effects, adverse drug reactions. Result: The study enrolled 927 full-time, hospital-based HCWs ((including doctors, nurses, paramedical, lab technicians, sanitary workers and others), of whom 731(78.85%) initially started HCQ while 196 (21.14%) did not volunteer. The median age and weight of the study population was 27.5 years and 69.5 kg respectively. No major associated co-morbidities were present in these HCW's. There was an increased trend towards non adherence to HCQ with each proceeding week more so after week 11. Of the 731 HCW's taking HCQ a total of 167(22.8%) tested COVID positive at different intervals of time as against 30 HCW (15.3%) out of 196 not taking HCQ. The rate of COVID-19 positive was statistically significantly higher in the HCW's taking HCQ (p=0.0220; 95% CI: 1.14% to 12.94%), as compared to those not on HCQ. Thus HCQ was not prophylactically effective against COVID 19 infection. No
References
Abella, Jolkovsky, Biney, Uspal, Hyman et al., None
Fda / Cder, Plaquenil ® Hydroxychloroquine Sulfate Tablets, Usp Description
Hellewell, Abbott, Gimma, Bosse, Jarvis et al., Centre for the Mathematical Modelling of Infectious Diseases COVID-19 Working Group
Yao, Ye, Zhang, Cui, Huang et al., In Vitro Antiviral Activity and Projection of Optimized Dosing