Impact of hydroxychloroquine on disease progression and ICU admissions in patients with SARS-CoV-2 infection
Impact of hydroxychloroquine on disease progression and ICU admissions in patients with SARS-CoV-2 infection
,
American Journal of Health-System Pharmacy, doi:10.1093/ajhp/zxab056
,
This paper has inconsistent values - the number of treatment and control patients differs in the text and Table 1, we have used treatment 188 and control 148. Retrospective 336 hospitalized patients in the USA showing higher mortality, ICU admission, and intubation with treatment.
Confounding by indication
is likely. Time varying confounding is also likely due to declining usage over the early period when overall treatment protocols were also improving dramatically. Authors and reviewers appear to be unfamiliar with either of these. This study is excluded in the after exclusion results of meta analysis: substantial
confounding by time
likely due to declining usage over the early stages of the pandemic when overall treatment protocols improved dramatically; substantial unadjusted
confounding by indication
likely.
risk of death,

19.1% higher

, RR 1.19, p = 0.60
, treatment 56 of 188 (29.8%), control 37 of 148 (25.0%).
risk of mechanical ventilation,

460.7% higher

, RR 5.61, p < 0.001
, treatment 64 of 188 (34.0%), control 9 of 148 (6.1%), adjusted per study, odds ratio converted to relative risk.
risk of ICU admission,

463.4% higher

, RR 5.63, p < 0.001
, treatment 67 of 188 (35.6%), control 9 of 148 (6.1%), adjusted per study, odds ratio converted to relative risk.
Effect extraction follows pre-specified rules prioritizing more serious outcomes. Submit updates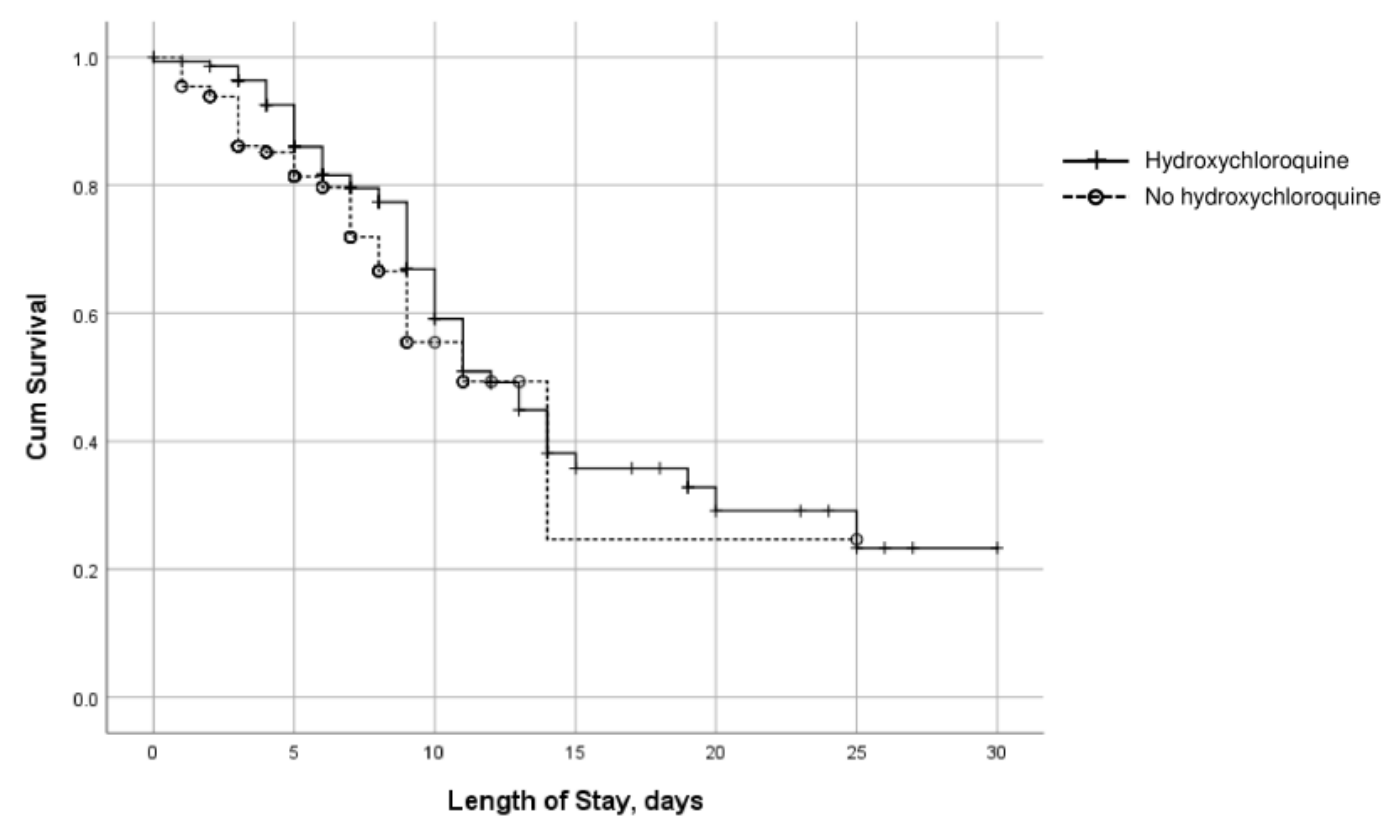 Awad et al., 18 Feb 2021, retrospective, USA, peer-reviewed, 4 authors.
Abstract: CLINICAL REPORT Impact of hydroxychloroquine on disease progression and ICU admissions in patients with SARS-CoV-2 infection Nirvana Awad, PharmD, BCPS, Montefiore Nyack Hospital, Nyack, NY, USA Daryl S. Schiller, PharmD, FASHP, BCPS-AQ ID, Montefiore Nyack Hospital, Nyack, NY, USA Azfar Chak, MD, Montefiore Nyack Hospital, Nyack, NY, USA Methods. A retrospective, observational cohort study was conducted to determine selected treatment outcomes in 336 patients hospitalized with COVID-19 at an acute care community hospital in the Hudson Valley region of New York from March 20 to April 20, 2020. Eligibility included admission to the hospital, a laboratory-confirmed diagnosis of SARS-CoV-2 infection, and no need for intubation or intensive care at admission. The median (interquartile range) ages of patients who received hydroxychloroquine (n = 188) and those who did not (n = 148) were 68 (58-82) and 64 (5173) years, respectively. In a multivariable model that included age, gender, obesity, diabetes, and hydroxychloroquine use, patients who received hydroxychloroquine were significantly more likely than those not treated with the drug to be transferred to an ICU (odds ratio, [OR], 8.1; 95% confidence interval [CI]: 3.8-17) and significantly more likely to be intubated (OR, 7.99; 95% CI, 3.76-16.91); these associations were not influenced by disease severity. In-hospital mortality did not differ significantly with disease severity between those who did and those who did not receive hydroxychloroquine. Conclusion. Hydroxychloroquine use was significantly associated with increased risks of ICU admission and intubation in patients with mild, moderate, and severe symptoms of COVID-19. There were no significant between-group differences in mortality with use vs nonuse of hydroxychloroquine. Keywords: coronavirus, hydroxychloroquine, infection Am J Health-Syst Pharm. 2021;78:689-696 C Address correspondence to Dr. Awad (awadn@montefiorenyack.org). Published by Oxford University Press on behalf of the American Society of Health-System Pharmacists 2021. This work is written by (a) US Government employee(s) and is in the public domain in the US. DOI 10.1093/ajhp/zxab056 oronavirus disease 2019 (COVID19) caused by severe acute respiratory syndrome-coronavirus 2 (SARS-CoV-2) has been characterized as a global pandemic, with a current case-fatality rate of 2.2% in the United States alone.1 In New York State, COVID-19 had resulted in over 33,000 deaths as of November 17, 2020—the largest COVID-19 mortality burden in the nation.2 The illness course has been variable and unpredictable, as many patients infected with SARSCoV-2 remain asymptomatic or have AM J HEALTH-SYST PHARM | mild symptoms, while others progress to developing severe pneumonia requiring mechanical ventilation. Therapeutic agents under investigation target different phases of COVID-19, including acute viral illness and pulmonary and proinflammatory phases. Due to the rapid spread and progression of COVID-19, effective treatments are desperately needed. Numerous medications, including hydroxychloroquine, have been used to treat COVID-19 because of their antiviral and anti-inflammatory properties. VOLUME 78 | NUMBER 8 | April 15, 2021  689 Magda Fulman, PharmD, BCPS, Montefiore Nyack Hospital, Nyack, NY, USA Purpose. To evaluate whether use of hydroxychloroquine was..
Please send us corrections, updates, or comments. Vaccines and treatments are complementary. All practical, effective, and safe means should be used based on risk/benefit analysis. No treatment, vaccine, or intervention is 100% available and effective for all current and future variants. We do not provide medical advice. Before taking any medication, consult a qualified physician who can provide personalized advice and details of risks and benefits based on your medical history and situation.
FLCCC
and
WCH
provide treatment protocols.
Submit